Regardless of how our Mother's Day 2020 turned out (meh), that special man in our life deserves a little tlc. To celebrate Father's Day 2020, Chicago North Shore Moms is highlighting a few dadios in our community in a special Meet a Dad edition. Today's Meet a Dad is VP of a super cool new product, CreateOn and dad of two wee ones, Steve Rosen. Steve chats about his role at CreateOn, who is business mentors are and why taking long walks at night 365 days a year is a must!
Welcome, Steve! Please introduce yourself. 
My name is Steve Rosen and I grew up in Buffalo Grove, Illinois , currently living in Deerfield. After graduating from Indiana University I moved out to Los Angeles to work in film production, but after about a year moved back to Chicago. It didn't take me long to realize that after living away from friends and family that home is truly where the heart is.
You're a dad, how many kiddos do you have and how old are they?
I have two children – my son Tyler is six and Kylie is three.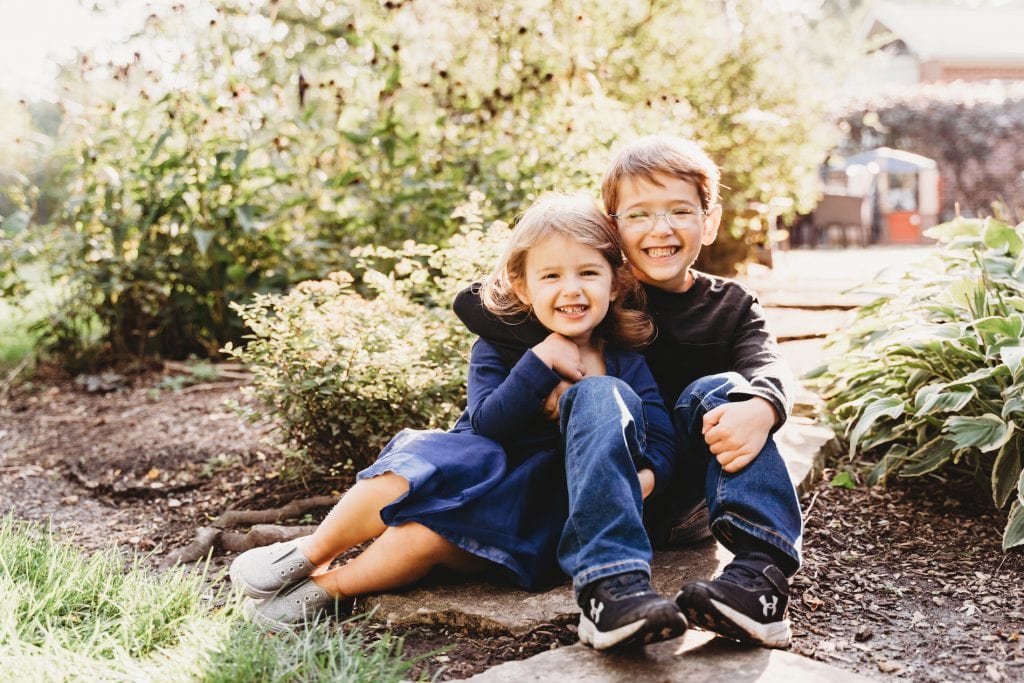 What is one thing people would be surprised to know about you…
With the kids, starting a business, etc, one of the only ways I can clear my head is walking at night. I normally walk one or two miles every night all year round.
Favorite local restaurants for takeout during quarantine?
Wildfire is number one for sure. We order three skirt steaks for the four of us and it is our favorite meal. Next would be Grill House in Northbrook because they have great family meal deals and we love the food there.
You are an entrepreneur! Please tell us about your business endeavor.
I was introduced to my business partner Aaron Singer as our sons met and became close friends in preschool. We took our boys to the park and he started telling me about an idea – he wanted to customize Magna-Tiles®. He had a personal relationship with the owner of the company and he wanted to print family photos on them. I thought that was an inventive and creative idea, but I saw something totally different. With my background and expertise in licensing, I thought we could create a whole new market by partnering with licenses to create sets similar to Lego who added licenses to their sets of building blocks. Literally three months after our conversation at the park, Aaron and I had a business plan and two popular children's brands under contract with Build A Bear and The World of Eric Carle. We were off and running…constantly creating! Today we have over twenty brand new Magna-Tiles® products that took the regular tiles that parents and kids know and love and expand into multiple verticals and bring brand new play patterns, recognizable characters and personalization to the already beloved product.
Who are your business mentors (feel free to give any shout outs)?
I have a few business mentors. First and foremost, I would say my dad, Gary Rosen. To this day, my dad works as hard as an intern at Google at almost seventy years old. My dad does not take sick days, or make excuses – he showed up and did the work. The most important thing I learned from him was this: whether he had a good day at work or a bad day, he NEVER took it home with him. He walked in the door to our house and gave our family all of himself every day with a smile on his face and a warm hug to greet us. I also worked for a man named Phil Gelber at my former job for thirteen years and he showed me patience and what a virtue it can be. His demeanor never saddened, even in times of crisis and I always admired that. And currently, my partner Aaron Singer is just an absolute whirlwind of energy and enthusiasm. He showed me what "servant leadership" really is because he walks in every morning and asks everyone in the office, "What can I do for you today?" His charismatic concern for all is an amazing attribute and I admire him for that.
Any favorite podcasts or apps that help you run your day to day business operations?
As an amateur Olympic walker, I devour podcasts on these nightly jaunts. A few that I love are:
The Moment with Brian Koppelman: He is a writer/director but he is just a curious person and I would say that is what I love about the podcast. I once saw this quote from Einstein that stated, 'I have no special talent, I am just passionately curious', I feel that way about myself and that is why I love this podcast.
Masters Of Scale with Reid Hoffman: If you want to learn about startups and everything surrounding them, this is the podcast for you. This is by far one of my favorites to listen to.
Finding Mastery Conversations with Michael Gervais: He is a performance coach and he talks to business leaders, sports stars, etc. about how they master their craft.
Inspired Insider with Dr. Jeremy Weisz: Jeremy is a local Highland Park entrepreneur that I have gotten to know over the years. He has on some great guests talking about their businesses and a myriad of other topics.
Good list! What's the best piece of advice you've gotten from another Dad?
My dad would always say, 'Be Resourceful' when I had a problem. Often, it would frustrate me, but then I realized it was a way to make me find answers on my own. This advice made me think of creative solutions to different problems over the years. Now, I find myself saying this to my own kids!
What's next for your CreateOn?
I left an amazing job after thirteen years to help Aaron start CreateOn because I am so fanatically passionate about what we are doing and the products we are creating. The runway is endless for our Magna-Tiles® Structures products. Within a year of creating this company we will have almost twenty-five different products. We will be in Target nationwide with our Eric Carle products and our "My Magna-Tiles®" product gives consumers the ability to customize the tiles with their own photos. We have done multiple tradeshows small and large already and the response over and over continues to be, "Where and when can I get your products?". This year we are launching our Sesame Street products as well as a do-it-yourself product where kids can paint on the tiles and then use them in their Magna Tile collection. What is next…EXECUTION – just keep making our product more and more exciting.
What's next for you, personally?
The only thing constant in my life for the past year has been change. We moved from Glenview to Deerfield and I left a job of thirteen years to start a company. They say moving and changing jobs are two of life's biggest sources of stress and I did that in a four-month period. Right now, so much of my attention is focused on the business that every opportunity I get to spend time with my kids is what makes me happier than anything. Tyler (6) and Kylie (3) are just at these amazing ages that whenever I walk in the door, they both just want to be with me all the time and I eat up every second I can with them. Playing catch outside with Tyler and watching Kylie ride her bike fulfills me these days. Oh, and of course, who can forget that I bring home all of these amazing Magna-Tiles® creations and we play with those every day?
Chicago North Shore Moms wishes you and all of our amazing North Shore dads a very special Father's Day. Thanks for chatting, Steve!
For a limited time, Steve and the good folks at CreateOn are giving you 10% off your next CreateOn purchase with code: CNSM10