We interviewed Mila Furman, private chef and creator of the locally renowned blog and boutique catering company, Girl and the Kitchen some time ago and thought it was time to check in with this dynamic, busy chef and mom.
As featured on Windy City Live, ABC7, WGN and Fox Chicago, and inspired by her own experiences working with hundreds of clients across the Chicagoland area, Mila created The 4-Step Cooking Method for those looking to learn the basics of home cooking, how to conquer the kitchen with ease and drastically cut down the hours spent in the kitchen each week.  She recently announced the official launch of her new masterclass, The 4-Step Cooking Method in which she encourages her students to combat their fears of cooking.  The courses center around technique, taste, and efficiency, rather than a specific recipe.
"My goal with this masterclass is to combat the common misconception that cooking is stressful or scary," says Furman. "Too often, I hear people worried about a step of a recipe, or frustrated that they don't have enough time to cook a healthy meal. With my masterclass, even the most time-pressed home cook can pick up some great strategies and techniques to cut the 10 hours (on average) they currently spend cooking each week down to three, allowing them to focus on the things they love most."
Catch up with Mila below and don't miss the delicious summer recipes she was kind enough to share!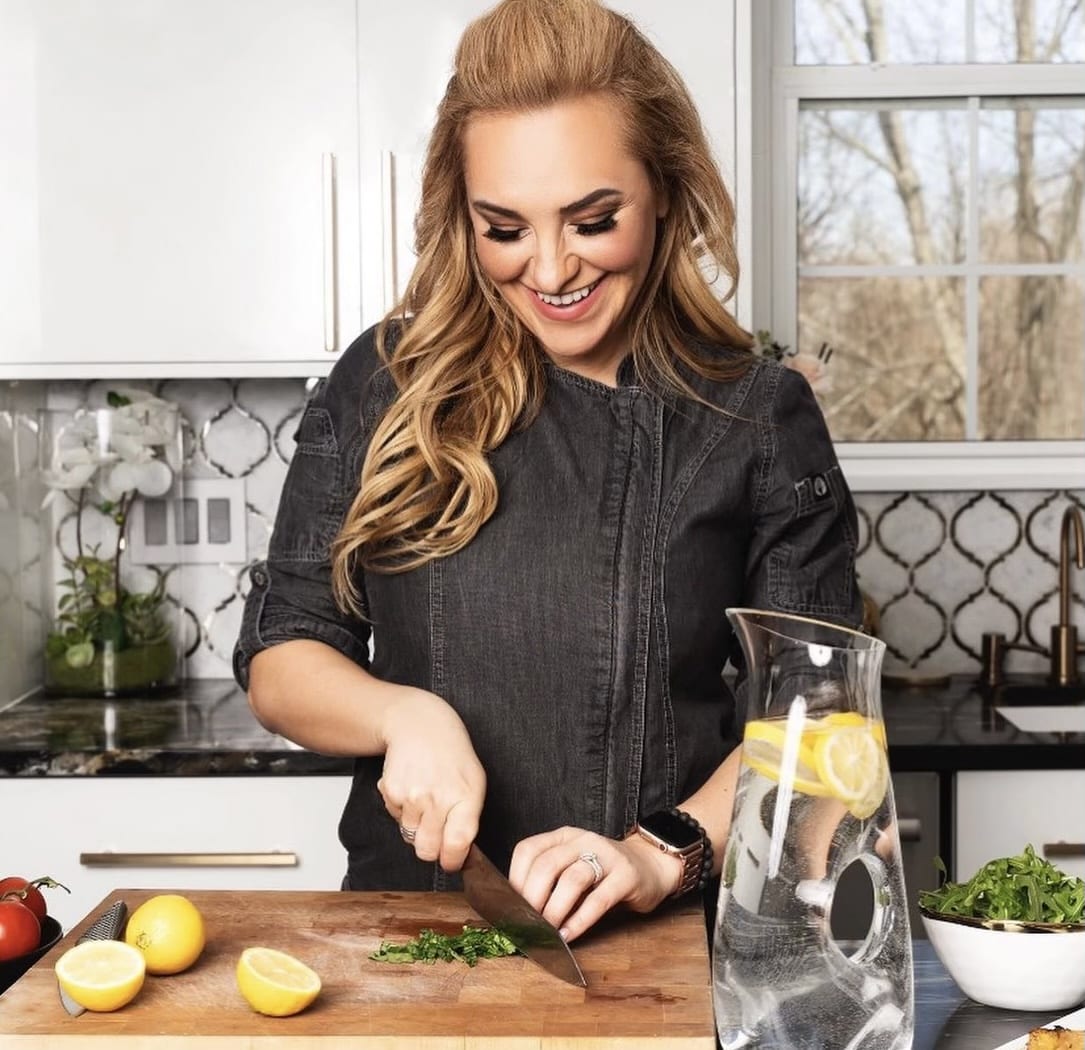 It's been a year!  What are a few parenting tips or survival strategies you learned through this last year?  Lots of downtime I have found is a necessity or both children and adults. I need to regroup and I find kids need their time away from screen. I have started enjoying walks a lot more and I throw my kids outside on their breaks from class and after school.
What are you most looking forward to this summer?  I am so excited about all my friends being able to come over and just enjoy each other's company. I think it was really taken for granted and now we are all in desperate need of our connections!
Tell us your idea of the perfect outdoor dinner party menu/theme!  The perfect outdoor menu consists of tons of salads, grilled veggies and beautifully grilled meats. Plus, lots of glasses full! Full bellies and copious amounts of laughter will always make for a perfect evening.
Bourbon Peach Chipotle BBQ Chicken
The best BBQ chicken is tangy and sticky sweet. Learn the restaurant secrets to cooking perfectly tender BBQ chicken and how to make a deliciously sweet and spicy sauce to glaze on top of it.
INGREDIENTS
Barbecue Sauce
● 2 tablespoons vegetable oil
● 2 peaches roughly chopped
● 1 large Spanish onion (roughly chopped)
● 1 serrano pepper (whole and poked through with a knife)
● 3/4 cup ketchup
● 2 teaspoons garlic powder
● 2 teaspoons onion powder
● 1 tsp chipotle powder
● 1 teaspoon smoked paprika
● ½ teaspoon cayenne pepper
● ½ teaspoon freshly ground black pepper
● 1/4 cup apple cider vinegar
● juice of one lime
● ½ cup fresh orange juice
● ⅓ cup brown sugar
● ⅓ cup molasses
● 2 tablespoons Worcestershire sauce
● 2 teaspoons mustard powder
● 1 cup bourbon
● 2 cups water
● Kosher salt
Chicken
● 4 pounds chicken drumsticks
● 1 recipe of my 5 minute homemade Italian Dressing
INSTRUCTIONS
BBQ Sauce
1. Heat oil in a medium saucepan over medium heat
2. Add onions and peaches. Toss and cook for 5-7 minutes until tender.
3. Add ketchup and cook for approx. 2 minutes. Add in garlic powder, onion powder, paprika, cayenne, and black pepper. Stir on medium heat until fragrant, about 1 minute.
4. Remove from heat and add to a blender, along with the bourbon. You can also save a bit of cleaning by doing this right in the pot with a stick blender if you have one. Puree until nice and smooth and no lumps remain.
5. Into the pot, add vinegar, orange juice, brown sugar, molasses, Worcestershire sauce, mustard powder and 2 cups water.
6. Prick the serrano peppers with a knife and throw them into the sauce. This allows all the flavor to come out but still keeps the heat on the lower side.
7. Cook, stirring occasionally and scraping up any browned bits, until the sauce has reduced by half, this will take about 30 minutes. Taste the sauce periodically as the flavors melt together to ensure there is an even flavor of sweet, spicy and tangy developing. Adjust with molasses, vinegar or lime as necessary.
8. Remove the serrano pepper and place into a sealed container and store in the fridge for up to 1 month.
Chicken
1. Put chicken in a ziplock bag and pour the 5 Minute Homemade Italian Dressing over it. Shake liberally and allow to marinate for at least an hour but up to a max of 24 hours
2. Start the grill at medium heat.
3. Spray the grill with a non-stick spray
4. Add chicken to the grill, turning frequently until nicely brown, 15–20 minutes.*
5. If you have a hot grill, I like to turn down the grill to a nice low heat and start basting my chicken. If your grill has multiple racks, place the chicken on the highest rack away from the heat. This makes the chicken less likely to cause flare ups which can over crisp the skin.
6. Start basting the chicken with the BBQ sauce using a pastry brush. Feel free to use as much or as little as you like. I like mine super saucy so I use a generous amount.
7. Continue grilling, turning and basting with barbecue sauce often, until chicken is cooked through and an instant-read thermometer inserted into the thickest part of thigh registers 165°, approx. 8–10 minutes longer.
NOTES
1. If you want the heat to be stronger from the serrano, feel free to leave the pepper in the jar. It will deepen the flavor and the heat.
2. Depending on the strength of your grill, you can grill the chicken with the grill open. This prevents too many flare-ups and allows for less charring and more of an even cooking process.
3. The important thing about a perfect BBQ Chicken is to add the BBQ sauce in layers. Allow the sauce to settle into the chicken and caramelize a bit before basting it with more layers.
4. You can use the exact same technique by making this chicken in the oven if it happens to be a colder day or you don't have a grill. Just heat the oven to 375 degrees and follow the same steps.
5. Nutritional information should only be used as a guide.
Baja Style Mexican Hot Dogs
These perfectly charred Baja Style Mexican Hot Dogs are ideal for any summer cookout rain or shine! Learn my trick to getting the most tender and juicy dogs without sacrificing on the char factor!
INGREDIENTS
Hot Dogs
● 1 package Hebrew National Hot Dogs
● 5 hot dog buns
● 3 tbsp Hunt's Ketchup
American Aioli
● 1/4 cup Mayonnaise
● 2 tbsp Gulden's Spicy Mustard
● 2 tbsp Hunt's Ketchup
● 1 clove garlic (minced on a microplane)
Cucumber Salsa
● 1/2 cup cucumber (diced)
● 1/2 cup red onion (diced)
● 1/2 cup tomato (diced)
● salt (to taste)
Garnishes
● Avocado (slices)
● Lime (slices)
● Cilantro sprigs
INSTRUCTIONS
Hot Dogs
1. Bring a medium pot of water to boil. Lower to a simmer and place the Hebrew National Hot Dogs into water. Allow to simmer for 5 minutes or until ready to grill.
2. Add the hot dogs onto a hot grill or a preheated pan. Brush each hot dog with the ketchup and sear until browned on each side; about 30 seconds.
American Aioli
1. Combine all the ingredients in a bowl and place into a squeeze bottle.  Serve alongside the hot dogs.
Cucumber Salsa
1. Combine all the ingredients in a bowl and serve alongside the hot dogs.
Assembly
1. Place the seared hot dogs onto the buns and garnish with the cucumber salsa, American aioli and follow with the cilantro and avocado. Serve immediately.

Macerated Summer Berry Salad
This Macerated Summer Berry Salad is the perfect dessert to have this summer! Sweet and light, it is the ideal accompaniment to any summer BBQ or picnic.
INGREDIENTS
16 oz fresh strawberries (cut in quarters.)

1 pint raspberries

1 pint blackberries

1 pint blueberries

2 tbsp sugar

2 tbsp rum or any other liquor of your choice

4 tbsp mint (chopped finely)
INSTRUCTIONS
Combine all the ingredients in a bowl and mix.  Allow to stand for at least 15 minutes and up to 8 hours.

Serve plain or over ice cream, store bought cakes or with any custard as a garnish.
Enjoy!  If you're looking for more recipes or interested in Mila's Master Class, visit Girl and the Kitchen!