📸: Mike Zago Halo Photography Chicago
Chicago North Shore Moms had the pleasure of hearing from Evanston mom of three grown kids, and Co-Owner of WIN Athletic Club in Glenview, Erika Gruner! Erika chats about the new and unique community-minded, spa-like fitness center designed to provide an atmosphere that encourages both fitness and connection. Get to know how Erika and her husband's life-long background in sports fitness eventually (decades later) led to opening this new studio concept, the classes offered to adults, and how you can get your children involved in the club as well! Yes! She's offering you all a special discount as well! Welcome, Erika and WIN Athletic Club!
---
---
Hi Erika! Please introduce yourself. 
Hi, my name is Erika Litterst Gruner and I grew up in Peoria, IL (home of Caterpillar in the heart of Illinois). My husband, Kris, and I moved to Chicago to start our careers after both graduating from DePauw University in Greencastle, Indiana. When it was time for a family we moved to Evanston and raised our 3 kids there for 20 years. We wanted to live in a city-like suburb that was close to the Lake… so, Evanston it was. We love the lifelong friends we have made here! Now that we have an empty nest… we have since downsized and live in a townhouse in Wilmette.
Kris and I Co-Founded and opened the doors to WIN Athletic Club in January of 2020.
📸: Mike Zago Halo Photography Chicago
You have three grown kids! That seems so far away for many of our readers. Do brag about them….
Yep! We have three kids…almost all successfully launched! Twin daughters, Kathryn and Adele (23) and our son Charlie is (21). Kathryn graduated from DePauw University in 2020 and now lives in Wrigleyville. She works in marketing for Rakuten, an electronic commerce and online retailing company. Adele graduated from Boston College also in 2020. She is a data analyst for a company based in Boston called Kantar, a leading data, insights and consulting company. Adele also lives in Wrigleyville. Our son Charlie is a Senior at DePauw University and is the Captain of the DePauw Tigers football team! Go Tigers! Beat Wabash!
Please introduce WIN Athletic Club. What classes do you specialize in?
WIN Athletic Club is a boutique style group fitness facility. It features 4 studios for classes in boxing, strength, high intensity interval training and and sports performance to train youth and collegiate athletes in speed, agility and quickness.
📸: Mike Zago Halo Photography Chicago
We opened our doors on January 6th of 2020 to be shut down on March 15, 2020…..you all know why! Needless to say, it has been quite the experience opening a new small business during a pandemic amongst a very competitive fitness industry! However, it gave us time to solidify our systems and learn how to pivot and make things work. Now more than ever, wellness is top of mind and people are craving connecting with others…thus our motto is: The experience of fitness is better shared!
📸: Mike Zago Halo Photography Chicago
How did you become involved in the world of fitness?
My husband, Kris, was an All-American, Division III football player and I was a varsity swimmer at DePauw University. We met our senior year in a class called "Teaching and Coaching Individual Sports." Throughout our almost 30 years of marriage, we have continued our love of fitness and coaching. Kris has coached football for the last 15 years – the last 5 as the JV defensive coordinator for the Evanston High School Wildkits. And I have been a swim coach at the McGaw YMCA. I've also competed in many triathlons over the years.
Kris spent the first 25 years of his career in the commodity option trading business while I had a successful sales career at FedEx before becoming a stay at home mom. At the end of 2017, Kris decided to retire from the option trading business, follow his passion, and create an entirely new business built around fitness, coaching and connection – WIN Athletic Club!
There are many boutique fitness clubs on the North Shore. What makes WIN Athletic Club unique from other local fitness boutiques and clubs?
WIN Athletic Club was thoughtfully designed to provide an atmosphere that encourages both fitness and connection. A place where our members feel comfortable and motivated to become a better version of themselves. A place where the experience of fitness is better shared. You can have a bike in your basement but what about the energy of human connection? We want to cultivate experiences for people that lift you up. WIN Athletic Club is our "encore career" … it's not work, it's our passion.
WIN Athletic Club is a place to experience, connect and share. We are a 13,000 square ft "micro club". Our "Ohana" is a community of all ages who are here to live a healthy lifestyle, experience fitness together and grow! Ohana means "family."
Those, plus personal attention, customer service, and cleanliness is our top priority. We designed WIN to be more spa-like than gym-like. Come see for yourself. Come to WIN because you enjoy the experience here.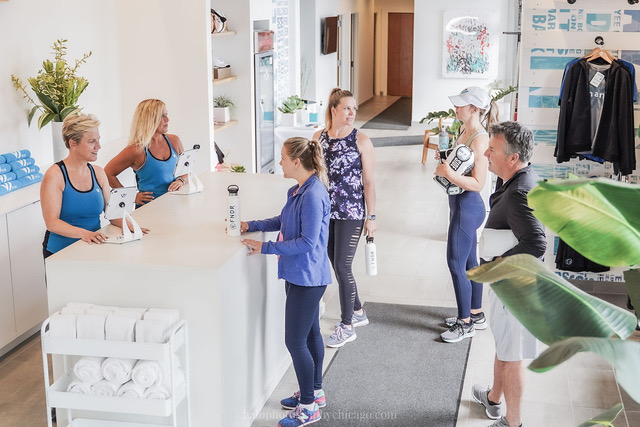 📸: Mike Zago Halo Photography Chicago
Does WIN Athletic Club offer fitness classes for kids?
Yes! Alongside adult group fitness classes, WIN offers kids club childcare for your littles, youth programming for your elementary and middle schoolers and speed/agility/personal training for your high school and college students, camps and birthday parties! Here's a snippet of kids' programming:
RECESS at WIN was born during the Pandemic…Here's how it works: Get a small group together (4-10 kids) of similar age group. Your group commits to a weekly time slot, with a minimum commitment of 4 weeks.
Programming can be tailored to any level of fitness, from basic movement to sport-specific training.
SAQ Speed/Agility/Quickness (Ages 10-18) is a 5 week program designed to improve overall coordination and athleticism. The program progression includes drills and activities aimed to improve agility, speed, endurance and explosive power.
A WIN BIRTHDAY PARTY! Celebrate your birthday at WIN Athletic Club with 90 MINUTES of a care-free, action packed experience for 12 guests, plus the birthday child. What's included: 60 Minutes of FUN and GAMES led by a WIN Instructor (1 instructor for every 12 children); Choose from Football Sports and Drills, Boxing, Obstacle Courses and Yoga; Followed by 30 Minutes of birthday celebration. Additional options: Bounce House; Mylar balloons; WIN goody bags; Food and beverages.
And, we have SUMMER CAMPS! Camps are for kids ages 5-13 and are divided into 2 age groups (K-4th & 5th-8th). We make it easy by offering 6 or 12 class packages – you will not be tied down with an enrollment. So, Come because you want to, not because you have to. We have fitness / yoga / art camp and sports & movement camp.
More weekend classes, more social events, more fundraising events where we continue to build a place for our community to connect and experience fitness and wellness together.
Is there anything else you'd like our readers to know about WIN Athletic Club?
At WIN you're not just a number you are a member of our community… we want to get to know you and welcome you to our community.
Other services at WIN Athletic Club include personal training by TEAM REACTIVE, physical therapy & chiropractic services by KO WELLNESS and massage therapy by PEAK PERFORMANCE MASSAGE. All you need under one roof!
This sounds like a super in person option. Do you have a special for our readers?
Yes! We'd like to offer your readers our intro offer of 3 classes for only $33. Mention Chicago North Shore Moms when you reach out over the phone or in person. We can't wait to meet you!
WIN Athletic Club is located at 1725 Chestnut Ave in Glenview. Learn more and reach out by visiting our website calling 847-906-1079, send us note or stop by! We hope you'll join us Facebook or Instagram!
📸: Mike Zago Halo Photography Chicago
This spotlight is brought to you by WIN Athletic Club.