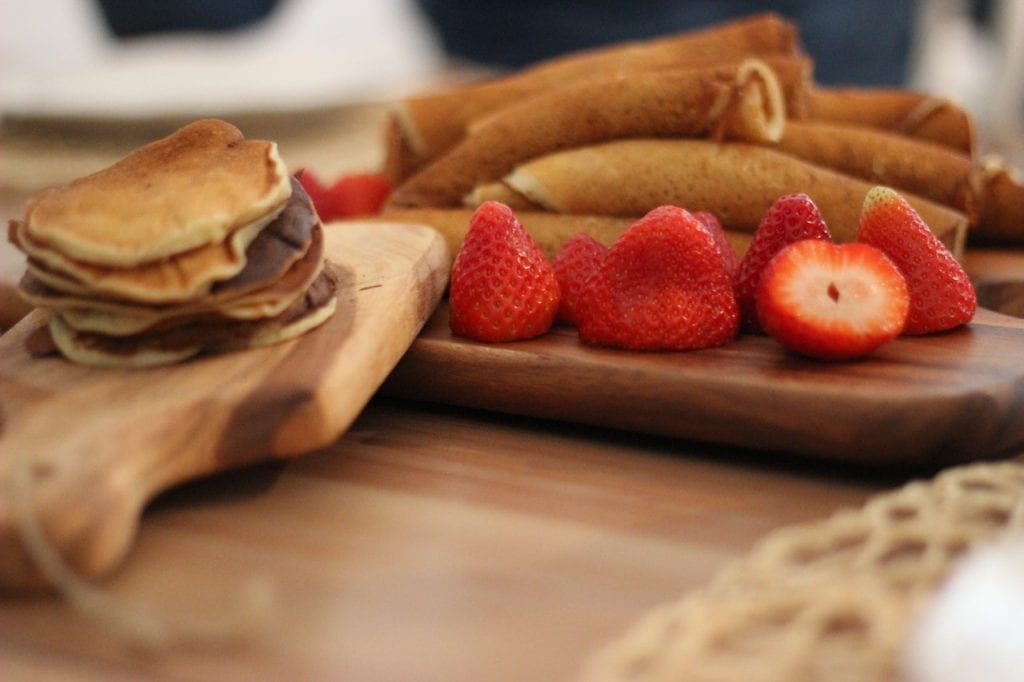 February 5, 2020 is World Nutella Day so what better way to celebrate this delectable treat than to pare it with crepes?! Here we have provided two recipes, one traditional and one gluten and dairy free**. Our dairy and tree nut allergy friends won't be able to enjoy Nutella but there are so many ways you can dress up crepes with options like berries and compotes. If you haven't made crepes, you'll be pleasantly surprised at how easy it is. Here we go:
Gluten and Dairy Free Dessert Crepes 
Ingredients
2 cups gluten-free all-purpose flour (option: Bob's Red Mill Gluten Free All Purpose Baking Flour)
1/2 teaspoon salt
1/2 teaspoon cornstarch (for thickening)
4 eggs
1 1/2 cups soy milk or almond milk (non sweetened)
1/4 cup diary free margarine, melted (option: Earth Balance brand)
1 teaspoon vanilla extract
Combine all ingredients (directions below) and enjoy!
Traditional Dessert Crepes
Ingredients
4 eggs, lightly beaten
1 1/3 cups milk
2 tablespoons butter, melted
1 cup all-purpose flour
2 tablespoons white sugar
1 teaspoon vanilla extract
Directions
In large bowl, whisk together all ingredients until smooth.
Heat a medium-sized skillet or crepe pan over medium heat (cast iron works really well for this). Grease pan with a small amount of butter, vegetable oil, margarine or Crisco applied with a brush or paper towel. Using a serving spoon or small ladle, spoon about 3 tablespoons crepe batter into hot pan, tilting the pan so that bottom surface is evenly coated. Cook over medium heat, 1 to 2 minutes on a side, or until golden brown. 
Note: As the pan heats up, the first crepe may not be a keeper, totally normal!
Spread Nutella over the crepe and YUM! Other serving suggestions are fresh berries, bananas, sugar and butter mixture and sugar, butter and lemon juice mixture.
**As with any allergy, it's important to research ALL products to ensure they are free of your food allergy. Please read ingredients on all products and make with caution.**
These recipes are courtesy of Allrecipes.com. My personal go-to source for GREAT recipes.