Yes, we know, more screen time… These last few years it's been at an all time high, BUT sometimes you need a cozy movie day- or lets face it, maybe just a break!  Pull out the blankets and gather your favorite snacks because we've rounded up our favorite movies and series.  From nostalgic characters that may be new to your littles, to current favorites that even parents will enjoy, there's something for everyone!  (And yes, Frozen isn't on the list… we tried to create a pool that you may not have dipped into yet! OF COURSE it's a favorite!)  
Littles Ones + 
Encanto, Disney+ (and available to purchase or rent on multiple streaming services)
This sweet film about a family with magical powers is really about the up and downs, the dysfunctional moments and the drama that enfolds within every family!  The music is addicting and the message speaks to us all.
Do, Re, Me, Amazon 
This new series featuring the voice of Kristin Bell is for the pre-school set. It follows the three titular bird besties through a new adventure each episode with music and song.  Anything Kristin Bell touches is usually a no-brained so this is sure to be great!
The Sword and the Stone– This whimsical, often times over looked, fantastical classic is full of songs & magic and tiny ones love it!
Madagascar Series– The first movie is definitely a family favorite, but all three of the Madagascar series are fast moving, endearing and funny with a fantastic cast and appropriate adult humor tucked in, these are sure to be crowd pleasers!  Madagascar, Madagascar: Escape 2 Africa, Madagascar: Europe's Most Wanted, plus find a few holiday specials with the zoo crew!
Pooh's Huffalump Movie
This sweet movie is in true Pooh tradition, and all about friendship.  I don't know what makes this one special, but my kids have watched it 100s of times!
Luca
Set on the Italian Riviera in the 1950's, this sweet film follows Luca Paguro, a sea monster boy with the ability to assume human form while on land.  This movie is about friendship, exploring the unknown, and acceptance- and we love it.
Ice Age
A funny story of friendship and adventure.  Kids young and old love this series.
Open Season– Kids love this goofy story about a resort living bear who, with the help of a deer, learns to live in the wild again.  They enjoy the sequel just as much!
Babe– Real, live talking animals with a message of acceptance!  So sweet and funny.
Charlottes's Web (Ellie Fanning version)- See above! Same!  Talking animals get us every time.
The Lorax– This film is fun, a Seuss classic, and inspires kids to take care of their planet and stand up for what's important to them!  (Also Zach Efron, drool,  & Taylor Swift is a bonus)
Monsters Inc– Somehow, this movie never gets old!  The characters are done so well, and we enjoy watching it as much as the kids.  Shrek (all, but especially the original) fulfills this too!
Over the Hedge– A stellar cast including Eugene Levy, Catherine O'Hara, Steve Carnell, Wanda Sykes and SO many more voice the furry suburban critters tormenting their neighbors.  With a fantastic soundtrack by Ben Folds, relatable humor and a focus on the importance of family & friends, this is a hit in our house.
Current Faves-
Bluey– This Disney Jr series is actually one we'll watch- and Enjoy!  It's family humor wrapped into a family of Australian dogs.
Let's Go Luna– Luna the Moon guides her friends on adventures around the globe!  This is so wonderful for learning about different cultures and giving kids a lust for travel.
Ask the Storybots– Kids learn answers to real-life questions in a fun and entertaining way- & the guest stars are fun for adults.  It's a win-win!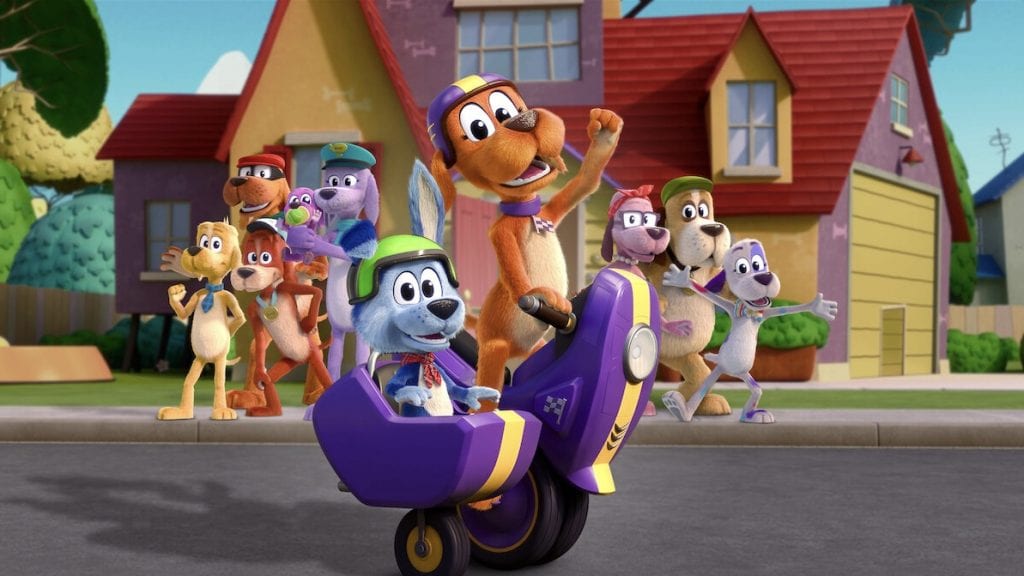 Go Dog Go!– Netflix adaption of another Dr Susse favorite- and it's so cute!  Think the dog party at the end of the book- but thought the entire series!
Monsters at Work– Disney + has a new series featuring the Monsters all grown up and at work!  My kiddos love these characters as these monsters are less scary, and all funny!
The Descendants & Zombies series– My kids have loved these Disney Channel Movies since they were around 4, but you have to decide when yours are ready.  The costumes, dancing and songs are so great and they wrap the kiddos right in!  (Warning, you'll be singing too)  Catch up on Zombie before the newest installation hits Disney Channel in February 2022!  
Bigger Kids 5+
The Neverending Story– A cult classic for a reason!  This fantastical film is a very favorite & stands the test of time. 
The Mysterious Benedict Society
In this series adapted from a book, Mr. Benedict, a elusive, talented and very smart individual, recruits four kids for a dangerous mission to save the world.  Set in the 50's, kids use brain power and creativity rather than technology and gadgets to survive.  This is a fantastic series to watch as a family- it's really good!
Clifford the Big Red Dog
This film is SERIOUSLY adorable, and pulls at your heart strings!  Both my 6yr old and 9yr old loved it- as did we!  (Paramount+, or available to purchase on multiple platforms)
Matilda– Silly, magical & a little creepy in true Roald Dahl form.  This film keeps kids laughing through magical pranks and has the sweetest ending.
Boss Baby: Family Business (The original is also great!)- Alec Baldwin can really do no wrong in the comedy department and his character in this sequel doesn't disappoint.  I laughed right along with my kids in this funny film about why family connection is important.  Streaming on Peacock and for purchase on other platforms.
The Mitchelles vs the Machine– This clever film visits our obsession with technology and screen time as the family embarks on a road trip.  Very current and entertaining.  Streaming on Netflix.
Disney's Bedtime Stories- Adam Sandler and Kerry Russel in a funny, light hearted & kid-friendly romance story within the story.  So cute & kids crack up at the goofy pet hamster. We love this film!
Shark Boy & Lava Girl– this fantasy film fights bullies in a far out world!  Very 
Labyrith– 80's fantastic, muppets at their best, weird, mystical, could be slightly scary, but so fun (also, Bowie).   
Hook– Everything about this movie is so great!  From the star studded cast to the adventure and the ever so slight shift from Peter Pan, this is the pan kids want to watch.
The Indian in the Closet– A classic story of friendships and seeing the world differently together with a little adventure mixed in.
Chronicles of Narnia–  This was a favorite book series growing up and now my son is reading it.  The series does an amazing job following true to the story while bringing cinematic excitement and adventure. (Disney+)
Johnny Tsunami– Surfer turned Skier by way of moving to Vermont in the 90's.  Lots of action, high school friendships and romance, and of course a good message in the end in true Disney Channel fashion. (Disney+) 
Cloud 9
My kids have watched this over and over and it never gets old.  I think the combination of the story, music and actually watching the snowboarding is the perfect mix for kids who like to hit the slopes. (Disney+)
Kirby Buckets
Admittedly not my favorite and maybe not the best role model, but my boys love this goofy and harmless series. (Disney+)
Zenon Girl of the 21st Century- This Disney Channel Movie is super cheesy in all the right ways- and there's a sequel to keep it going!  (Disney+)
The Spiderwick Chronicles– Siblings fight off mystical creatures attacking their new home.  This is a little suspenseful and at times possibly scary, but such a fun film- and if they like it, there's a book series! (Netflix)
Honey I Shrunk the Kids– The 80's did social barriers best and this science-y movie is no different.  Sweet moments mixed in with adventure and survival… much like an all time favorite, Goonies.  (Goonies never die)   If you loved either of these as a kid, you probably still will, and your kiddos will too.  (Disney+)
Lord of the Rings, Star Wars and Pirates of the Caribbean – These series will keep your kids going for YEARS!  (My kids favorite Star Wars installment is Return of the Jedi which proves that they're timeless.) (Disney+)
Hotel for Dogs– After being sent to a foster home, resourceful kids set out to find a home for their dog.  With the help from new friends they create a space for stray pets- and the bond with them as foster kids is incredibly touching. (Netflix)
Brink!– Did you rollerblade everywhere in the late 90's?  So did these kids.  Everything comes back around though and my kids are now just as into this 98' film as I would have been at the time it was released! (Disney+)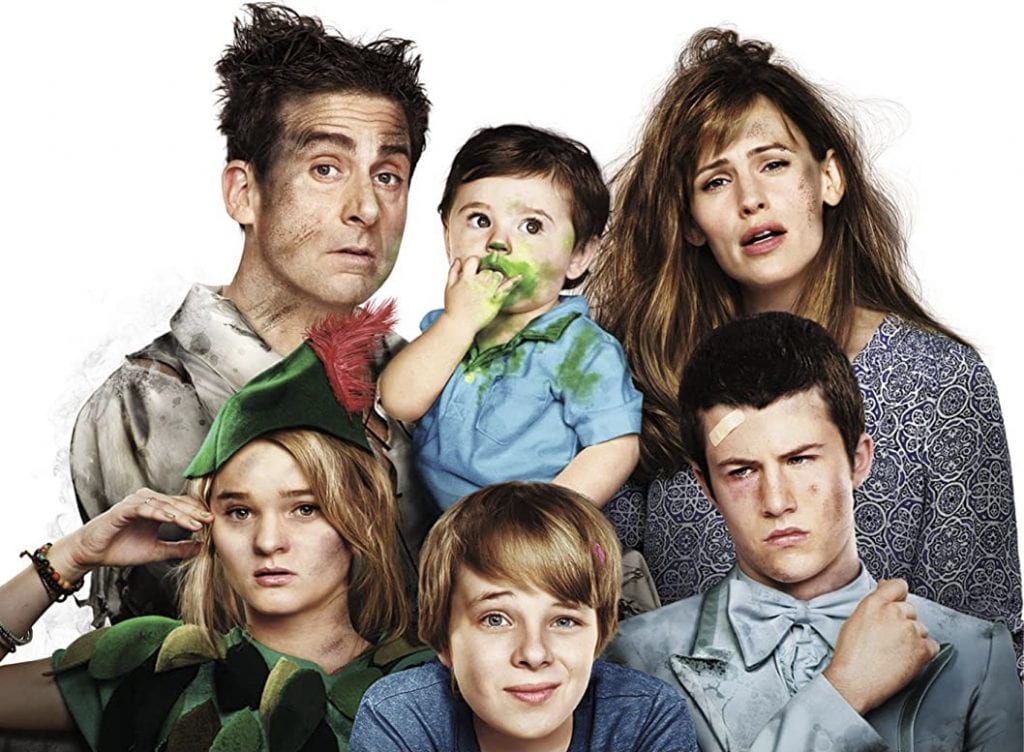 Cheeper by the Dozen & Alexander and the Terrible, Horrible, NO GOOD, Very Bad Day- Kids love watching the large family dynamics and multiple disasters occur in these funny films with excellent casts! (Disney+)
Coop and Cami–  This has to be one of the cutest series Disney Channel has put out in a while- which is why it's shocking it wasn't picked up for a 3rd season!  Fortunately, you can find it on Disney +.  It's a "would you Wrather" (their last name) situation in each episode with a bit of funny, love and real-ness in young teen life.  Sydney to the Max is also a Disney + favorite with the same funny, yet sweet, family feel.  My kids have basically run through every other Disney Channel series from the 90's through today over the last few years and they're all fantastic.  Liv and Maddie, Jessie, Kickin' it, Two Kings, Bizardvark and Ant Farm have been a few other favorites from the Disney Channel, all available on Disney+.  
The Hunted Hathaways– This Nickelodeon series on Netflix is about a family having to shack up with the ghosts that refuse to leave- but instead of being spooky it's funny.  It's not a favorite of OURS, but our kids love it.  
The Secrets of Sulphur Springs– The newest Disney Channel suspenseful series is so great!  It's full of flashbacks and multigenerational drama, without being too overwhelming- but keeping it entertaining for adults to watch along too!  (Disney+, and on demand)
Finding 'Ohana– This Netflix original is in the spirit of The Goonies (also not to be missed), but updated, and takes the family to Hawaii.  My kids have watched it multiple times already!
Marvel (from start to finish!)-  Ellie recently watched all 20+ Marvel movies with her family following the story timeline over the course of many months!  Such a fun way to spend a family time with kids of different ages!  Make it a weekly night to spend together!  *Eternals and Black Widow are the newest Marvel Films to add to your list.  All available on Disney+!