Welcome to Chicago North Shore Moms weekly Meet a Mom series where we feature one local mama, what they're up to both personally and professionally. But first we'd like to extend a very heartfelt thank you to our Meet a Mom sponsor, Lake Forest mom of three and owner of Gifford Law, a solo Estate Planning Law Firm. Mary, we appreciate your support of local moms in our North Shore communities!
This week's Meet a Mom feature celebrates a partnership of two amazing women. CNSMoms had the pleasure of interviewing life-long North Shore residents, pals and business partners behind the popular signature (and delicious) "Cookie Fries", Jill and Susie from The Cookie Joint! The Cookie Joint turns 10 years old this year – congratulations, Jill and Susie!
Hello ladies! Please introduce yourself. Where do you live and what do you love about living here?
Jill: Hi! My name is Jill Balick. I live in Highland Park, IL with my husband Robert. We have two kids, Matthew, 32 and Jackie 29, who both live in LA. No grandkids. I grew up in Highland Park and always loved the beautiful trees, parks, and being close to the lakefront. As kids we would ride our bikes for miles from one end of town to the other, and it was easy to take the Green Bay Trail either South to Glencoe or North to Lake Forest. After living downtown Chicago with my husband for several years, and later with our two young kids, it was an easy decision to move back to Highland Park. Raising our family, we really enjoyed all of the outdoor activities, festivals, and our own quaint downtown with its many shops and restaurants within walking distance from our home. Highland Park is a special place.
Susie: Hi! my name is Susie Schuster, My husband and I live and have lived in Highland Park for 34 years. I love our community for many reasons but the biggest reason is for the compassion people show each other in times of need. I raised my two children here and both flourished. My daughter Marlee is 33 and is married to her husband Matthew for 4 years. They have a baby girl Charlotte (Lottie) who will be 2 in April. They also reside in Highland Park. My Son Blake is 29 and is engaged to his fiancé Katie. They are enjoying life in the City for the time being.
Jill: The Cookie Joint is an online and wholesale cookie company featuring our signature cookies that we invented called, "Cookie Fries." "Cookie Fries" are baked shortbread cookies shaped like crinkle-cut French fries, and packaged in classic fry cartons. We have 10 delicious flavors and five decadent sauces for dipping (like dipping French fries in ketchup). Our online business at thecookiejoint.com features our one-of-a-kind "Cookie Fries" gift baskets for birthdays, holidays, corporate events, weddings, and more. We are also sold on the popular food website, Goldbelly.com. In addition, "Cookie Fries" are sold by-the-carton at several retail locations including all five Sunset Foods grocers, O'Hare Airport kiosks, and other specialty stores throughout the Midwest.
Susie: The Cookie Joint is like my third child. We (Jill and I) started it in 2011. It was started because of the love for baking we both shared. Prior to starting The Cookie Joint, I worked with my husband in his event planning business.
After ten years of sharing a workspace with others in several different locations, we now have our own space in Northbrook, Illinois.  Although it is not a retail location, and our sales come from our online sight, we do take orders over the phone for local pick-ups.
This is such a fun and festive idea! What are your most popular products:
Jill: Probably our "Sampler Basket" containing six cartons of assorted flavors and sauces. Our limited edition holiday baskets are also very popular for Thanksgiving, Christmas/Hanukkah, St. Patrick's Day, Easter, 4th of July, and others.
Susie: Our "Cookie Fries" come in 9 flavors. Unless otherwise specified our gift baskets come with an assortment of flavors. It is hard to pick a favorite but I love the confetti ones.
The "Loaded Cookie Fries" are a big hit with the kids, as they're interactive and you can decorate them. Our "Fry Baby" Baskets are an original way to celebrate a new baby, and they're always such a unique, delicious and "cool" gift basket that nobody expects.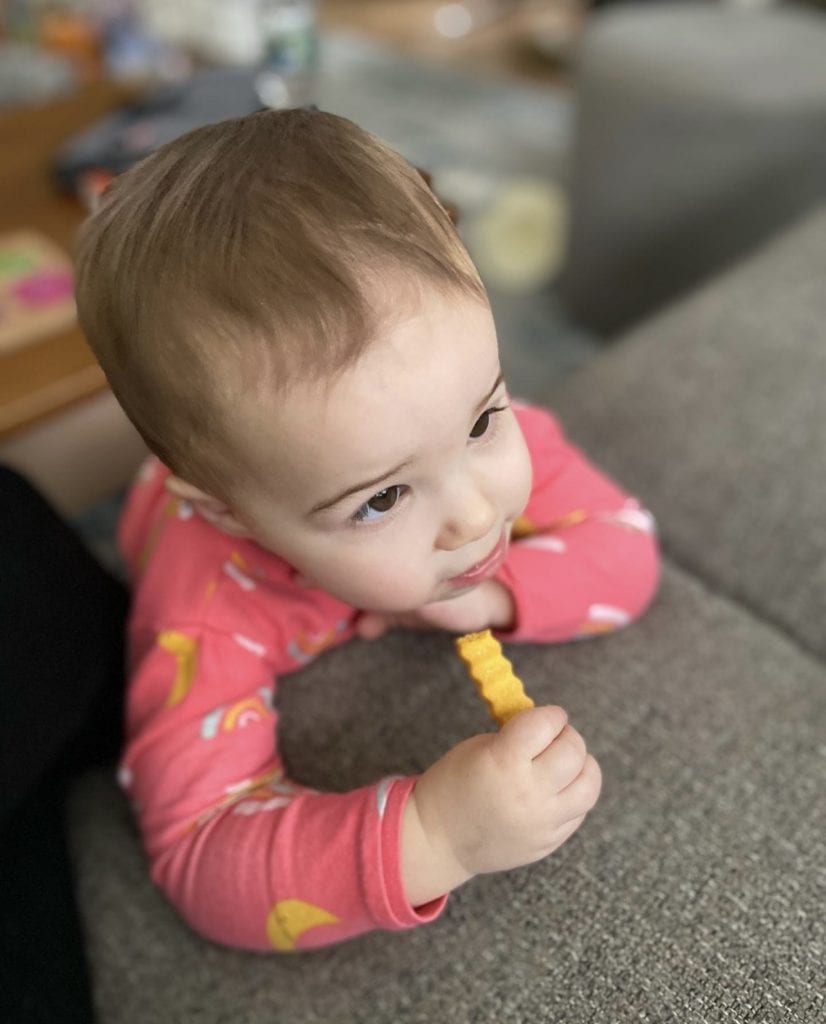 What is the most rewarding part about your endeavor?
Jill: I'd say that for us to go from just an idea of creating a cookie company, to inventing a whole new kind of cookie, "Cookie Fries", to seeing how much people love them, and the overall growth of our company for 10 years now, has been extremely rewarding. It's been a labor of love but it's been fun, challenging, and we've learned so much. And yes, we're still friends!
We are also proud that we are a 100% women-owned and run small business (WBENC), Oprah "O" List approved, and that our product made a cameo on The Food Network's Chopped.
Susie: The most rewarding thing is watching customers of all ages enjoying and engaging with something we worked so hard and poured so much love into to create.  
How do you not eat all the cookies?
Jill: Well, we do still find them irresistible but as they say, you shouldn't eat the profits so we limit ourselves as much as we can.
Susie: We too love "Cookie Fries" and have to hold back from eating too many. But fortunately someone has to do quality control!
Who would you like to thank for the success of The Cookie Joint?
Jill: While we certainly have been inspired by other women-owned companies like Sprinkles, and have sought out advice from business people here and there, we really did most of the work of building The Cookie Joint ourselves—with help from our husbands and family. That probably led to more mistakes made than we might have had but in the end, it's satisfying that we did it ourselves.
Susie: Although we have received guidance along the way, I think Jill and I have worked so hard to make our company a success. We learned as we went along and definitely made some mistakes, but I think that's how you educate yourselves.  We have our families and friends to thank for their love and support.
What would you say to moms out there who our itching to start up an entrepreneurial endeavor like The Cookie Joint?
Jill: Go for it! Be prepared to work hard and accept that there will be plenty of obstacles, but if you have a vision and the passion to create something, it can be very rewarding, fun, and profitable. And in our case, delicious too!
Susie: Follow your passion, surround yourself with people who will support you on your journey and always stay open minded and willing to adapt.
Jill & Susie: We've recently introduced our "Loaded Cookie Fries Kit" that comes with everything you need to load-up your "Cookie Fries" the way you want—with toppings like rainbow sprinkles, mini chocolate chips, Oreo bits, toffee crunch, and chocolate and marshmallow sauces.
And, we're looking for opportunities to partner with a fast food restaurant chain to carry "Cookie Fries" on their menu (perfect, right?), and get them in the mouths of millions of more people.
Drooling? Order your cookie packs from The Cookie Joint via https://www.thecookiejoint.com/. Questions: email thecookiejo[email protected] or phone 847-461-3068. Follow The Cooking Join on Instagram and Facebook!