CNSMoms is pleased to introduce you to a fierce mother-daughter owned and operated business that is also a true fixture of the North Shore community for 35 years, The Irina Makkai Classical Ballet and Dance School. The premier dance school offers Ballet & Point, Variations & Partnering, Jazz, Tap and Modern dance styles for children ages 3+.
We had the pleasure of chatting with the daughter of Irina Makkai, Lilla Makkai Daniels, who is a North Shore mom of two, the dance school's Creative Director and the Artistic Director of the Youth Company. Lilla explains how the school began, how they've adapted through Covid and how they'll keep thriving.
Hi Lilla! Please introduce yourself and your family. 
​Hi, my name is Lilla Makkai Daniels, I was born in Romania and moved to Highland Park when I was four. I still live in Highland Park. My parents chose Highland Park because of the city's commitment to the arts, the strong school system and the tight community feel. I have two boys David, 15 and Dylan 13.
Please introduce Ballet Makkai.
The Irina Makkai Classical Ballet and Dance School has been the Premier Dance School of the North Shore for over 35 years. My mom, Irina Makkai originally brought the Russian based Vaganova Ballet Method to the North Shore in 1984. We are the home of the Ballet Makkai Youth Company and Ballet Makkai Nutcracker, The Irina Makkai Classical Ballet and Dance School received the prestigious Mayor's Award for the Arts for their instruction and contribution to the arts in Highland Park. We offer Ballet & Point, Variations & Partnering, Jazz, Tap and Modern dance styles. Ballet Makkai offers the finest in Dance Education on the North Shore.
When did you begin working with your mom? How long have you worked with her in the studio?
My mom founded the school in 1984, I started teaching with her when I turned 19. In 2005 she and I bought the building that the dance studio is home to, and I began working with her as Creative Director in 2005.
What was the inspiration behind the formation of this business?
​When my parents first defected to the States, my mom taught for someone else. She knew she could offer better instruction and bring the Vaganova Method to the North Shore so she opened her own school in 1984.
What are the ages Ballet Makkai students?
​We have students ages 3 and up, I currently have 8 Seniors who are graduating this year, most of whom I've had since they were 3 or 4 years old.
What classes/workshops are offered at Ballet Makkai?
​
We offer Ballet, Jazz, Modern, Tap and have special classes for our youngest dancers in our Pre-Dance Program. We have three productions during the year, The Nutcracker, The Student Choreographic Workshop and our Annual Recital.
Lilla, do you teach classes?
Yes! ​I am the Creative Director of the School and Artistic Director of the Ballet Makkai Youth Company. I teach ballet, pointe and variations. I also am the Director of the Nutcracker and the Student Choreographic Workshop.
A mother/daughter business duo is offers a unique loyalty to any business. Tell us more about how that began.
Just after graduating high school I started teaching as well. My mom trained me to be a professional dancer, but she also trained me to teach. Especially how to break ballet steps down and how to teach the artform to children in a way that they can understand, excel and grow their love for the art. Although I went to college, danced full time, went to law school and was an Assistant State's Attorney, I never stopped teaching at the school. My mom and I are extremely close, and we both bring something special to our students. I also think we are a great example of what a mother/daughter team can do!
What's the most rewarding aspect of being a part of Ballet Makkai?
​I love inspiring a new generation and introducing them to the art of dance and all the possibilities it can bring. I especially love choreographing and seeing what I envision in my head come to life on stage. My mom and dad both work at the studio and I love that it is a family business. Together the three of us produce some amazing shows.
What has been your proudest moment?
The week after our performances of the Nutcracker, my oldest students asked if we could do a performance at Sunrise Assisted Living. After we performed all of our prepared dances, the audience asked us for an encore. Our dancers adapted and performed a piece we didn't prepare and pulled the number off perfectly, they didn't want to let the residents down.
How has the pandemic affected Ballet Makkai? Have you pivoted in any way?
​Like all business we have had to deal with forced shutdowns, so we transitioned our classes online for a time. During this time we developed an online program that was at first on demand with activities, colorings sheets and more for our younger students. I gave the dancers choreography assignments that they would record and send to me and I would edit and put together a dance virtually. Eventually we moved to Zoom classes and had to adapt our Nutcracker to a virtual performance.
When we were finally able to come back to the studio in person, we took measures to keep our students safe with social distancing by implementing six foot squares on the floor, clearly marked directional signs throughout the building and new ventilation systems.
We are currently working our recital which we plan on performing in person within the guidelines. I have to give my eight seniors a real recital, they deserve it!
We are pleased to also be offering our Summer Dance Intensive Camps this summer. We will have guest teachers from the Joffrey Ballet, Elements Contemporary Ballet, River North Dance Company, Hubbard Street and more, our Summer Intensive is designed to inspire and challenge all dancers to improve their technique. Daily classes include Ballet, Pointe, Partnering, Variations, Modern, Jazz, Acting, Body Conditioning and Choreography.
Last but not least we are preparing for our Annual Production of the Nutcracker, 2021!
Who would you like to thank for the success of Ballet Makkai and why?
Of course, the students and partnership of the parents. Their time and dedication to the art is paramount.
I also have to thank my parents, my mom for training me as a dancer and a teacher and for being a great business partner. My dad for making whatever crazy idea I have come to life in terms of sets and props and setting up performance spaces in the craziest places like the windows at Uncle Dan's for the Highland Park Lighting Ceremony.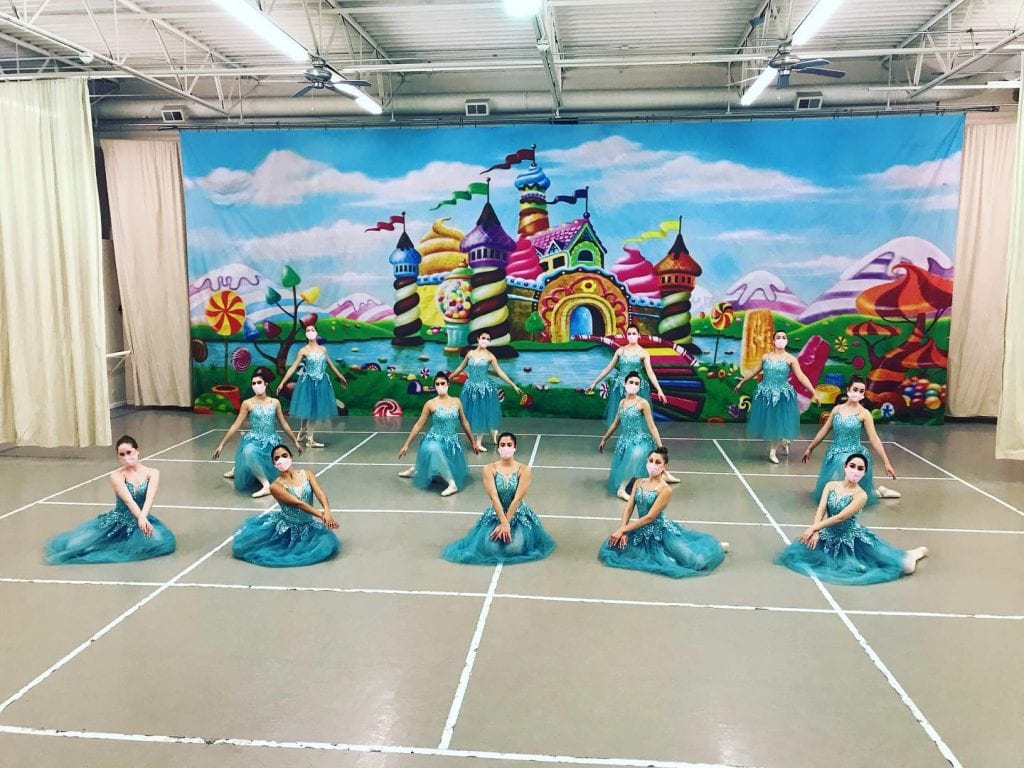 Do you have questions about The Irina Makkai Classical Ballet and Dance School for your child? Give them a call at (847) 433-1449, or email [email protected] or Lil[email protected]. And watch recorded demonstrations on their Facebook and Instagram page.
Chicago North Shore Moms would like to thank sponsors like Ballet Makkai for their ongoing community partnership. Thank you for helping to keep our community resources and website strong for local parents.
Special note about the photos included in this interview: The photos included in this post without masks were taken pre-Covid. Presently, all dancers are required to wear face masks. Visit their Facebook page to view videos of dancers performing socially distanced with face masks on and call Ballet Makkai at (847) 433-1449 with any questions.