Welcome to Chicago North Shore Moms Meet a Mom feature, where we celebrate our extraordinary, local mamas! This week's feature is Jeannine Benoit Adams, long-time marketing guru and founder and CEO of Ready Pretty, a digital marketing agency for independent women-owned boutiques and brands. The boy mama of two is expecting baby #3 any day now! We first had the pleasure of speaking with Jeannine at a local holiday shopping pop up event, where she showcased two local clients, Caprice Decadent and Simply May. Welcome Jeannine!
Where are you from originally and how long have you lived in town? What brought you to your current town?
Ohio to North Carolina then back to Ohio for college then to Chicago for graduate school. My older brother was in Chicago at the time, so I decided to go where he went. For what I wanted to do, it felt like the right city to be in. I currently live in the city, and work with several North Shore brands and businesses
You're a mama! How many kiddos do you have and how old are they?
I have two boys ages 5 years and 18 months, and at the time of writing this I'm about 20 days away from meeting my final kiddo – a girl!
What's your favorite thing about being a mom? Please share at least one mom "hack/tip" that makes your everyday life a little easier… 
It's hard to pick just one! I'd say it's the small things – when the baby laughs and funny things they say – the little kisses and special traditions that we have now as a family. Most of all I love seeing my boys together – seeing the bond that they already share – and I can't wait to see how they'll be when their little sister joins their crew.
Biggest mom hack right now I think is more about me than them! I like to meditate first thing in the mornings before everyone wakes up. As we all know, mornings getting out of the house for school, daycare and work can feel like a marathon and a sprint at the same time. Taking just 10 minutes of calm and focused me time seems to set my day off on the right track. I'm looking forward to getting back to my morning workouts before everyone wakes up once our newest gets here.
Oh that's brilliant! How did you learn how to do that and how long have you been meditating in the morning? Do you use an apps for that? 
I've done meditation off and on for several years – my husband got me into it. It really helps to calm my mind, focus my thoughts, set my intentions and relieve stress.  I use The Calm app.
If you listen to podcasts, what are your top 3 faves?
I love to learn and hear stories from other entrepreneurs and each of these podcasts always seem to teach me something to help better my business.
How I Built This by Guy Raz
Shopify Masters
Rent the Runway's Project Entrepreneur
Least favorite mom job? 
Cutting baby nails. Is there anything more stressful?!
One thing people would be surprised to know about you…
I was and still am super athletic. I think because of my profession, everyone assumes that I'm this huge girly girl. But growing up I played every sport – basketball, volleyball, soccer, softball – competitively. In addition, I can build pretty much anything. As a kid I used to watch my dad who instilled in me everyday that I could do anything the boys could do. He taught me how to build things with my own hands and take pride in my work.
What a great a great skill. Any project come to mind that you're proud of?
I've built the majority of pieces in my home! Most notable would be a billion piece dresser when I was 9 months pregnant with my first! I love being able to make.
For our out-of-town readers, what are your favorite city jaunts to spend with the family…
I live downtown, so there's no limit to fun things to do with family. We love Garfield Park Conservatory, Be Kids Cafe, Mary Bartelme Park when the weather is nice. We also love Stax Cafe for breakfast and Forno Rosso for fun Friday night pizza. And we just recently went to Harold Washington Library and were beyond amazed at how much fun it was for both our boys. They have an amazing childrens' floor with tons of activities for little ones.
What was your most memorable family vacation and why?
My family is from the islands so we're lucky enough to visit the kid's Oma and Opa in Aruba at least twice a year. Every year gets better than the last as our kids get older and our family grows. It's so nice being able to spend time with my parents, give my kids quality time with their grandparents and get spoiled for a week or two on a tropical island away from the hustle and bustle of everyday life.
You are a mompreneur! Tell us about your business!
Yes! I am the founder and CEO of Ready Pretty, an online marketplace and digital marketing agency for independent women-owned boutiques and brands. We work with boutiques across the country allowing them to sell their clothing and beauty products on our site. In addition, we work with brands and businesses from an all-up marketing perspective – web design and development to PR and events, to social media, content development and branding. I started the business officially 3 years ago and we have a small but mighty team of three employees and work with a variety of freelancers (photographers, writers, etc) that come in and out of client work for us.
What previous career experience helped to pave the way to founding Ready Pretty?
I worked at large integrated marketing agencies throughout my career on marquis brands like Levis, Macy's and Best Buy. My last role was the Director/VP of PR, Social Media and Content Marketing – which truly encapsulates what I do for my clients today.  At some point I just realized I wanted to take my experience and skills and help the small guys. It's been a much more rewarding path for me and the businesses we've impacted, the women we've met and the stories, products and services we've been able to share has been so much fun.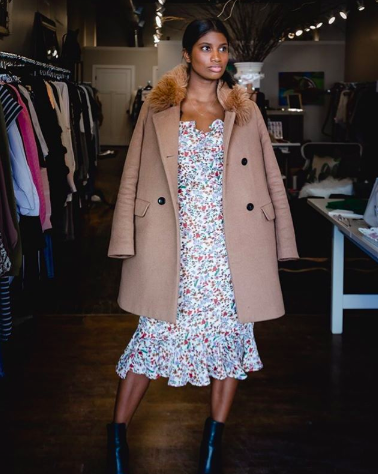 What is the inspo behind the name, Ready Pretty? 
Funny story – my husband and I were sitting at the kitchen table thinking of names. I wrote down Pretty Ready – and didn't like the flow. So we switched it and it stuck.
What is your most favorite business tool, something that you use day-to-day?
I use the app Planoly. It's a social media planning tool that we use for all of our clients. As I mentioned before, I run an online marketplace and marketing agency that supports women-run businesses mainly across beauty, fashion, lifestyle and family-focused brands. We help with soup to nuts marketing – web design, social media, content development, branding, event etc. We put all of our clients on this app to help them organize their social media.
What's the hardest part about being the boss?
The hardest part about being a boss is also the most rewarding part about being the boss – the buck stops with me. We have an amazing team, incredible clients and have grown a true network of connections.  It's amazing and wonderful and I can control my own destiny – but in that same breath it's stressful and scary to really own your own path.
What are some of your proudest moments with your business where you said "wow, I/we did that"?
We've seen pretty incredible growth in the last year – tripling our client roster, adding team members and growing our overall reach and network. Just last week we were planning a content shoot for a client and I looked around the office proud of the work we were putting out, the women surrounding me in the room and the big ideas that were being tossed around.
How important is it for you to have a passion/career in addition to motherhood?
I don't know that I consider my work my "passion". It's my job, it's what helps to support my family. I love what I do and it's important for me to show my kids that their mom (and dad) worked really hard to give them the life that they have. I also want to show them how to work hard but still play hard – as cliche as that sounds. All those things that I learned from my parents growing up that made me the person I am today – I want to give to my children.
When parenting gets hard, what's something you tell yourself that gets you through?
Everything is a phase. It'll pass. I look at my oldest son now and can't believe how fast five years went by. You forget all about the sleepless nights, the sick days, the toughest of days – instead I find myself holding on to every single second of him being this small. Because it really does go so fast.
What's on the horizon for your business? Future aspirations, plans….
I look forward to continued growth for the business, adding more incredible team members in the next few months, bringing on more women-led brands and making our clients happy. We'll be hosting our first conference this summer for independent brands and boutiques to learn how to better market themselves online and we'll be creating more resources and tools to help women businesses owners succeed digitally. In addition, we're hoping to bring on a strong stable of freelancers (photographers, writers, etc.) to help with projects as we grow.
We've got a lot of plans for 2020 and beyond – and I'm so excited about the possibilities!
Shop and connect with the folks at Ready Pretty:
Website: www.ReadyPretty.com
Email: [email protected]
Insta: @ReadyPretty