Welcome to Chicago North Shore Moms Meet a Mom series where we feature our local mamas – what they're up to personally and professionally. To date, we've feature over 100 local moms! This week's Meet a Mom feature is the lovely Lake Forest transplant and mom of six-year-old Lincoln, Nicole Fabiano Oertel of The Oertel Group! It's no secret that the real estate market has picked up in "the burbs" lately and thus, Nicole and her husband (yep, her real estate partner) have been biz-zee! Working 'round the clock' doesn't stop Nicole from dedicating a significant amount of time to Stepping Stones Network, Chicago's local nonprofit dedicated to educate and engage the community to prevent domestic commercial sexual exploitation and to provide comprehensive, restorative care to survivors. Kudos and welcome, Nicole!
Hi Nicole! Please introduce yourself. 
Hi! I'm Nicole and my family and I currently live in Lake Forest! I'm originally from Michigan and after high school moved to South Florida for almost 10 years before moving to Chicago in 2009. This year I am celebrating my 20th year in real estate. I moved to Chicago in the midst of the last recession and devastating housing crisis so I'm no stranger to trying times.
You're a mama! How many kiddos do you have and how old are they?
I am the very proud mama of a 6 year old daughter, Lincoln. Lincoln is entering the first grade!
What's your favorite thing about being a mom?
I adore watching my daughter discover her new found skills and try new things. She's a constant reminder to myself to always push forward and that none of us ever stop learning. I love that she reminds me to be silly and that life doesn't have to be so serious. Being a business owner, my mind is easily focused on growing and building. Lincoln gives me the motivation not to give up, yet also reminds me to pause and live in the moment.
Please share your favorite mom tips that make your everyday life a little easier…
I have been doing my best (failing often) to keep a routine. Even just a loose one as otherwise I find the day gets away from us and it's 5pm and I feel I haven't accomplished anything.
During quarantine when school became e-learning, Lincoln had enjoyed writing out her own school schedule the night before which really helped with her e-learning experience. Adding fun things like snack time and art class and pretending to take lunch to school by packing up her lunch box has helped to keep it fun.
Also, it's super important that we get outside every day. Going for walks at the beach or open lands has been good for the soul. We also bought a firepit for the backyard and have been roasting s'mores, Lincoln loves it!
If you have any podcasts or apps that help inspire you, calm you, help you run your business or organize your life, what are your faves?
I used the Calm app prior to the pandemic and have certainly been using it now. Trying to get even just 30 minutes to myself before the day starts or if that doesn't happen I've been trying to take a "time out" in middle of my day to meditate or do yoga. I try not to guilt myself if it doesn't happen but on days that it does I'm much better overall for it!
One thing people would be surprised to know about you…
Most people think I'm extremely social and extrovert by nature. I'm not. I love being home and working on my own house. I love one on one conversations and learning from others by listening to their life experiences. Give me an iced latte or cup of chamomile tea (depending on time of day) and a good storyteller, I'm in my happy place!
What are your some of your favorite local places to spend with the family during COVID 19?
Since the pandemic we have really fallen in love with going to one of the local beaches or open land trails and having a picnic. Our beaches around Lake Forest are stunning and remind me of Michigan. Whether it's a coffee and a donut from Tala as we walk on the beach or packing a picnic basket, the beach is definitely my fave family place to be!
Date night looks quite different these days. Any ideas you care to share?
Normally, we love Deer Path Inn, who knew Lake Forest had such a hidden gem?!
As much as I'd love to dine at a restaurant, the restrictions have really allowed us to fall in love with the outdoors here in Lake Forest and surrounding north shore towns. For dining outside we love Market House in Lake Forest! Great outdoor patio and now they added a taqueria! Great date night spot! For takeout we love La Plancha Loca in Highwood. $2 Taco Tuesday, perfect! And no having to do dishes!
Great suggestions! Any favorite treat shops?
Sweets in Lake Forest is great! We also love newly opened Peanut Gallery in LF! We try to support the local small businesses as much as we can. They are so important to the North Shore!
You are a mompreneur! Please introduce your business.
I am co-founder of The Oertel Group at Compass in which I founded with my husband back in 2011. Prior to that I had been in real estate for 10 years in South Florida. I moved to Chicago in 2009 during the housing crisis and founded a company that helped distressed homeowners called Home Solutions. While running that company we also built our traditional real estate clientele via the Oertel Group|Compass and proudly help sellers, buyers & investors throughout the North Shore and Chicago.
What should sellers know about the current real estate market?
Starting in May the market started to pick up as the were buyers ready! Online Searches had gone up 40% while we were shelter in place. Come June the floodgates opened and buyers wanted more space both indoors & outdoors. They want more at-home amenities like pools and outdoor patios. We help many of our sellers start preparing their homes for sale via our Concierge program which allows us to professionally assist our clients update their homes before putting the house on market. Many clients prefer we do it for them including pay for the updates and they just pay us back when the home closes. It's a full service approach and our North Shore clients love it. Especially moms as they have enough to worry about!
And what's the most important piece of advice you'd give to a prospective buyer?
I believe our homes & loving where we live is more important than ever before. Rather that means being closer to family or living in a supportive community with great neighbors. Living in an area like Lake Forest and throughout the North Shore has made me and many others I know including clients and neighbors have a renewed sense of gratitude for our neighborhoods and the space and amenities they provide. We are all spending more time at home and I can't imagine living anywhere else. From the actual street we live on, to  overall neighborhoods, to our awesome Lake Michigan beaches and amazing local restaurants and shops, it makes me truly appreciate the small town feel the North Shore towns can have which I think is great! To summarize, as a mom I'm very satisfied and grateful with the "burb life" these days!
Who are your influencers and/or mentors?
I've had different mentors throughout my life. In today's world I have many influencers that attribute to what I do. I'd be lying if I said I didn't love Chip and Joanna Gaines. John and I work similar in the aspect that our roles are similar. Even though we both do it all, the last few years (especially since having Lincoln) I have concentrated more on marketing and branding the OG as well as helping our sellers get their homes ready to sell which can sometimes mean updating a kitchen or bathroom or painting and staging or all of the above. We also buy and fix up homes to then sell or rent out. Our current home in Lake Forest needed a complete renovation. I have loved designing the home on my own (with John's input of course!) and even though I would not necessarily recommend living through a complete rehab it has taught me so much about the process and am excited to help more of our clients do the same. You can follow my renovation blog at theoertelgroup.com/blog
What advice can you give other mamas out there who are looking to re-enter the workforce?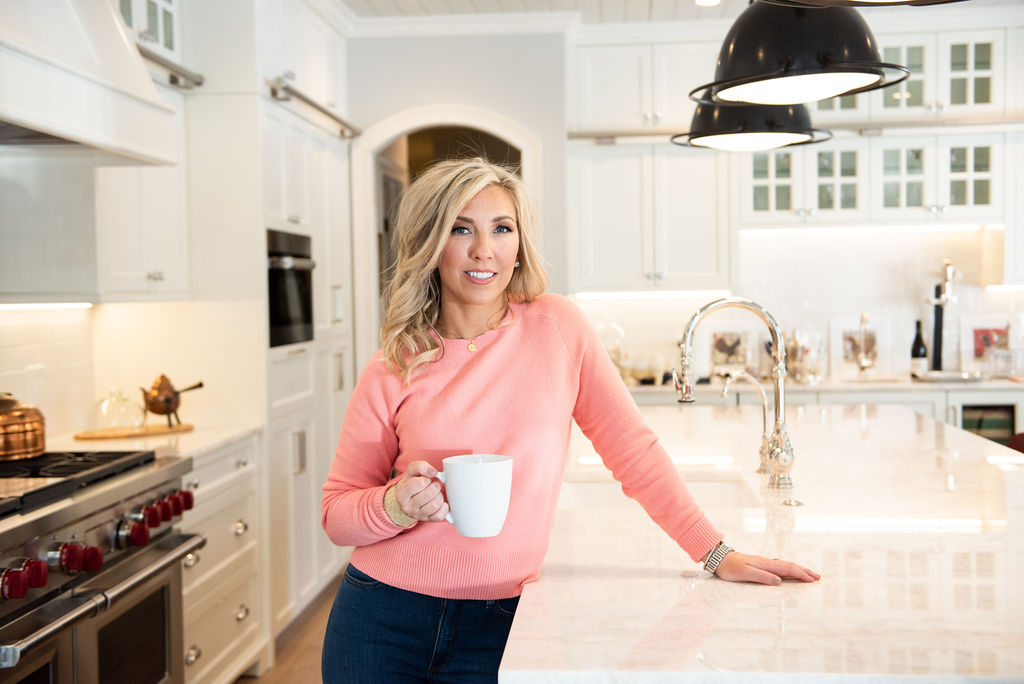 Depending on your situation, if you can ease back in and/or dive into something you really love doing will make the transition easier. Obviously having to return to a job you dislike is going to make the transition more difficult. But I think us moms all need an outlet outside of our families. Something we do for ourselves. Even IF that 'something' is a job, hobby or volunteering for a charity. We all need some 'thing' that is our 'thing' that we are doing because it makes us feel good or gives us a sense of independence and shows our worth in other areas. For me, working allows me to not only help provide for our family but also gives me a creative outlet.
I also volunteer for a local organization that helps survivors of trafficking who are moms with children rehabilitate their lives: steppingstonesnetwork.org. Volunteering allows me to do something that is not for my direct benefit and that feels good. I also think its good for my daughter to see me helping and understand that there is such unfortunate people out there and that we can do our bit to help.
How did you get involved in Stepping Stones? 
I discovered Stepping Stones randomly while looking at charity events in the North Shore. I went to one of their fundraisers and was immediately drawn to their cause and wanted to help. That was over 2 years ago. I am now on their development board and run their social media accounts. We are currently getting ready for our second Annual Festival of Trees event at the Cuneo Mansion. It will be Nov 20 & 21!
How important is it for you to have a career outside of being a mother?
I don't know if I would say having a "career" is important to me but certainly having something I feel like I'm contributing to outside being a mom is important. I think that is because it helps me be a better mom. Too much of one thing isn't always a good thing. And that doesn't mean I don't want to be around my daughter all the time. I'm fortunate to be self-employed and have the freedom to spend so much time with my family. I'm able to take and pick up Lincoln up from school and then run around to ballet and ice skating. I cherish my lunch dates with her and I LOVE being a mom more than anything. But working allows me not to take those times for granted. These last 8 weeks of shelter in place have been crazy and more than ever made me realize I can't be everything to my daughter nor would I want to be. We all learn from multiple people in our lives & its why surrounding ourselves with good people is so important. Being with Lincoln 24/7 and not having a lot of other outlets for me or her is not healthy. There is a reason we have schools and teachers! I'm grateful for family and friends whom are a positive influence for both me and my family.
I want to continue growing The Oertel Group. We are currently looking at bringing on additional OG team members who want to help us grow the brand and have fun selling real estate! After 20 years I have a lot to share and am happy to help others looking to grow their real estate career. I personally want to buy and fix up more homes in the North Shore and help continue to support our neighborhoods and home values by doing so.