Hello friendly faces! It's that time of the week! We're back with a new CNSM Meet a Mom spotlight brought to you in part by Mary Gifford of Gifford Law. This week's Meet a Mom interview is with North Shore native, mom of three grownish kids and co-owner and camp director of Camp Ojibwa, Linsey Friedman!
A lifelong camper at heart herself, Linsey and her husband Ross came upon an incredible opportunity to buy an overnight camp. "We finalized our purchase of Camp Ojibwa in January of 2021, however, we had been deeply devoted to it for many years prior," she reminisces. In fact, just years after they began having kids, a yearly tradition ensued with family camp at Ojibwa, and the two boys continued to return summer after summer as campers, and, today, staff!
Linsey is energetic, lovely, fair and the kind of mom/owner/director that any camp would be lucky enough to have! Welcome, Linsey!  
---
Hi Linsey! Please introduce yourself. Where are you from originally? What city do you live in now? What brought you here?
Hi! My name is Linsey Friedman. I grew up in Glencoe, IL (after being born in Deerfield, IL.) We currently live in Deerfield, IL in the off-season, and in Eagle River, WI at Camp Ojibwa during the very best time of year, the summer. 
Tell us about your three grownish kids. Do they come with you to camp?
I have three amazing children: Ethan is 20 and is a sophomore at the University of Wisconsin, Madison. Grace is 18 and is a freshman at George Washington University in Washington DC. And AJ is about to turn 16 and is a sophomore at Deerfield High School. Both of my boys were campers long before we owned Camp Ojibwa. Ethan is now a counselor and Aj will be in the oldest cabin this summer. AND, for the first time ever, Grace will be working at Ojibwa this summer helping out in the Health Center and lifeguarding!
What are one or two fun facts to know about you?
I love to water ski and my goal every year is to prove that I can still get up on one ski (which I learned to do as a kid at camp). I am dreading the day when that changes! I think people who don't know me well may also be surprised to learn that I hate shopping of all kinds! Clothing, home goods, groceries… I get grumpy the minute I walk into any store!
What are your favorite North Shore places to spend with the family?
I am truly happy to be anywhere with my family! We tend to be homebodies and love to order in and hang on the couch together. If I can get any or all of them to join me, I always love going to the movies at Northbrook Court. Ravinia Festival (or any outdoor live music) was also another favorite of ours, but owning and directing an overnight camp has certainly changed how we spend our summers! For special occasions, my kids will choose Blufish, Tsukasa, and Ruth's Chris on the North Shore, and we are all excited that Merlo's is returning and opening in Glencoe!
What gets you through a tough day?
I am so lucky to have many things in my life that truly comfort me. My husband can make me laugh so easily and simply talking to my kids always fills my heart. Teaching or taking yoga classes never fails to lift my spirits (especially down on the dock at camp!) Some other things that always work are: a ride on my Peloton, a good oat milk latte (usually from De Oro in Deerfield), some alone time reading, my pets (Samson and Delilah), and of course, my close girlfriends. In the summer while we are at camp, all it takes is a moment in front of the sunset down at the lake to make everything in the world right.   
You and your husband own a camp! Please introduce Camp Ojibwa!
Camp Ojibwa has been around since 1928! We are only the third owners of the camp in all of that time, and the people who were connected to it from day one are still deeply connected today. We finalized our purchase of Camp Ojibwa in January of 2021, however, we had been deeply devoted to it for many years prior. As a camper and counselor at a phenomenal girls' camp nearby, I grew up visiting my cousins at Ojibwa every chance I could get. When my husband and I had children, my cousin encouraged us to attend Post Camp (Family Camp) at Ojibwa, and once we started, we never stopped. We fell in love, sent our boys to camp there, made deep connections with alumni and staff members, and years later we jumped at the opportunity to formally join the Ojibwa Family!
Describe something you're most proud of as it relates to Ojibwa and your role as owner and director.
I think the thing I am the most proud of is my connections with the campers. My goal is for every boy in camp to know that he can come to me for anything that he would want his mom to help him with if he were at home –  from needing his nails cut to feeling extremely homesick. Rachael (Losoff) and I love to be camp moms and I truly think the boys know that and feel safe because of it!
Where do your campers hail from?
Broadening the geographic scope of camp is actually one of our biggest goals and we travel throughout the year to make that happen. We obviously have boys from the Chicago area and have historically had a large group from the LA area too. We now also have kids from other parts of California, Houston, St. Louis, Tampa, Boca, Milwaukee, New Orleans, Denver, Michigan, South Carolina, Mexico, China, Israel  and more!
Why a sports-focused camp? 
I love this question! As a mom of kids who have played numerous competitive sports throughout their childhoods, what I have learned is that the field, court, ice, etc. are like little magnifying glasses for life and for the world. Team sports give boys the chance to learn some of the most important life lessons without even realizing it because they are too busy having fun. We use the experiences they have in their games to help them learn about teamwork, winning, losing, trying hard, being humble, how to lead, when to follow, how to get along with those who do things differently than you, and so much more! 
Is it sports all day every day?
Absolutely not. The boys at Ojibwa certainly play sports every day, and lots of them! However, of our six structured activity periods, three of them offer opportunities to participate in all of the other amazing things that camp has to offer. They have time on the waterfront to ski, swim, boat, fish, etc., and opportunities to go on the zip-line, visit the climbing wall, do arts and crafts, play music, do yoga, participate in all camp activities, and most importantly, hang out and bond with boys of all ages.
Is the sports program hyper competitive?
Ojibwa has historically had a reputation of being very competitive, and perhaps in the past it was. We play team sports in a league format so there is true competition every day. However, the word "competitive" to many implies aggressive, violent, even mean, which is absolutely NOT the case. The "Ojibwa Way" teaches the boys that while playing their sports, and doing everything else in camp, they must practice Kindness and Respect, foster Trustworthiness, and promote Fair Play at all times. So they absolutely do compete, however, as described above, this competition gives us the opportunity to teach them the most important life skills.
What are the most popular activities at this camp that are not sports-focused?
The waterfront at Ojibwa is definitely a busy place! We are so excited to see so many younger campers with so much interest in learning to waterski, kayak, paddleboard and fish! The zip-line draws a big crowd as well. It runs through the woods and has two stops so it feels like a different world and the boys love it! Of course there are other popular spots as well, but more than anything, the boys love a good hang around "The Week Bench" right in the heart of camp!
Campers tend to rate food highly when they go to overnight camp. What are the most popular meals at this camp?
There is definitely an ongoing debate between nuggets and patties- either way, they love their chicken! Most of the meals are buffet style and they have so many different items to choose from so there is truly something for everyone. Another favorite is Thursday Night Cookouts. Each cabin does a cookout at their own campfire site so not only do they get burgers and s'mores made right there, but they get an awesome night of cabin bonding in front of the fire while overlooking the lake. It's great food and a truly special experience.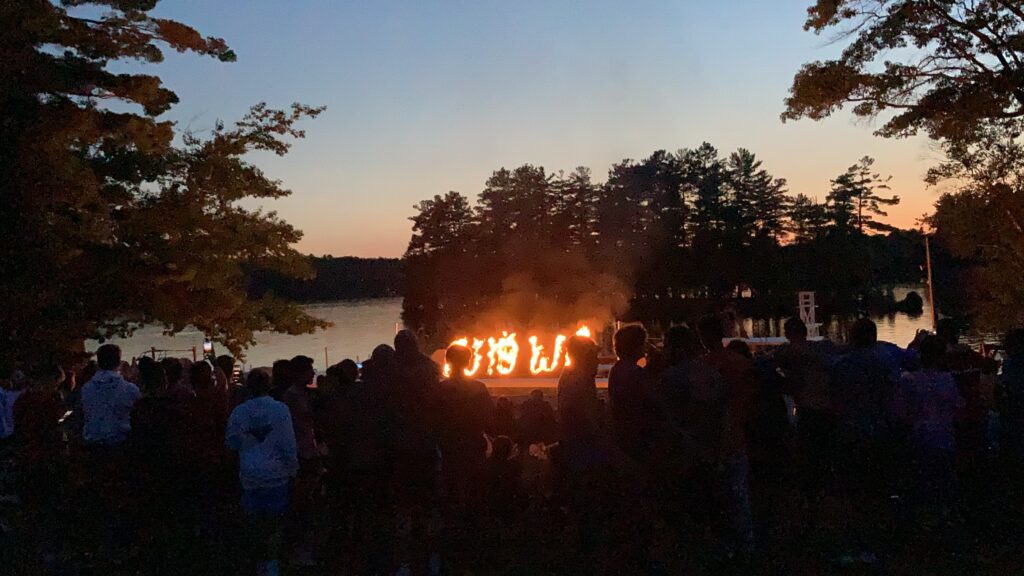 When first time campers arrive at Ojibwa what can they expect?
Lots of activity and tons of new brothers!! Because all of our cabins are in one semicircle around a huge athletic field, the boys are all together right away. The older boys immediately welcome the younger boys, counselors start up games for anyone to join, and the center of camp is full of energy that continues for the entire summer!
Is there anything else you'd like us to know?
I feel like we say it all the time, but it's so true… Camp Ojibwa is not just about the summer. The structure of our program, the physical design of the camp and the history all combine to create a lifelong experience. These boys develop relationships that turn into long distance friends, college roommates, fraternity brothers, mentors, co-workers, and business contacts. Many of them (ages 21-80+) even return to camp together annually for legendary alumni trips! It's just magical. 
How do our readers learn more about Camp Ojibwa?
You can find information, videos and contact information at https://www.campojibwa.com. We love connecting with families and would love to hear from you! And keep up with us on Instagram.
---
About Our Meet a Mom Sponsor
A very heartfelt thank you to CNSMoms' Meet a Mom sponsor, Lake Forest mom of three and owner of Gifford Law, a solo Estate Planning Firm (wills and trusts). Mary, we appreciate your support of local moms in our North Shore communities! Learn more about Mary by visiting her Meet a Mom spotlight here! Contact Mary directly here: [email protected].