Hello friendly faces! It's that time of the week! We're back with a new CNSMoms' Meet a Mom spotlight brought to you in part by Mary Gifford of Gifford Law. This week's Meet a Mom interview is with Deerfield mom of three boys, Wordle enthusiast and Director of Programs for Reading Power, Inc., Kristin Fine!
Kristin comes to Deerfield by way of West Virginia and Indiana University where she met her husband! She's the new Director of Programs for a super important resource here on the North Shore! Established in 2003, Reading Power Inc. is a Lake County-based nonprofit providing one-to-one early literacy tutoring during the school day to children in prekindergarten through second grade in North Chicago, Waukegan, and Zion. Today they have over 240 reading volunteers trained to foster growth in literacy among our young students. Welcome, Kristin!
Kevin and Kristin Fine with their three boys.
---
Hi Kristin! Please introduce yourself. 
Hi, thanks for having me! My name is Kristin Fine. I grew up in West Virginia… not something you hear every day! While attending Indiana University, I met my future husband Kevin, and we settled back in his hometown of Deerfield, where we've been for almost 20 years. I spent twelve years as a first grade teacher, and a reading specialist. When I stepped away from teaching to be a mom, I stayed involved as a room parent every year, joined our PTO board, and chaired our Prom After Party event for three years. And of course, became a volunteer tutor with Reading Power.
You're a mama! How many kiddos do you have and how old are they? Feel free to brag here.
I am! I am so lucky to have three wonderful sons: A junior at Deerfield High School. (shout out to being named a Blue Ribbon School!); A sophomore in the business school at the University of Illinois, and a graduate from Tulane University with a neuroscience degree in May. 
What are one or two things people would be surprised to know about you?
In keeping with our literacy theme, every year I set my goal of reading at least the number of books as the year… this year is 22. A daily goal is to start each day with Wordle… my current streak is 28. I did win the 6th grade county spelling bee… my prize was a dictionary.
What are your favorite North Shore places to spend with the family?
Having three baseball players in our family, we are very familiar with all of the baseball fields in surrounding towns! As team parent for over ten years, I can also tell you the most team-friendly eating establishments near most of those fields. In addition, a few of our favorite restaurants are Bluegrass, Abigail's, and Nirvana. (If you haven't been to all three… put them on your list!)
Please introduce Reading Power Inc! When was this wonderful resource established?
Reading Power is a Lake County-based nonprofit providing one-to-one early literacy tutoring during the school day to children in prekindergarten through second grade in North Chicago, Waukegan, and Zion. And it's provided at no charge to under-resourced districts where the majority of students score below the 25th percentile on standardized assessments. Since its founding in 2003, Reading Power has helped 4,500 children to accelerate their literacy gains, develop confidence, and embrace a love of reading and writing that lasts a lifetime. 
Kristin and Kevin Fine with Reading Power CEO Lisa Bulzoni and Reading Power staff member.
Why is one-to-one tutoring so important?
As a mother and former teacher, I know how critical literacy is to children's educational success. Statistics show us the devastation that results from not being able to read proficiently—two-thirds of children who cannot read proficiently by the end of third grade will end up in jail or on welfare. The cost of not providing early intervention is devastating. That's why Reading Power's one-to-one tutoring is so important. Our over 240 trained volunteers tutor students during the school day with a research-based curriculum that is individualized daily to meet student needs. Children receive personal attention from a dedicated tutor, learn the essential building blocks for reading and writing, and accelerate learning towards their intellectual potential. 
A Reading Power tutor and student.
Congratulations on your new role as the Director of Programs for Reading Power! What brought you to this role? What did you do before?
While I am new to the Director of Programs role, I've been with Reading Power for over nine years. After a break from teaching, I began tutoring and loved helping children unlock the mystery of reading. My Tuesday afternoon tutoring commitment quickly became the best part of my week! From there, I joined the staff as a Site Coordinator, overseeing one of our ten programs. Soon after, I took on the Associate Director of Programs role and am now the Director of Programs. It's been quite the journey, but I have loved every step along the way!
How can our readers help spread the word about this important resource? What are other ways to help and get involved?
Please consider joining us as a volunteer tutor. Our volunteer tutors are fantastic! They are a diverse group of dedicated and passionate individuals. They come from all walks of life and share a love for reading and children and a strong desire to make a difference. We always say, "Tutor one child. Change two lives." And it's true. Our tutor satisfaction rate is 99%. It's truly the best way to spend a few hours of your day. You won't regret joining us… just ask any one of our 240 tutors! Please visit us at readingpowerinc.org to learn more, and to become a volunteer tutor.
Is there anything else you'd like us to know?
There are so many ways to get involved with our mission! Keep up with the latest Reading Power news by subscribing to our newsletter and following us on social media. We are on Facebook, Instagram and Twitter. You can also become a tutor! Thanks for featuring Reading Power!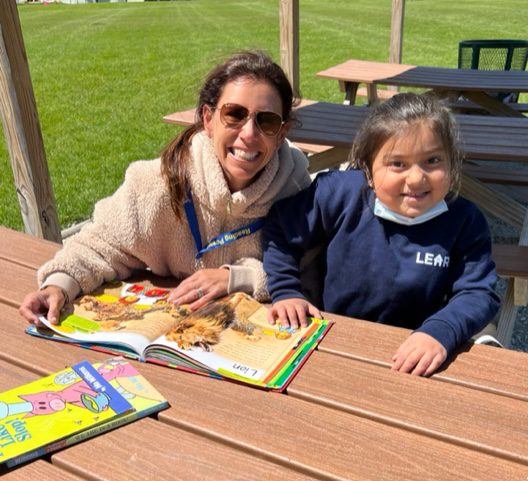 A Reading Power tutor and student .
---
About Our Meet a Mom Sponsor
A very heartfelt thank you to CNSMoms' Meet a Mom sponsor, Lake Forest mom of three and owner of Gifford Law, a solo Estate Planning Firm (wills and trusts). Mary, we appreciate your support of local moms in our North Shore communities! Learn more about Mary by visiting her Meet a Mom spotlight here! Contact Mary directly here: [email protected].