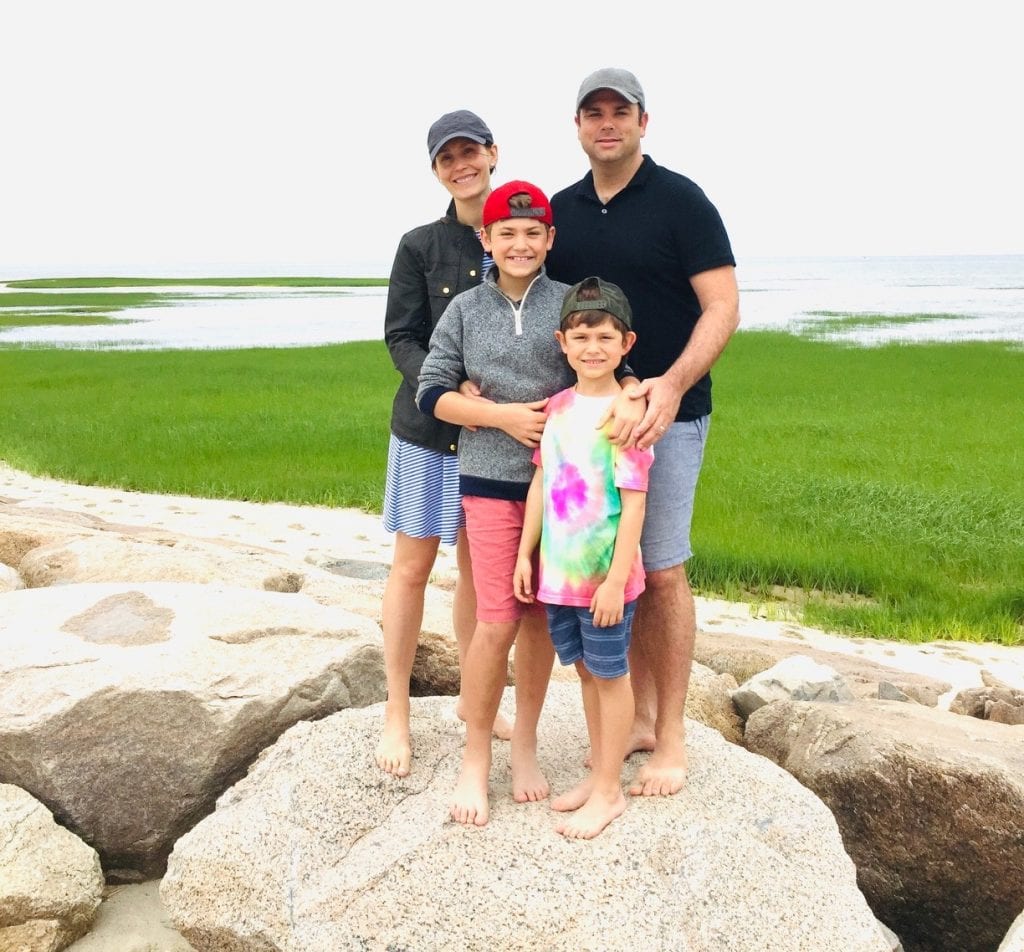 Welcome to Chicago North Shore Moms weekly Meet a Mom series where we feature one local mama, what they're up to both personally and professionally. This week's Meet a Mom feature is the lovely Winnetka mama of two, Erin Humphrey, Lead Interior Designer at James Thomas Interiors. Erin's 19+ year career as an interior designer is going strong, especially in today's reno climate. Read on to learn more about Erin. Spoiler alert… she's sharing a few tricks of the trade below. Welcome Erin!
Please introduce yourself. Where are you from originally? What city do you live in now? What brought you here?
My name is Erin Humphrey. I grew up in the small town of Suttons Bay, in northern Michigan. After college my husband and I lived in Arizona before settling down in Chicago and starting our family. I loved raising our young children in the city and giving them the opportunity to experience a rich urban culture I never had growing up. As our kids grew bigger and our oldest was approaching high school, we needed more space and came to the realization it was time to leave. We moved into our new home in Winnetka last December and were so grateful to be here to shelter in place last spring. I love the small town feel of our new community, and being close to Lake Michigan reminds me of home.
You're a mama! How many kids do you have and how old are they?
I have two boys, an 8 year old and a 13 year old.
What's your favorite thing about being a mom? 
My favorite things about being a mom are listening to my kids tell stories of their day, reading to them before bed, and laughing with them.
Please share your favorite mom tips that make quarantine/COVID life a little more bearable.
My mom tip for quarantine is to enjoy this wild moment during our lives and appreciate the gift of time we wouldn't otherwise have to spend with our kids and spouse. Quarantine in the beginning was extremely challenging for me, trying to manage my own work as well as coordinate my children's education. I definitely needed to keep reminding myself of this silver lining.
Do you have any favorite podcasts or apps that inspire, calm, help you run your business or organize your life?
I started listening to The Style Files podcast a couple of months ago. The lineup of interviewees includes all the top creatives and interior designers of our time. The conversations are thoughtful and inspiring to hear stories of highly talented designers and their journeys starting in the business.
What is one thing people would be surprised to know about you…
As a freshman, I tried out and made the MSU crew team.That adventure lasted two weeks.
Please tell us more about your career as an Interior Designer!
Yep! I am an Interior Designer, and work as a Project Lead at James Thomas Interiors. Our company is a full service residential interior design firm. We recently had the honor of working on the Lake Shore Country Club renovation, a three year project that was completed in August. It was an amazing project to be part of with an incredible team of creatives.
In light of quarantining, we have launched a new branch of our company called Homeward. It is perfect for clients who have small scale and single room projects. Everything is done remotely so everyone can stay safe!
What is your educational design background?
I have a Bachelors of Arts in Interior Design from Michigan State University.
How long did it take you to become a Lead Designer? What does that role entail?
I have been working as an interior designer for 19 years.  My current position at JTI  (eight years and going strong) combines the roles of senior designer and project manager.
Who are a few influencers and/or mentors that have helped you get to where you are today and/or continue to inspire you.
I am continually inspired by the people I work with. The principles and design associates at my firm are all talented individuals with incredibly creative minds. Most importantly we have fun together and enjoy each other's company, which makes for an amazing collaborative environment which in turn enriches our work.
So many people are renovating during the pandemic! What are a few no fail home improvement areas to focus on that add value right now? 
It has been crazy to see how the pandemic has given everyone the urge to nest. My favorite way to spruce up a room, and one that I have been doing in our own home, is to change out old light fixtures. It is a great way to give a room new life. Lighting is not only functional… the right light can change your mood, help make your home feel warm and cozy, and can be a reflection of your personal style.
Another great DIY tip is to consider changing out tired cabinet hardware. This is an easy way to update and add personal detail to your kitchen, bathroom, or a piece of furniture. I would suggest trying a different finish for a more dramatic refresh; and do not be afraid to mix metals, a polished nickel faucet and black hardware work beautifully together!
What do you see on the horizon in home design and interiors?  How has the pandemic affected this? 
I think people are craving comfort and optimism right now. The necessity of function has always been a priority for most families, but now more than ever creating spaces that parents and children can work from home is essential. Now that remote working and schooling are part of normal life it is important to create spaces that are useful and multifunctional to allow people to be productive. Also, creating living spaces that families want to spend time in that are comfortable and durable. We have no idea when this will be over, so now is the time to make your home a beautiful and comfortable retreat from all the chaos outside.
Have a reno project in mind? Want more information about how to start? Reach out to Erin at James Thomas Interiors.