Welcome to Chicago North Shore Moms weekly Meet a Mom spotlight where we feature one local mama, what they're up to both personally and professionally. But first we'd like to extend a very heartfelt thank you to CNSMoms' Meet a Mom sponsor, Lake Forest mom of three and owner of Gifford Law, a solo Estate Planning Firm. Mary, we appreciate your support of local moms in our North Shore communities!
This week's Meet a Mom feature is the lovely England born and bred Kenilworth mum of two young boys, Bev Morton! Bev's nonprofit, Balance for Body and Mind, has an interesting start, and one you'll want to follow along with! Welcome, Bev!
---
---
Hi Bev! Please introduce yourself. Where are you from originally and where do you live now? 
Hi I am Bev, I am British and originally from England. As a family we moved to the US last August with my husband's work. We had lived in Ireland for a year before our US move, but that was a pretty easy move in comparison to adjusting to such a major change – especially in the middle of a pandemic!
We now live in Kenilworth and absolutely love it here (although our first Chicago winter was somewhat of a shock to the system – 4ft of snow – eek!). We love the proximity to the lake, the excellent schools and most importantly the wonderful community who have made us all feel so welcome!
How many kiddos do you have and how old are they? Feel free to brag here.
I am mum (or Mom as you guys say!) to two boys – Ethan 6 and Dylan 3.  They are both completely crazy and make me laugh every day. Ethan is a wonderfully creative rule follower and Dylan is a crazy extrovert hurricane. Ethan has just started First grade, and Dylan attends a preschool at the local church; it has been a great way for them (and us!) to make friends. They are both active kids with lots of energy and have even been known to try kids yoga with me – when i can get them to actually listen to what i am saying…
What is one thing people would be surprised to know about you…
I have climbed two mountains – Mount Kenya (Africa's second highest peak) and Surya Peak in the Himalayas, Nepal… this was pre-kids unsurprisingly!
My husband actually proposed to me at the top of mount Kenya after an amazing week long trek to the summit. It sounds super romantic (which is was) but i hadn't had a shower in a week and we were both suffering from the cold and altitude sickness from being at such heights. Still, it was magical to watch the sun rise from the summit after he popped the question!
Love that story! Now that you have a family, do you have any favorite local places you like to spend as the four of you?
As a family we love to get outside as much as possible. Currently we are loving spending our first full summer in Chicago and are making the most of visiting the local beaches or taking the boys swimming at outdoor pools.
To eat out as a family we love Great Coast Commons where the food and team are fantastic or any of the outdoor spots in Wilmette – the atmosphere is great there on a weekend in the evening!
Any great date night ideas around town?
I would love to know ! We haven't been out too much as a couple in the evening with being new to the area/country – so all recommendations welcome!
You're a workin' mum. Please introduce your nonprofit yoga endeavor, Balance for Body and Mind. 
I work as a yoga teacher and life/wellness coach with my business @balanceforbodyandmind
I specialize in private and small group yoga classes which I hold in a studio space at my home, or outside in the yard. This format has been pretty popular as many people are still uncomfortable about returning to in studio practice due to the pandemic. Lessons can be one to one or small groups – who are often made up of friends/family within the same bubble.
Private lessons are also great for those who are less confident in a group setting, anyone with specific injuries or for those wanting to focus on development of a particular area of their practice.
So, where does the nonprofit but come in?
It has been circumstance which has led to how things have worked so far this year…
U.S. visa restrictions put in place due to the pandemic meant that we had to get a specific exception to enter the country and my visa does not currently permit me to work in the U.S. Rather than not work, I decided to set up Balance for Body and Mind and donate all my earnings to charity. I have been donating to 'Save the Children' as they have been doing great work globally to help children impacted by the pandemic.
It is my way to keeping doing what i love – teaching yoga and it gives me the chance to give back at the same time! win/win!
In terms of how I got into the wellness space, it has not been a linear path that's for sure! In fact, for the best part of 20 years in Europe I was leading commercial divisions of snack food/drink companies working on brands such as Mars, M&M's and Coca-Cola (not exactly wellness brands!).
After having my boys and realizing the challenges of juggling two children and two careers it was clear something in my life needed to change. I retrained as an executive coach and set up my own executive coaching practice working with female professionals.
Throughout my late twenties and thirties I discovered my passion for fitness and this led to me completing my yoga teacher training.
The move to the US and the creation of Balance for Body and Mind has been a chance to combine all of my passions in one place and have a career that works around the changing demands of family life.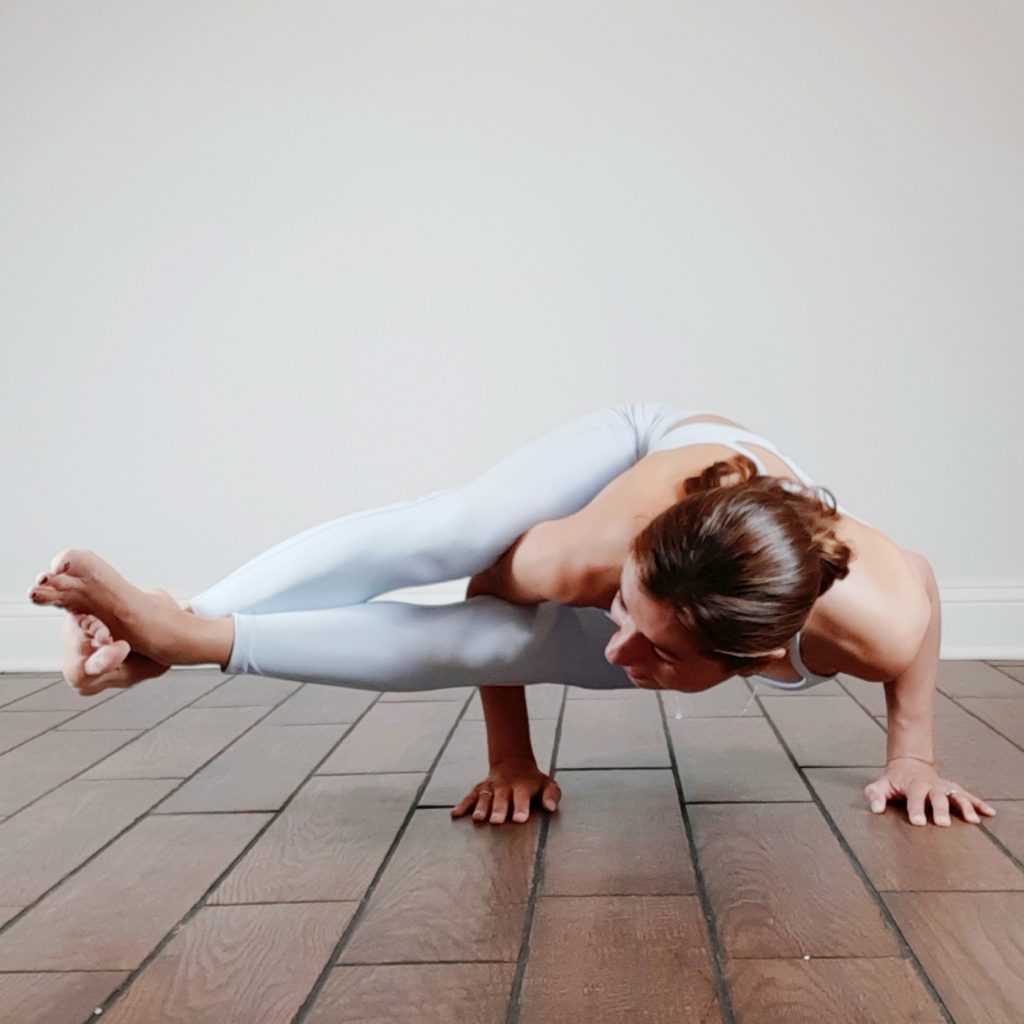 We all love a great pivot story and yours' is that! How wonderful that you are able to give back to communities!
What advice can you give other mamas out there who are looking to re-enter the workforce?
This is such a good question and a topic that comes up consistently in my coaching practice – or even just chatting with other moms. 
There is no one size fits all answer but i had a great return to work coach who helped me work through my passions and transferable skills and what creative ideas there were for bringing flexibility to my career or pivoting to another. The coach also helped me enormously with ways to boost my confidence – something that commonly dips when taking a break from the workforce.
I will be continuing with expanding my private and small group yoga classes and plan to hold some larger outdoor charity yoga events now that weather is milder and the school term has started.
I am not sure when the work visa will be set up but will continue to pass on a portion of of all my takings to charity even after it comes through as it feels good to be able to give back.
I then also plan to begin my executive coaching practice locally with @thewomensconfidencecoach. The practice will focus on coaching confidence in women – something i have seen is a consistent barrier to women reaching their potential. I know from personal experience coaching in this area can make a huge difference in transitioning back into the workforce after having a family. There is an enormous amount of female talent lost to businesses in this way – something i am passionate about addressing through my work ongoing.
Do you have a pop up studio where you teach your classes? How do our readers learn more about where and when you teach your classes as well as private availability?
I have a yoga studio at my home in Kenilworth so teach here. The best way to find out about classes is following me on
Instagram
or contacting me on e mail 
[email protected]
. I have been teaching private lessons here and have a few small group sessions too! These have been privately arranged but I will be opening up some more spaces now that the kids are back at school.
I have plans for two larger charity outdoor events in September and October and the details will be posted on instagram and advertised locally.
Follow me
to stay tuned!