Welcome to Chicago North Shore Moms Meet a Mom series where we profile local moms, what they're up to both personally and professionally. This week's Meet a Mom feature is the lovely Kenilworth resident via many different states, and the founder of the Kenilworth Cookbook Club (est. 2017) Allison McEntee! Allison knows how to build community through the love of cooking, food and sharing. The sharing mother of three has established an enticing way for local families to connect. In fact, through its very popularity a mobile MOM BAR was created as well as the most amazing collection of celebrity recipes, including Joan Jackson's Sloppy Joe Recipe, was born in their 2019 edition of Kenilworth Cooks! Read our interview and prepare to fill your bucket with inspiration from this mom's love of gathering.
Please introduce yourself. Where are you from originally? What city do you live in now? What brought you here?
Hi there! My name is Allison McEntee. Born in Toronto, raised in Atlanta, went to school in Pennsylvania, then lived in New York City for 12 years. Met my husband in New York, started our family in Brooklyn Heights (love that little nook of The City)… Then with the second baby on the way, the questions started coming. "How do we do this? How do we make this work?" At the time, I was working in brand partnerships at Tasting Table, a digital food/drink content brand, and our CEO wanted to open up a Midwest office. He graciously offered to move us, and we jumped at the opportunity.
We lived in Chicago (Southport/Lakeview area) for about three years, then moved to the North Shore, specifically for schools and space. And who wouldn't want to raise their family in a John Hughes film?!
You're a mama! How many kiddos do you have and how old are they?
Yes! We have three incredible kiddos. Our daughter is nine and we have two boys ages six and two.
.
What's your favorite thing about being a mom?
I know this is cliché (and I'm sure some of you may roll your eyes when reading this), but being a mom is the whole point of life for me. It's the reason I'm here in this world. When I'm old, and I'm thinking back on my life, I won't remember the jobs, or the money we made, or the things we had. I'll remember the memories of raising our babies. I'll remember the moments we created as a family.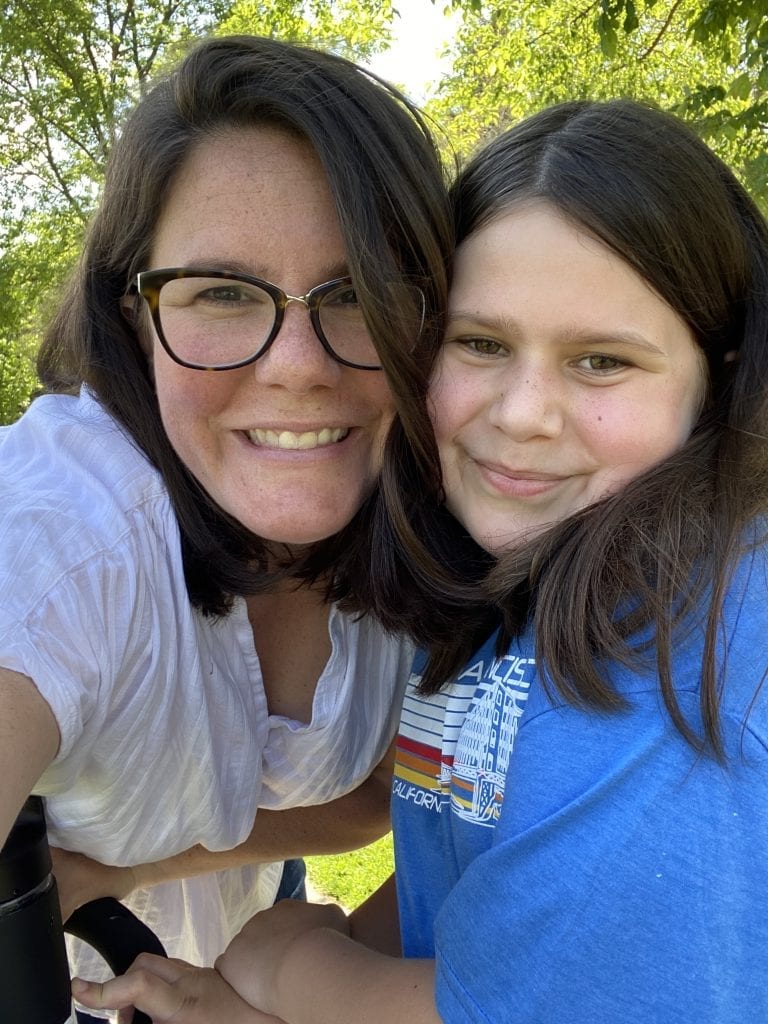 Please share your favorite mom tips that make quarantine/COVID life a little easier… ie. Remote learning tips, or whatever you've had success with
Connecting with our neighbors has helped me. Being able to get outside, see my neighbors, wave, say "hi," and see how people are coping and getting through these times has helped. It gives me light and refreshes my mental state. This is a hard time for all of us, and some days are better than others. What does make it easier, is knowing that we're all still here, and connected as a community.
Cocktail hour helps too. Not ashamed to say it.
As a way to connect with our neighbors, mom friends, and Kenilworth Cookbook Club (KCC) members, we launched a mobile MOM BAR this summer. Designed by my dear friend and fellow KCC member, Jen Morrow of Jen Marie Interiors, MOM BAR serves fresh cocktails, wine and beer, and is even equipped with a "I'm A Cool Mom" shotski. It's served as a fun way to gather in our front lawns, socially distance, and be together during these tough times.
If you have any podcasts or apps that help inspire you, calm you, help you run your business or organize your life, what are your faves?
My podcast consumption has dwindled this year, but if I'm able to squeeze in some time, my go to is Robinhood Snacks Daily. It's quick and gives me the top business stories of the day.
I'm also a Leadership Development Chair and Brand Ambassador for She Runs It, a non-profit organization paving the way for more women to lead at every level of marketing, media and tech. The women we meet within She Runs It inspire me and broaden my network within my business. I can't imagine my career without it.
Finally, when it comes to organization, I live by my calendar. LIVE. If it's not in my calendar, it doesn't exist.
What is one thing people would be surprised to know about you…
I'm an open book, so what you see is what you get. Not many surprises in my world. But, I guess the one thing that surprises most people when they hear about it, is that I'm an only child. I'm not sure why there's such a "wait, really?" response when they find out, but maybe it's because I'm good at sharing? Not exactly sure. Ha!
Favorite local takeout restaurants?
Hewn in Evanston is a favorite in the mornings. My god, they know what they're doing there. So very impressed. It takes so much great work, dedication and relentless focus each day to make a bakery a great one, and they've nailed it.
Great Coast Commons in Kenilworth is a go-to for our family. Monkey Bread, Cauliflower Hummus, Wedge Salad, Mac & Cheese and Filet are our top favorites.
And you can't live in the North Shore without having Grateful Bites on speed dial. Their pizzas are phenomenal. Their Pepperoni with Hot Honey is my weakness.
I am the founder of the Kenilworth Cookbook Club. What started out as a way to get to know moms in the area when we first moved here, has blossomed into our women's network (150+ members!) in the neighborhood. Before COVID, we'd get together each month in a neighbor's home, bring dishes from a selected cookbook, and feast together. The Club unites all of us – first-time moms to veteran moms, new neighbors to 3rd generation families, and CEOS to stay-at-home-moms. What brings us together is community, great food/drink and camaraderie.
Last year, we launched a community cookbook, Kenilworth Cooks, which has sold over 350 copies, and we created the first-ever Ladies Night Event with over 150 guests. Anyone can purchase the Kenilworth Cooks Cookbook by emailing [email protected] for details – it makes a fantastic holiday gift!
Where does your personal inspo come from?
Influence comes from everyone for me. Often, even when I have a new idea brewing, I'll take it to my friends and neighbors to gain their different perspectives. Running the Cookbook Club has shown me varied opinions, thoughts, needs, and interests among our community. And what I love most, is that the idea becomes better and better the more I hear from everyone.
What advice can you give other mamas out there who are looking to start a new business in the current climate?
If you see a need in your community, fill it. If there's something you don't like, then change it. The work is easy (and not "work") when it's something you're passionate about. There's nothing worse than seeing something you don't like, and just complaining about it. Get in there, and do something about it.
What's on the horizon for you? Future aspirations, plans….
So many ideas! Gathering as a large group and feasting on shared dishes is not in our near future, but there are some creative alternative ideas brewing for the holidays (TBD!).
And the big dream? Transform the Kenilworth Cookbook Club into the Kenilworth Women's Club. Create a permanent space for our network of women in the community to gather, share, and help the community, and together. I'm envisioning 92nd Street Y/learning annex – meets social club – meets fundraiser – meets fitness/health & wellness center – meets live events, and serves as a hub for the community. All we need to get started? A location. Stay tuned!