Hello friendly faces!

 

It's that time of the week!  We're back with a new CNSMoms' Meet a Mom spotlight brought to you in part by Mary Gifford of Gifford Law.

 

This week we meet children's author Arianna Brooks, who recently made the leap from the city to the North Shore suburbs with her family of four!  Welcome Arianna!  
Please introduce yourself. Where are you from originally? What city do you live in now? What brought you here?
Hi!  I'm Arianna Brooks and I'm originally from Cherry Hill, NJ.  I went to college at Indiana University and graduate school at Marymount University and became a tenured elementary school teacher/.
After almost a decade in D.C., I moved to Chicago and lived with my sister Leigh in the Gold Coast.  I returned to teaching at a Jewish preschool and became a certified yoga instructor.  A month later I met my husband, Jeff, through a mutual friend (that he knew from Camp Chi).
We moved throughout Chicago together (River North) and then with our 2 kids (Lakeview, Roscoe Village, North Center) before settling into the northern suburbs last summer.
You're a mom! How many kiddos do you have and how old are they?
I love being a mama to Jordan, 5 and Isabella, 3!  We genuinely enjoy spending our time together and have all become closer during the pandemic.
Jordan is a thoughtful and empathetic boy that likes to build and run around with his friends. Bella is sweet, silly, and always knows how to make us laugh.
Sometimes they bicker, but there is so much love there.  Just this morning at breakfast, Bella was upset that Jordan kept kicking her chair.  When we moved her chair so that she would not be in kicking contact, but then she cried that Jordan was too far away, and that she missed him.
What are one or two things people would be surprised to know about you?
1) I am the oldest of 5 kids.
2) Jeff and I were married in Chiang Mai, Thailand, in a traditional Thai-Buddhist ceremony, but were legally married at Antique Taco in Wicker Park.
What are your favorite local places to spend time with the family (please list any indoor and outdoor places you love as well as family-friendly restaurants)?
When we lived in the city, our go-to Saturday date night was at Ukai in Lakeview.  This became our spot!  We went there for every special occasion.  We also frequented the Garfield Park Conservatory.  The kids loved the koi pond and turtles, while Jeff and I were big fans of the indoor humidity!
Last summer we moved to the suburbs, but with the pandemic have not had much opportunity for exploring. Some fast favorites have been: The Chicago Botanic Gardens, Kohl's Children's Museum and the Morton Arboretum.
Please introduce your books! What are they called, how long did they take to write, why did you decide to write them? Where can people buy your books? 
In October 2020, a good friend of mine (from Indiana University) contacted me to see if I could lead her company's Wellness Programming for their virtual conference.  That conference was a game changer.  Leading the Wellness Programming made me feel strong, entrepreneurial and more like myself than I had in a really long time.
Suddenly, I needed to write!  I had this huge creative burst!  I wrote stories that made my kids smile.  I wrote inclusive stories that were thin on plot but big on heart.  I tried out my stories (on the kids) during car rides to and from daycare. Until one day, I realized that I had told and retold these stories to my kids, family and friends enough that I had to make them a reality.
As luck would have it, I reached out to my friend, a brilliant children's author and she connected me to an editor and an illustrator.  I sourced a printer for a board book and created a second edition (with my mom's matzah ball soup recipe) for Amazon.
In 2021, I started my own publishing company, Happiness Forward, and have since published 3 books: 
My Mushy Matzah Ball (0-3), My Happy Hamentashen (0-3), and Carissa the Crane and the Construction Crew (2-5).
Available at: www.happinessforward.com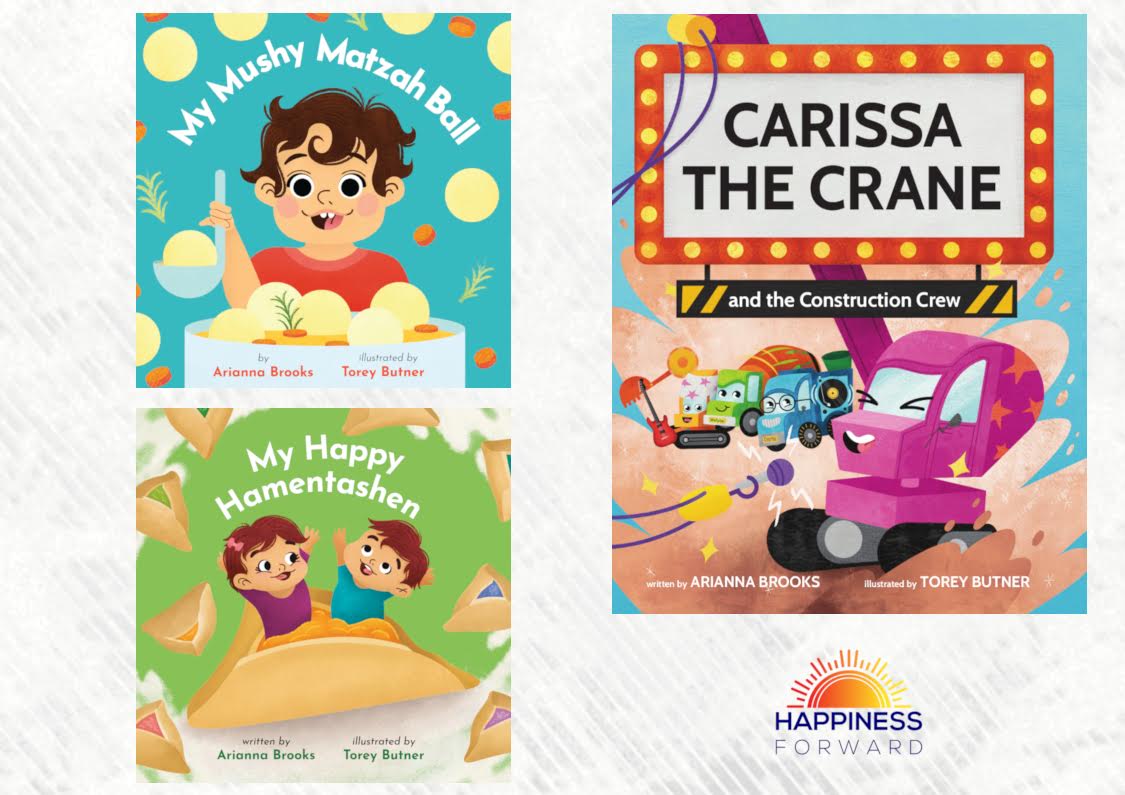 What did you do before becoming a children's book author? Please tell us about any "past life" careers you've had. We love to hear about the trajectory that led you to where you are today!
Before becoming a Children's Author, I was living in Washington, D.C. as a tenured Elementary School Teacher, Social Studies Lead and Kids Yoga Instructor.
When my kids were born, I took a role with jBaby as a Parent Ambassador.  There I met with new and expectant moms and shared the joys and oys of motherhood.  That role was very fulfilling.
Following my work at jBaby, I wanted to continue to share light and bring joy to more families.  Writing children's books has given me an incredible outlet to do just that!
Who are your influencers and/or mentors in the field if any? 
My parents subconsciously influenced my professional path.  When I was 15, my mom published her own cookbook, which was sold at our local Barnes & Noble. She has always been a fantastic cook and has inspired almost every dish in My Mushy Matzah Ball and My Happy Hamentashen.
My dad is an entrepreneur.  He showed me how tough and rewarding it can be to pave your own way.
What advice can you give other moms out there who are looking to start a small business or become an author?
The best advice I can give to budding authors is to take your time and build your team.  Work with a critique partner or editor that will give you real constructive feedback.
Ask yourself about your timeline.  Do you have the bandwidth to become an independent author or would you rather work with an agent and a traditional publisher?
Writing children's books on a traditional path with an agent and publisher is a long game.  Your book can take 2 or more years to be made.  If that works for you, then pursue agents with 3-5 of your best manuscripts.
If you choose to go the independent route, the responsibility falls on you to illustrate (or find an illustrator), publish, and market your book.
What's on the horizon for you both personally and professionally?
On March 13th I have two exciting Purim events with my new book, My Happy Hamentashen for Honeymoon Israel Chicago and jBaby.
On Sunday, March 26th I will be presenting at Skokie Public Library's Local Author Showcase, and reading: My Mushy Matzah Ball, My Happy Hamentashen, and Carissa the Crane and the Construction Crew.
This summer, I am featuring My Mushy Matzah Ball at the Jewish Book Council.
Personally, I am looking forward to warmer weather and meeting my suburban tribe of like-minded people.
Arianna (Cohen) Brooks
CEO & Children's Book Author
My Mushy Matzah Ball
My Happy Hamentashen
Carissa the Crane
---
About Our Meet a Mom Sponsor
A very heartfelt thank you to CNSMoms' Meet a Mom sponsor, Lake Forest mom of three and owner of Gifford Law, a solo Estate Planning Firm (wills and trusts). Mary, we appreciate your support of local moms in our North Shore communities! Learn more about Mary by visiting her Meet a Mom spotlight here!