Welcome to Chicago North Shore Moms weekly Meet a Mom spotlight where we feature one local mama, what they're up to both personally and professionally. But first we'd like to extend a very heartfelt thank you to our Meet a Mom sponsor, Lake Forest mom of three and owner of Gifford Law, a solo Estate Planning Law Firm. Mary, we appreciate your support of local moms in our North Shore communities!
This week's Meet a Mom spotlight is the lovely Northbrook mom of two, fitness and healthy living guru, Alex Delger! Alex co-founded 2 Clean Chicks with business partner Kristen Rajewski just last year with the goal of giving fellow North Shore mamas a way to keep their health on track! Discover more about how the 2 chicks founded this business and what makes 2 Clean Chicks a unique fitness "sprint." Plus, pick up a few free fitness tips. Welcome, Alex!
---
---
Hi Alex! Please introduce yourself. Where are you from and how many children do you have?
HI! My name is Alex Delger. I am a lifelong Chicago gal! Grew up in the city and then we moved to Long Grove where I went to Stevenson HS. I currently live in Northbrook. I have 2 boys ages 8 & 5.
What's your favorite thing about being a mom?
The unpredictability and laughs!
Do you have any tips to make this ongoing pandemic life a little easier? 
Move your body every day & grab some fresh air, it's so important! I am not a home body, I love getting out and doing stuff. During the height of the pandemic, not being able to workout with my crew was the hardest!
What is one thing people would be surprised to know about you…
If I could, I would love to have a pet turkey.
When you are not hyper-focused on eating clean, what are your local favorite takeout restaurants?
I have quite a few! Mino's Italian in Winnetka, Sophia Steak in Wilmette, House 406 in Northbrook, Lou Malnati's Pizza, Taco Nano in Northfield, BluFish Sushi in Glenview and Portillo's!
What is a perfect date night these days?
Now that the weather is warming up, my favorite date night would include grabbing some takeout, heading to the Glencoe beach and watching the sunset. Perfection!
We are all in awe over your discipline and really love how you've found an avenue to motivate others to be healthy through your business, 2 Clean Chicks. Please tell us more about this endeavor.
2 Clean Chicks was founded in 2020 by my business partner, Kristen Rajewski and I. The program offers a variety of online challenges focusing on eating clean and physical activity every day. We provide the group support and nutritional advice to help our challengers achieve their goals! 3 workouts a week, daily recipes, meal plans, health information, emails and private group support. Our paleo chef Jamie Bisioulis provides weekly meal delivery options as well as cooking demos.
For years, we have taught group fitness classes as well as coached & participated in various clean eating challenges. After the COVID lockdown last spring, we knew many people wanted to get back on track towards a healthier and more balanced way of life. Designing our program was invigorating, fun, and our large base of North Shore participants were and are looking for something like this!
What is the most rewarding aspect about being a fitness and healthy living guru?
Seeing the incredible results of our challengers. Lifestyle changes are hard to make on your own. People love the group atmosphere, it's way more motivating than going at it solo. It makes us so proud to see our challengers succeed thanks to the 2 Clean Chicks program.
Your program is based around challenges or "sprints." Can you tell us more about that and when is your next sprint?
2 Clean Chicks runs 4 week challenges, where eating REAL food and moving your body is the focus! Each challenge, run on a private Facebook Group, includes nutrition advice, daily food and movement check-ins, recipes, workouts and motivation to guide and inspire you to become your best self.
This summer, we are hosting private, small group challenges. Want to look & feel your best for an event or vacation? Grab your pals, or go solo….these Chicks have you covered! We will design a program to fit your summer style!
Our next large group 4 week challenge will begin in September. Back to School and back to YOU!
What is clean eating?
During 2 Clean Chicks Challenges, we forgo dairy, gluten, grains, soy, refined sugar & processed foods. We enjoy moderate amounts of alcohol and treats! By eating real food and eliminating things that cause inflammation, you will notice big changes. Feel clearer, have more energy, lose the belly bloat, drop pounds, sleep better, regulate hormones, optimize workouts and be your best YOU!
As parents, it's often so hard to make time for ourselves. What fitness and healthy eating tips can you pass along?
Schedule your workouts at the beginning of the week and stick to it. Think of it as non-negotiable "Me Time!" Whether it's a brisk walk outside, a fitness class at a gym or an at-home workout, find something that makes you feel excited, blast the tunes and get going! If starting from ground zero, it's best to take the baby step approach, adding in more activity as you get in the swing of things. Setting realistic goals is the recipe for success. Incorporating strength training in addition to cardio is absolutely key as we get older to maintain bone density, muscle mass and maximize weight loss.
Prep for Success! This is something we talk about a lot in our challenges. Plan and prep what you are going to eat for the week. That way there will always be healthy nutritious food on hand and you are less likely to stray. Treat yourself with some amazing pre-made options from a local meal delivery like Fire Thyme or the grocery store.
How do you celebrate after finishing a "sprint?" Did you eat a special "non-clean" meal?
I usually pick up some new digs! Typically my clothes are fitting better, I'm feeling stronger and want to show it off. Love hitting up my favorite local boutiques. Favorite post challenge meal….pizza!
How long have you and Kristen known each other? How did you two meet?
I have known Kristen for 10 years! She was an instructor at a fitness studio I was taking classes at. She's so friendly and we hit it off right away. She was instrumental in my decision to teach fitness classes and a great mentor. She's also got 2 adorable boys, so our families love hanging out.
Who are your influencers or mentors?
My business partner, a.k.a. the other Clean Chick, Kristen Rajewski! 2 Clean Chicks would not be possible without this partnership. She is the yin to my yang and always so inspiring to me.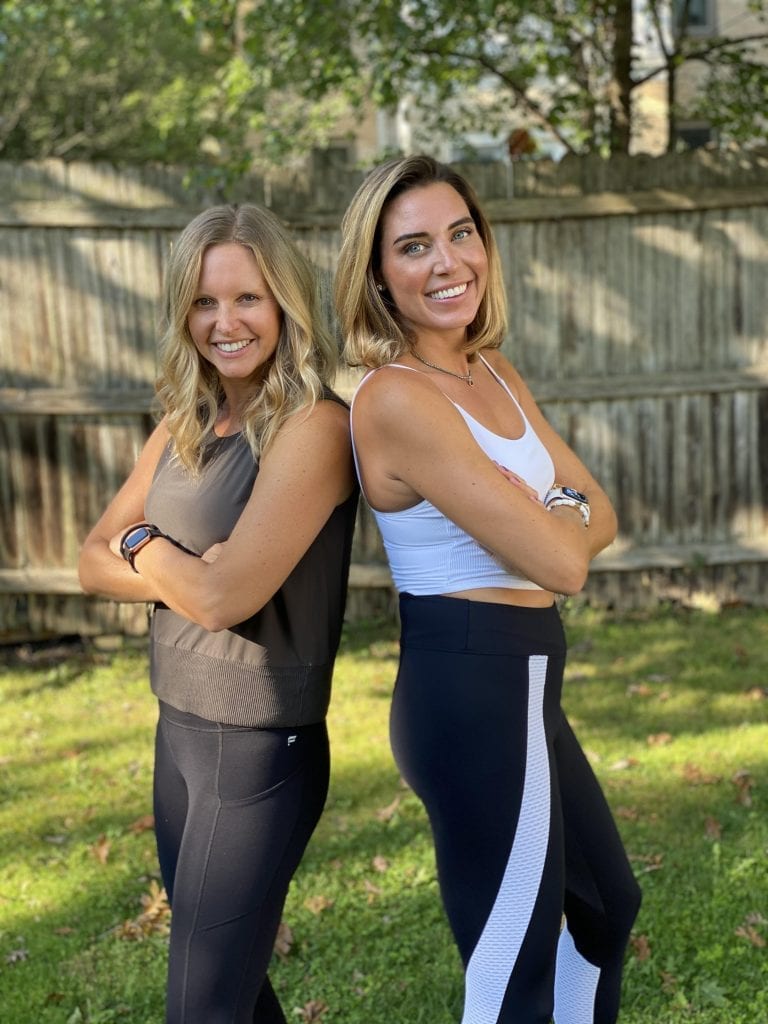 From a super momprenuer, what advice can you give other mamas out there who are looking to start a new business in the current climate?
Go for it! There will never be a perfect time and you will never be completely prepared! Jump in, try something that makes you truly happy.
What are common questions that people reach out to ask you? 
Q: How am I going to do this, it seems so daunting!
A: Yes, you can! We provide you with the tools and support you need to succeed! 2 Clean Chicks challenges can be as simple as you need them to be. We got you!
Q: Are we allowed alcoholic drinks & chocolate?
A: Yes (in moderation of course!) We all have to live a little!
Rapidfire… Go!
Undergrad college/major: University of Illinois, Industrial Design Major
Favorite candy: tequila 🙂
Strangest thing in your purse right now: windscreen/mic cover
Last book you read: Where the Crawdads Sing by Delia Owens
Your binge shows: Sopranos, Yellowstone, The Undoing, Curb Your Enthusiasm
This summer, we are hosting private, small group challenges. Want to look & feel your best for an event or vacation? Grab your pals, or go solo….these Chicks have you covered! We will design a custom program to fit your summer style!
Our next large group 4 week challenge will begin in September. Please join us! Perfect for back to school and back to YOU!
All info is on our website at www.2cleanchicks.com! Please connect with us on Insta and Facebook for  DM and email with any questions, we are here for you!
**Photo credits: JEVA photography