We love seeing the hands on, beautiful messes & masterpieces Playgroup North Shore makes with their students!  We asked owners Arta & Nita to share a few projects parents can do at home this weekend in celebration of Valentines Day- because what better way to celebrate then spending time with the ones you love?   These activities are easy, fun & creative!  They promote hand eye coordination, as well as science exploration and you probably have most of the supplies already!
Frozen rescue!
We placed small unicorns, hearts and rainbow erasers in ice cube trays and filled them with water.  *Tip- little baggies of erasers can usually be found in the Target Dollar Spot! If you don't want to take a trip, any small objects that you would like work and food coloring could also be added to make it more colorful!  Once frozen, have kids use warm water in a cup with droppers or even syringes to "rescue" and unfreeze the Valentines fun!
Create a Collage!
This is crazy easy, and kids big and small love getting creative with their supplies! Gather pipe cleaners, pom poms, jewels, cotton balls- anything goes!  Sometimes the simplest of projects are the most fun for because there aren't rules or directions to follow!  Create hearts, stick to a color theme or get really artsy and master abstract Cupid!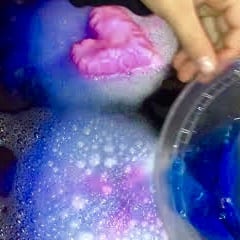 Fizzies!
Kids Love getting messy and seeing the reaction the ingredients make is always exciting!  Start with a cup of water, add a few drops of red food & mix.  Next mix in baking soda to create a thick paste with the colored water.  This should turn your baking soda into a pinkish paste.  Place into a heart shaped mold or use a cookie cutter- and if you don't have one, form a heart with your hands!  Drain and blot excess water and freeze for at least 6 hours.  When frozen, take your molds out and place onto a tray. Fill a cup or bowl with vinegar and use droppers or a syringe (or simply pour) to melt the Valentine molds!  The hearts will fizz and the kids will be delighted that they created the reaction!
Thank you Playgroup North Shore for sharing the fun!  If you would like to learn more about this awesome early education school, click here!  We cant say enough great things about this program and owners.  They truly love what they do and it shows!