We here at Chicago North Shore Moms believe that local children's authors are like precious gems. And like any local small business it takes guts to take an idea, a dream, no matter how unattainable it might seem, and push through any doubt and setbacks, soon writing and publishing that first book. Then a second. And in local author, Janea D. Harris' case, we can't wait for that third, fourth and fifth. Janea's first children's book, "All Girls Have Sup-HER Powers: The Power of Voice" was published just last year. Now, on the heels of a pandemic, her second book, "Through the Window of Winter, The Rabbit" was born, and a unique story it is.
Janea often finds inspiration for her writings in the world around her, and this newest story comes from a very personal place. The pandemic has changed all of our lives, but for a small group of children it highlighted the beauty of their enduring friendship. And now in her essay below titled, "Enduring Friendship," Janea tells us the true story of how that friendship endured; the inspiration behind the children's book, "Through the Window of Winter, the Rabbit." Rock on Janea!
"Enduring Friendship."
Most of us were not expecting our lives to change as drastically as they did in March of this year when Covid-19 invaded our communities. I had been cautiously watching the reporting on the virus intently for several weeks. As a parent of a child who is immunocompromised, specifically prone to respiratory viruses, I am always listening for reports of increased viral infections in our school and our community.
As whispers about this mysterious virus began to spread, I like many others became very concerned. Out of an abundance of caution, I made the very difficult decision on March 11th to temporarily pull my daughter out of school. I then proceeded to request classwork and casually asked for a selection of library books (as she loves to read). I was expecting that she was going to be home for at least two weeks. Two days later, on March 13th the entire District shut down…
Throughout this entire time my daughter worked hard not to complain. Though she was only in the 5th grade, she forged ahead with virtual classes, remote music lessons and get togethers with friends via technology. She and her small circle of friends had done a great job of staying in touch with each other, chatting over Facetime, setting up Kahoot games and even meeting via video games. I often heard them talking and giggling as if they were all together in the same room, when that was not the case at all. They managed to still enjoy each other's company at a distance and made sure to include all of their friends. As weeks turned to months, friends began to gather in small groups, yet our family remained mostly inside.
We had still been spending most days at home, besides the occasional neighborhood walk and then one day, we heard chatter coming from our front porch. My daughter went to the window and watched, as a few of her friends hurriedly organized a display of stuffed animals and notes on our front porch. They then rang the doorbell and quickly jumped back on their bikes and rode off. To my surprise, they had dropped off a few of my daughter's favorite things, including Squishmallows and notes saying how much they missed her. My daughter squealed with delight and gave the biggest, brightest smile, while I walked away and quietly cried. I instantly became emotional as it was heartwarming to watch kids who were not yet in middle school show so much empathy. After a few weeks, I became brave enough to let my daughter don a mask and open the door for conversations through the storm door with her besties. Eventually, I allowed her to go beyond the door for socially distant chats in the yard.
As spring changed to summer the virtual conversations, visits and special gifts from her friend group continued. A few weeks later during a conversation with my friend and collaborator, Kimiyo Nishio, I shared the details of what my family was experiencing. As the mother of a young daughter herself, she wanted a way to explain the pandemic to her daughter in a way that fostered both compassion and empathy. We knew we had to tell this story of friendship as displayed by the actions of these amazing children.
Over the next few months we collaborated, and this story of friendship became the children's book titled, "Through the Window of Winter, The Rabbit." Kimiyo developed the initial sketches based on the details of the story I shared, and I began doing what I love most, writing by wrapping text around the images. Our purpose for this project was not only to present the complexities of the pandemic in a simplified way to children, but also to share the beautiful story of friendship. If only we were all so fortunate to have hearts like that of a child.
Based on the real-life story of a wonderful group of friends and their enduring friendship. "Through the Window of Winter, The Rabbit" tells the story of a very special rabbit and how she is making the best of spending most of her time inside. Winter fills her days using her creativity and visits at her window from her amazing circle of sweet friends keeps her spirits lifted.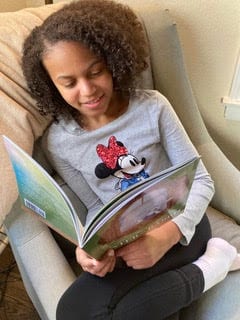 About Janea D. Harris
Janea is an author and poet who loves using creative writing to help children gain a better understanding of complex topics. As an educator, she learned that children often discover lasting life-long lessons in the books that they read very early on in life. She is continually inspired by the world around her. Janea lives with her husband, daughter and son on the North Shore of Chicago, IL.
About Kimiyo Nishio
Kimiyo is a Concept Artist and Illustrator based in sunny Los Angeles, California. She is a dog lover, foodie, anime fan and mother of a 3-year old daughter. Her adventures in motherhood keep her inspired and passionate about creating quality work, especially for women and children.