Lori Orlinsky is no stranger to great writing. The WTTW Marketing Director and Chicago Parent blog contributor is the children's book author of the award winning children's book, "Being Small (Isn't So Bad After All)." And by award winning we're talkin' Gold Medal from the Mom's Choice Awards, winner in the Purple Dragonfly Book Awards AND the book is an Amazon best seller! Read on to see Lori's inspiration behind this book, how to succeed at failing and local storytime and book signing locations!
Where are you from originally and how long have you lived in town?
I'm originally from Columbus, Ohio but I have called the Chicagoland area home for nearly 15 years.
Child(ren) and Age(s)?
Hayley, 6 & Ellie, 3
One thing people would be surprised to know about you…
I am OBSESSED with the show Friends. Multiple times a day, I make reference to a specific episode and expect everyone to catch on immediately. Also, my favorite character is Ross, but I consider myself to be most like Monica.
Is there anything that makes "momming" a little easier for you?
Sometimes I tell my kids it is "National [whatever I want it to be] Day." It will range from National Clean Up Your Toys Day to National Go To Bed Early Day. My oldest has started to figure out the truth, but I have another year or so left before my younger daughter catches on.
Favorite place to take the kids?
Disney World – I was never a Disney person until I had kids. Something changes you when you see the magic of the experience through their eyes. We started a tradition to go every December.
Guilty pleasure…
Fondue – my whole family loves it. We are always trying to invent something to celebrate
(e.g. "It's Tuesday!") so we can treat ourselves.
Go-to cosmetic "tired eraser"…
Does an Instagram filter count?
Does your family have a favorite family movie?
Ferdinand – I really think it is the unsung hero of animated movies. Bring the tissues!
Favorite book for mom?
It's a toss-up between The Nightingale by Kristin Hannah and The Lost Wife by Alyson Richman. My grandparents were Holocaust survivors so I really feel connected to stories in the historical fiction genre.
Favorite Children's book?
My own, of course: "Being Small (Isn't So Bad After All)" published in April, 2019 by Mascot Books. The book is based on my own experience in raising Hayley, who decided at the age of 3 that she was too short to go to school. Frustrated that no book on the topic existed, I wrote one!
The book has become a best-seller on Amazon in the children's book categories of size, self-esteem and emotion. It has received plenty of buzz in the parenting community for teaching kids of all sizes how to celebrate their differences while gaining perspective on the power of their words. The book received a Gold Medal from the Mom's Choice Awards, and was named a winner in the Purple Dragonfly Book Awards.
Anyone special you'd like to thank for helping you through parenthood?
My husband, Brian. We both have strengths and weaknesses that compliment and offset each other, and there's no one I'd rather have along for the ride.
In addition to being a Children's Author, are you involved in a business venture, a local organization, a creative endeavor, or in the corporate world? Please share!
Besides being a children's author for Mascot Books, I am also a freelance writer for Chicago Parent. For my day job, I serve as the Marketing Director at WTTW, Chicago's PBS Station. My kids think I work with the muppets from Sesame Street, and I did get to meet Oscar recently!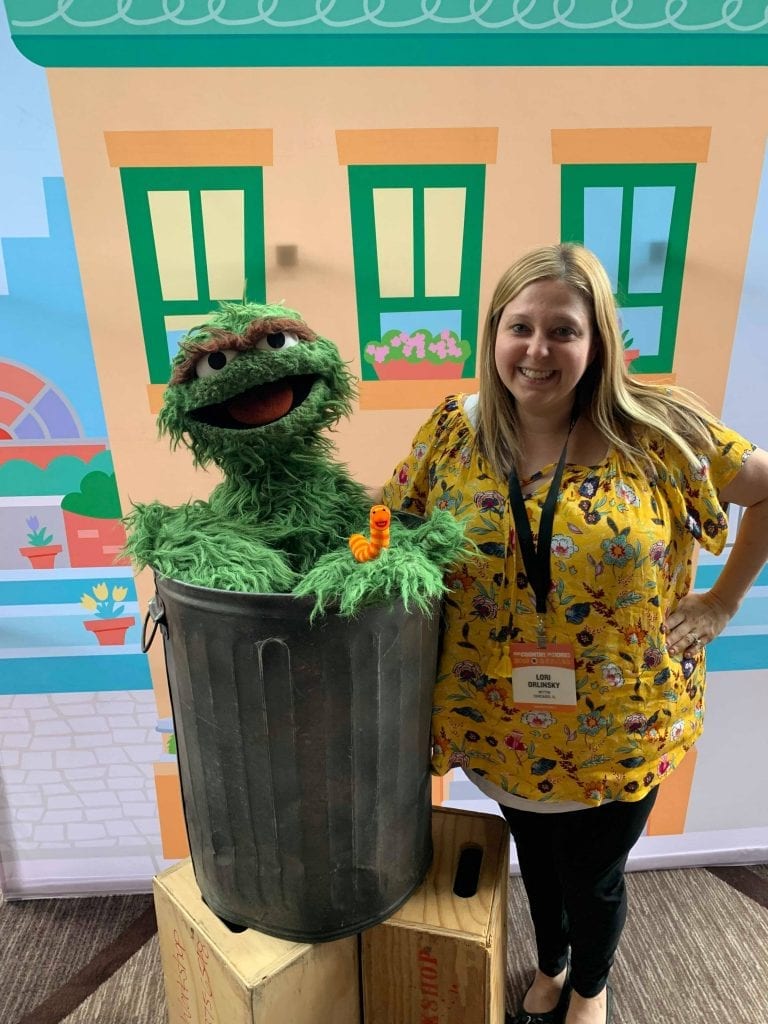 We love the message and empowerment of your book! What's your best piece of mom advice?
Don't view negative moments and situations as a setback. Instead, use them as an opportunity to push forward. When my daughter decided she didn't want to go to school because she was the shortest kid in class, I could easily have commiserated with her, being 5"1 myself. I could have invalidated her feelings, telling her it was "just a phase" she was going through. But instead, I seized the moment and created a book that has given her – as well as millions of other kids who have ever felt different — self-confidence and self-worth.
Is "Being Small (Isn't So Bad After All)" your first children's book?
Yes! "Being Small" is my first book. But now that I've seen that I can do it, I think it will be the first of many books!
It's so impressive that your first book has won awards! Can you speak about a time that you failed and how you managed to get up and dust yourself off?
I was unemployed last year for what seemed like the longest 5 months of my life. I have a strong drive and work ethic so it was hard for me to deal with the loss of a job I loved. There were days I struggled to get out of bed. Heck, there were days I didn't get out of bed. But I focused on moving forward and being an inspiration for my daughters. I didn't want them to see me fold up like a cheap tent and quit. I wanted them to see me persevere and I did. I kept on at 100% and that's when I landed the Marketing Director position at WTTW, Chicago's PBS station!
What's on the horizon for you? Any more books coming down the pipeline?
I have a second book – "The Tooth Fairy's Tummy Ache" – due for release in the Fall/Winter. I was fortunate enough to work with the same publisher and talented illustrator again. I was also given the green light by my publishing company for a third book, which I am working on this summer.
You can find Lori at various Barnes & Noble storytime & book signing events:
July 20, 2019: Barnes & Noble Vernon Hills Storytime with Local Authors: Lori Orlinksy & Faith Goldstein
August 3, 2019: Barnes & Noble Deer Park Storytime with Local Authors: Lori Orlinsky & Faith Goldstein