Whether you have one on the way and/or a little crawler under your roof, it's time to start planning out your home defense system for your fast moving, curious and stealthy toddler. Baby proofing equipment is readily available to purchase, and with the help of a random YouTube video who needs the professionals, right? Erm, not so much. Professional childproofers have a wealth of current product knowledge about what works and what's been recalled (unfortunately, so much is), which, in the long-run can save your family time, money and safety. Below, A & H Childproofers discusses eight reasons why it's important to invest in a professional childproofer.
1) Expert Knowledge
A professional childproofer has training and knowledge in child safety issues and should be insured and certified by the International Association for Child Safety® (http://www.iafcs.org/)
2) Experience
We know what products work and which don't. We also know where and how they will work best in your unique home.
3) Time Savings
A professional childproofer can save you time and money by directing you to products that will work best for your needs, helping you avoid trial-and-error purchases and installation.
4) Adaptability
Most safety gates are designed to work in a limited space. A professional childproofer has the expertise and ability to understand and adapt the products to fit your needs safely.
5) Those Baby Gates
Most staircases and large span openings have unique designs begging the question, how in the world is a baby gate going to work here? Professional childproofers have experience with fitting and installing the best gate for your home, and they do it right the first time because… they're the professionals!
6) Quality Work
Professional childproofers know how to install gates and other products with no damage to your wood or iron railings, cabinets, etc.
7) Education and Research
Professional childproofers have researched the best products on the market and are constantly keeping up to date on the newest safety information. Products will meet or exceed all standards of the Juvenile Products Manufacturers Association.
8) Selection
A professional childproofer offers a variety of safety products and solutions, and does not just carry one specific brand name. They also have access to products that might not easily be found in big box stores.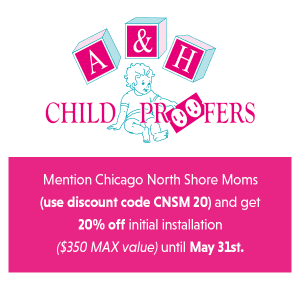 A & H Childproofers is a family-owned company dedicated to the childproofing industry and passionate about keeping children safer for over 25 years. A & H Childproofers makes safety education our number one priority. Owner Arvey Levinsohn is the only Advanced Certified Professional Childproofer® in the Chicagoland area. Call 1-847-650-2519 for a FREE Home Safety Evaluation.
*The blog article is sponsored by A & H Childproofers with copy editing from Chicago North Shore Moms. Thank you!