Welcome to Small Business Saturday where we feature local businesses that make the North Shore the amazing coast that it is!  This week we're excited to introduce you to Suzanne Rossi, owner of YogaSix in Wilmette.  In-person instruction has taken a hard hit through COVID-19, and YogaSix was no exception.  This mom didn't give up!  Learn more about YogaSix, and how Suzanne has pivoted to keep classes moving and extra healthy- then get in for a class!  I can promise that you won't regret it.
How did you get started with YogaSix?
After lots of years in advertising with an agency downtown, I wanted to start my own business and had a passion for the health and wellness space, along with a love of Yoga. In searching for business ownership opportunities I came across YogaSix and it was the perfect fit. Having ownership and control of my own local business, in an area I really believe in (yoga / wellness) with the support of a national brand and team was ideal.  I made the commitment and opened my studio in Plaza del Lago in late 2019.
What makes your business really shine within the industry?
At YogaSix we want yoga to be accessible to all.  We do that with our clear and consistent way of teaching, a fun and inclusive culture and a range of classes. There are six class types, each with a specific focus that produces specific body benefits.  Whether you're looking for strength, agility, or flexibility and balance, we have a yoga class for you. These days, it's also really important to talk safety … we're the only yoga studio on the northshore with Steril-aire, which means our heat/air system is filled with UVC light, proven to be extremely effective at killing virus and bacteria.  We also have a powerful exhaust fan that exchanges the practice room air with 100% fresh outdoor air before and after every class.  We clean with hospital grade disinfectant, just about constantly!  Our goal is to provide an incredibly clean, safe place for one's yoga practice.
This has been a tough year for business who offer indoor services.  What are some ways you've had to pivot or adjust with the restrictions through COVID?
It's definitely been a tough year!  I had to close my studio due to CoVid restrictions just 10 weeks after opening. During closure, we quickly began to offer virtual livestream classes.  As soon as we could add outdoor classes, we did.  We kept outdoor classes as long as possible given Chicagoland weather, and now have primarily moved indoors, but we are livestreaming almost every class for those who want to attend class virtually.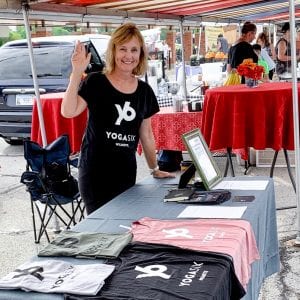 Who or what inspires you?
My 20-something son and daughter both have boundless energy and passion for wanting to make Chicago, and the world a better place. Their dedication, compassion and focus as young adults inspires me to not become complacent, and to keep learning.  I love this turnaround where I can sometimes look to them for motivation.
You recently moved back to the North Shore from a short move the the city- share with us a few favorite restaurants or locations that you missed and what brought you back!
We came back for the community, for more green space, and for the ease of living on the beautiful North Shore. There are so many places I am happy to be close to again… places like the Happ Inn, ConVito (next door to YogaSix!), Valley Lodge and Three Tarts Bakery (best bread and breakfast ever!).  We've also discovered some wonderful new spots like Pescadero in Wilmette.
For anyone new to yogasix, what's your best advice to get started?
Just do it 🙂  YogaSix is inclusive, accessible and never judgemental.  Download the Y6 app to book, or just call the studio. We make all class types accessible to all levels, but if you're new to yoga, I'd recommend our Y6 Mix class which is a combo of 3 of our formats: our Y6 Hot sequence (but unheated), some Y6 Sculpt & Flow and some Y6 Restore, all in 45 minutes.  Or, Y6 Slow Flow is a really nice Vinyasa class with more time to move into and hold poses.
For more information about YogaSix Wilmette and the extra safety steps they're taking, check out this video!