Welcome to Chicago North Shore Moms weekly Meet a Mom spotlight where we feature one local mama, what they're up to both personally and professionally. But first we'd like to extend a very heartfelt thank you to our Meet a Mom sponsor, Lake Forest mom of three and owner of Gifford Law, a solo Estate Planning Law Firm. Mary, we appreciate your support of local moms in our North Shore communities!
This week's Meet a Mom feature is the lovely and bright mother of four girls, Melissa Knieriem, owner and chief candlemaker of her luxe candle collection, Frankfort Candle Company. Both Shawn and Ellie had the pleasure of sampling two of her candles and we're totally hooked! The scents are pleasing, not overwhelming and totally unique. The wood wick creates a slow burn in a beautiful vintage-inspired glass jar that can easily add to the decor (and aroma) in any room. Melissa is on fire! She's is a take-charge kind of mama who absolutely won't take 'no' for an answer, the kind of spirit that drives any entrepreneur. Welcome, Melissa!
Please introduce yourself. Where are you from originally? What city do you live in now? What brought you here?
Hi, My name is Melissa Knieriem. I originate from the great state of Wisconsin, specifically the city of Milwaukee (yes I'm a Packers fan living in Bears country). I currently live in Frankfort, Illinois. I originally came to Chicago to practice Interior Design right out of school, did that for a couple of years, and then met my husband and as the saying goes, the rest is history, I never left 🙂
You're a mama! How many kiddos do you have and how old are they?
I am a Mama, my absolute favorite role! I have 4 beautiful, and couldn't be more different, daughters. Lyla is 12 going on 16…Sydney is a very responsible 11. Miley is my energetic 9 year old and Finley is a very grown up 5. We just added a four-legged baby, a golden retriever named Diesel. Gotta get a boy in there for the hubby somehow…
What's your favorite thing about being a mom?
Whoa…that's a tough one…I could probably write a book on that question alone. So many things…If I had to pick one…it would be watching each of my girls grow and blossom into unique individuals, guiding them on those respective journeys, helping them to foster their strengths, and at the end of the day, win or lose, being their biggest cheerleader!
Pandemic life has hit us all – how have you coped throughout the last year? 
Hmmm…I think one of the biggest things my husband and I have tried to do is to constantly be switching things up. We are blessed to have a lake home in Michigan, so we have made it a point to split time between here and there. And then even to take it a step further, we have fun foods and activities at the lake house, things we wouldn't normally eat or do at home, they become such a treat and something to look forward to. Simple? Yes…but we always tell our kids it's the little things that can make a big difference.
What has been the hardest part about this pandemic for you personally?
The hardest part for me personally has not been being able to travel. One of my favorite things is to get on a plane and experience a new place. It hurts my heart not to be able to do that as freely. I miss the beach and the mountain air.
What is one thing people would be surprised to know about you…
I would say I'm fairly fit, I ride the Peloton daily and am pretty active with my kids. I try to watch what I eat but for as seriously as I try to take care of my body, I still have a HUGE sweet tooth. Doughnuts, cookies, ice cream you name it, I probably crave it and love it! Maybe someday I will grow up….but I'm kind of secretly hoping I don't…who doesn't love a little chocolate in their life?!
Frankfort Candle Company was established in 2020 slightly before the pandemic. Little did I know at the time that the timing could not be more perfect to get me through a long lock down. The company was birthed from a need for creative outlet, an outlet that played into all my strengths; graphically build a brand and experience, creating a unique and luxe candle that I couldn't find on the shelves, creating an opportunity to repurpose beautiful home decor, both vintage and modern, all while still allowing me to be a present and fulfilled stay at home mom.
Love that story! Did you leave a career to start this?
I didn't leave a career per se, I haven't officially practiced interior design in a couple of years, but I'm always helping out friends with home projects and of course my home is a never ending endeavor so in some senses, I guess I never totally left the field.
What is the most rewarding thing about this endeavor?
Oh so many things…building something from the ground up is so rewarding but the roller coaster can sometimes be a lot. I've been using the journey as a teachable moment to my girls, celebrate the highs all day long but also dust your pants off and celebrate the lows because that's where the grit and the eventual success will stem from. The pandemic has presented unique challenges and thinking on my toes, and outside the box while at times is challenging, it's been rewarding too! I've always been a "I will figure out how to make that happen" kind of girl, don't tell me no, I'll find a way around it 🙂
Take charge gal, love it! Do you have any influencers or mentors that have helped you get to where you are today?
I have an amazing tribe of fellow moms from all different walks of life that truly inspire me every day. The kind of friends who aren't afraid to speak truth to you even if you don't want to hear it. I trust, value and speak their opinions on everything from motherhood to style to growing this business. They offer me constant comic relief and a spot at their island to air my grievances. They are my biggest cheerleaders and me, theirs.
What advice can you give other mamas out there who are looking to start a new business in the current climate?
I think the first step is saying YES….and then finding a way to make it happen. Keep your expectations low, the road may not twist and turn as you think it should (kind of like the birth plans we all had) but embrace it. Have a an end game, an overall plan but be flexible in how you get there. Think on your toes, and don't be afraid to ask for help. I'm fortunate enough to still be able to run this business out of my home so my mom hat is still the biggest one I wear. I also structure my day to give a little bit to everything…my kids, my husband, my fitness, the evening meal, social engagements, etc. In my world, seeking balance is currently the best strategy.
Do you have a brick and mortar space? 
As much as I would love to have a brick and mortar space, I'm just not quite there yet. So I always say that everything can be found online where the majority of my sales take place. I am also in a couple of boutiques in Frankfort and have an extensive collection at the Rustic Fox in Aurora. I'm also hoping to expand to the Painted Tree in both Naperville and Kildeer in the very near future. I am also starting to do in-home candle workshops again, a girls "night in" where you learn the process of candle making while amongst wine and girlfriends.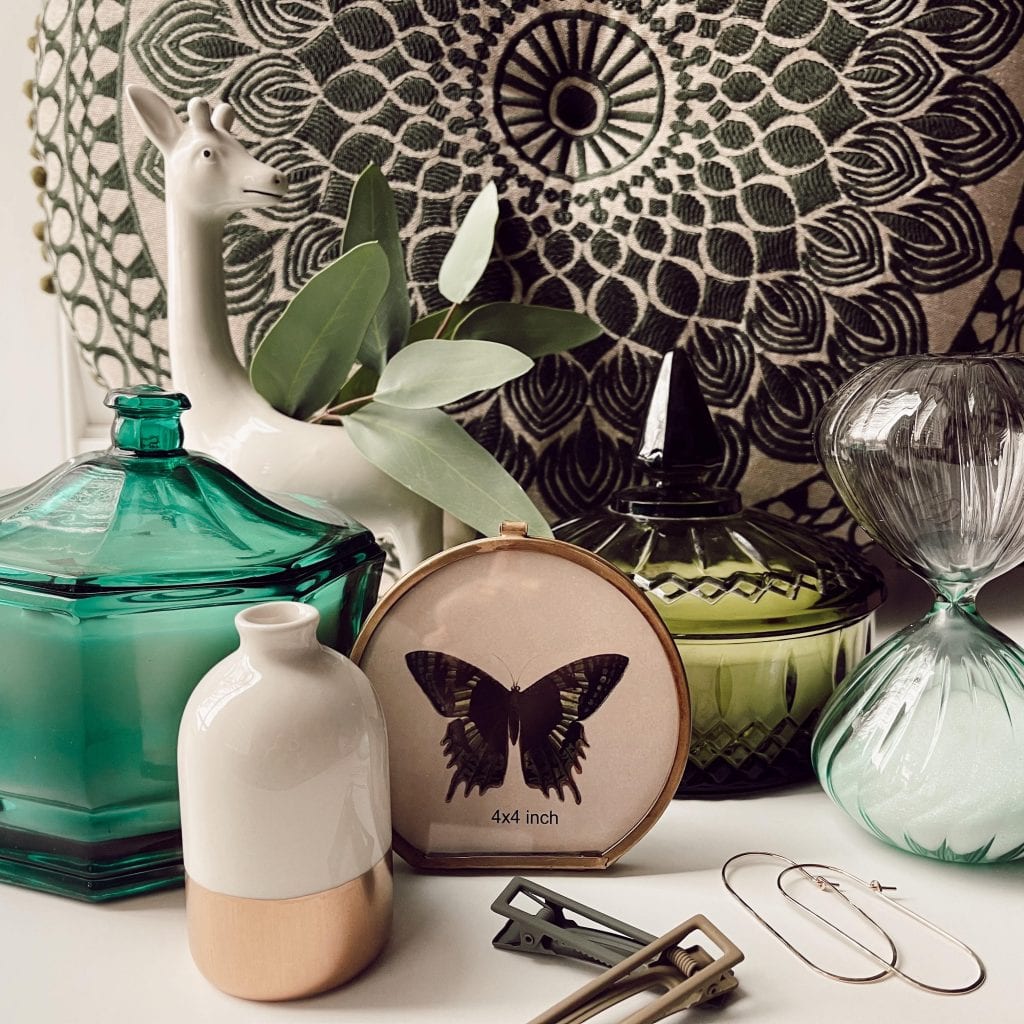 What are your favorite scents for the candles?
Again, tough question because I truly love them all. You won't find a typical say Lavender candle, I enjoy creating complex yet pleasing scents that are interesting and unique.
So my top three are:
Salt Air + Honey dew, Picture sea salt, crashing waves and ocean breezes mingling with soft wispy fruits and subtle musk for an intoxicating walk on the beach.
Fig + galbanum which is green, luscious fig with fresh fruit, light florals and a gorgeous base of cedar wood and amber.
Honey + Bourbon think sweet honey and rich bourbon with a slight fruity, spicy note settle into a subtle syrupy essence.
Can you fill a vessel that I already own?
Yes! If you have a vessel that is sentimental to your family just sitting on your shelf maybe consider repurposing it into a candle to be enjoyed by all. I'm happy to do custom quotes on vessels provided by clients. Gifts like these are perfect, meaningful and unique for Mother's Day or any occasion really. The easiest way to do that is to drop me an email with a picture and we'll go from there.
Rapidfire… Go!
Undergrad college/major: University of Wisconsin-Madison, Bachelor in Interior Design
Favorite candy: Twix bar
Strangest thing in your purse right now: 4 pairs of sunglasses?!
Last book you read: Bright Side by Kim Holden, great read!!
Your binge shows: Bridgerton, Marvelous Mrs. Maisel or anything documentary
What's on the horizon for Frankfort Candle Co. – any new products coming out?
We are super excited that in addition to the candles, we've just launched a lifestyle collection. It's an assortment of all kinds of items we've come across while on the hunt for unique candle containers. Everything from jewelry to baby to gardening to home decor. It will be ever evolving with new weekly additions.
Thanks! How can we connect with you for more information?
You can always email me at [email protected] and I'd greatly appreciate a follow on Instagram @frankfortcandlecompany.
Thank you so much!! This was fun 🙂