Hello friendly faces! It's that time of the week! We're back with a new CNSMoms' Meet a Mom spotlight brought to you in part by Mary Gifford of Gifford Law. This week's Meet a Mom interview is with Lake Forest mom of two wee ones and the program director of Gorton Community Center, Libby Johnson. Libby is a busy mama! She's still catching her breath after running the Chicago marathon this year whilst chasing after her two active children and crafting her magic at Gorton! Libby has exciting news about the Gorton Drama Studio which has recently expanded. Gorton's unique drama program offers classes for 2.5 – 4 year olds called Little Storytellers, a class for 5 – 8 year olds and classes for 9 – 13 year olds that are adaptations from favorite movies and tv shows. Welcome, Libby!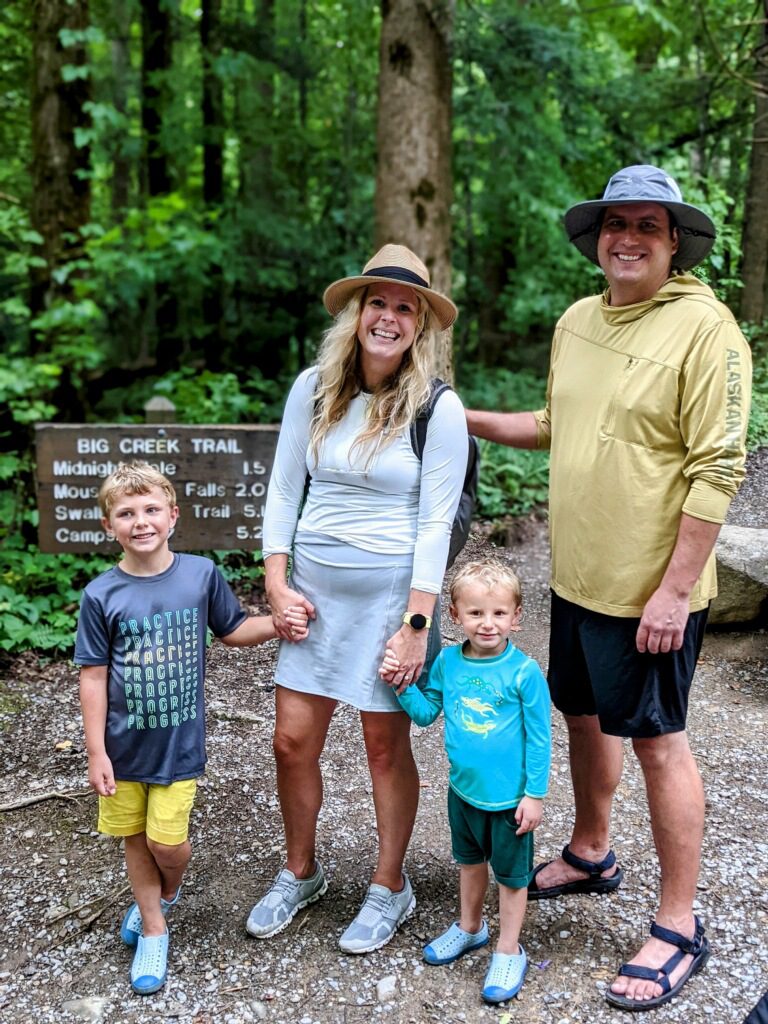 ---
It's so nice to meet you, Libby! Please introduce yourself. 
Hi! I am Libby Johnson and I am originally from Iowa (Go Hawkeyes!) but moved to Lake Bluff from Chicago in 2017.  My husband was working in the northern suburbs and the commute was getting to be too much so we decided to pack our bags and head north!  Shortly after we moved, I was looking for childcare and while registering my son George at the Gorton Children's Learning Center, I found out that Gorton was hiring a Program Director…. and here we are! – A Gorton family!
You're a mama! How many kiddos do you have and how old are they? 
I love being a mama! I have two boys, George is seven years old and in second grade and Charlie is four years old in preschool. They are happy, active little boys who keep me on my toes!
What are one or two things people would be surprised (a.k.a. fun facts) to know about you?
I just finished running my first half marathon in Chicago this fall!  Funny thing about it was that there was a last minute course correction that ended up making the race half a mile short. Since it was a 'fun run' and not a qualifier for me, I was happy to see the finish line (and my smiling, supportive family) a little early!
What are your favorite North Shore places to spend with the family?
When we aren't taking advantage of the programs at Gorton, we love spending time outdoors, especially at the Prairie Wolf Dog Park in Lake Forest and hikes through Independence Grove. In the summer months we are at the pool and on the golf course almost every day and in the fall we spend Saturdays watching the Hawkeyes! When we head out for a bite, we love going over to Chiefs in Lake Forest or for a walk to Pucks in Lake Bluff.

You're the program director for Gorton Community Center! Tell us about Gorton Drama Studio that is getting buzz!
Yes! We are thrilled to have Jeremy Kruse here at Gorton as the Artistic Director of the Gorton Drama Studio (GDS)!  Jeremy offered his first camp with us in 2017 and continued to offer classes and camps until GDS was created in 2021.  Since then he has added classes for 2.5 – 4 year olds, 5 – 8 year olds and is currently working on offering classes for college-age students and seniors!
We are beyond thrilled to have Jeremy at Gorton! Jeremy is the author of "The Young Actor's Handbook" (Applause Acting Series, 2017). Jeremy is a professional actor, published playwright, award-winning screenwriter, and award-winning filmmaker. Some of the classes he taught at The Lee Strasberg Theatre and Film Institute in New York include Method Acting, Comedic Improvisation, Sketch Comedy Writing, and Acting for Film and TV. He graduated from The Strasberg Institute at New York University's Tisch School of the Arts where he majored in drama.
What is the coolest thing about the Gorton Drama Studio? Why is this the most unique after school activity program on the North Shore?
Jeremy's classes allow students to get away from the everyday hustle and enter into a world of imagination and creative fun! Classes for the 9 – 13 year olds have adaptations from their favorite movies and shows such as Stranger Things, Lord of the Rings and SNL! Students love using props, getting into character, helping with lighting, staging and filming. After class, Jeremy edits film and sends out the production to share with friends and family.
In the 5 – 8 year old class, students enjoy quick-thinking games and activities with fun props and even puppets! And lastly, the 2.5 – 4 year olds in the Little Storytellers class spend an hour using their imagination in fully-engaged play and make believe.
What's more is that Gorton Drama Studio is dedicated to providing:
Professional caliber Method acting and dramatic writing education.
Professional caliber performance opportunities on the stage and screen.
A fun and inspirational environment where community members of all ages can express themselves creatively through both entertaining and artistic theater and film!
Where does Jeremy find instructors? Tell us about them.
Jeremy sources all the teachers for Gorton Drama Studio. Having a background from the NYU Tisch School and as a professional actor as well as a teacher, he knows the right mix and expertise to light up the class at each age. As classes are added to GDS, he carefully looks for the right teacher fit to make that class a home run for all involved.
What programs are available at the Gorton Drama Studio? What ages do you cater to?
We are currently offering classes for 2.5 – 4 year olds called Little Storytellers, a class for 5 – 8 year olds and classes for 9 – 13 year olds that are adaptations from favorite movies and tv shows.  Jeremy also offers workshops on no-school days as well as week-long camps over the summer. And soon, GDS will offer classes for teens and adults.
Is there anything else you'd like us to know about Gorton Drama Studio?
Gorton Drama Studio is focused on inclusivity and providing an environment for children where they can express themselves creatively and build their confidence.
How do our readers learn more about the programs and sign up?
I encourage everyone to check out the class offerings! The most up-to-date class information is on our website at www.gortoncenter.org under Classes/Gorton Drama Studio. https://gortoncenter.org/drama-studio/.
---
About Our Meet a Mom Sponsor
A very heartfelt thank you to CNSMoms' Meet a Mom sponsor, Lake Forest mom of three and owner of Gifford Law, a solo Estate Planning Firm (wills and trusts). Mary, we appreciate your support of local moms in our North Shore communities! Learn more about Mary by visiting her Meet a Mom spotlight here! Contact Mary directly here: [email protected].