Hello friendly faces! It's that time of the week! We're back with a new CNSM spotlight brought to you in part by Mary Gifford of Gifford Law.
Lindsey Lauten is exactly where she's supposed to be. In 2022 with a brand new baby girl in tow, she launched a brand new health coach practice called To Be You Today with one simple goal: To support you, mama, through your journey feeling better. No matter where you are in your wellness journey, just beginning, getting ready for an event, pregnant, postpartum…She's got you covered. Learn more about Lindsey, and how To Be You Today can easily fit into your life. Welcome, Lindsey!
---
Hi Lindsey. Please introduce yourself. Where are you from originally? What city do you live in now? What brought you here?
Hi! My name is Lindsey Lauten and I am originally from Mt. Horeb, WI – a small town just outside of Madison, WI. My husband, two kids and I currently live in Wilmette having moved up from the city just over a year ago. Originally I came to Chicago in 2015 with a job while teaching indoor cycling with Flywheel Sports…met Chris (husband) one month to the day after moving here!
Tell us about your family and feel free to brag away.
I truly hit the lottery when it comes to my family. My husband works for the Northwestern University Men's Basketball coaching staff and is just an all around amazing husband and father. I have two beautiful children ages 3 and 9 months – and honestly I can 100% say they're the best kids ever. So sweet, so happy and love each other beyond words.
What are one or two fun facts to know about you?
I have lived MANY places – Minneapolis, Los Angeles, Little Rock, New York City, Buenos Aires, Florence and now Chicago. I have run 3 marathons (and counting)!
What are your favorite North Shore places, spaces and eats to frequent?
We love eating at Napolita Pizzeria in Wilmette and Stormy's in Northfield – definitely two of our fave spots. We love to head to Wagner Farms and hit up every park in a 5 mile radius of our house haha – Tall Trees being one of our favorites!
Yum and thanks for the park recs! Lindsey, as a fitness and health guru, what is your mantra?
"You are exactly where you're supposed to be." I have to repeat this to myself a lot as I am someone who constantly craves change and tries to do more and be more all of the time. Sometimes it's good to remind myself that I'm where I'm supposed to be, right now, in this moment in time and it's OKAY to be here and be totally present.
That is a good one and tough sometimes. So, what gets you through a tough day?
Coffee. Going for a run. Going to bed as soon as the kids are down and reading my book for an hour in total silence. Glass of wine. Did I mention coffee?
You are a personal training/health coach and the founder, owner and president of To Be You Today. Why did you start this practice, what services do you provide?
I have owned my own personal training business for 10+ years and just made the switch to personal training + health coaching this last year when I launched To Be You Today. I decided to add health coaching because I feel like there are many areas that women are looking for help in and many of them can be addressed with health coaching. It's not always about the "what," a lot of times it's about the "why." I wanted to create a space for every woman, no matter where she is in her life. Maybe you want to make a change in your life and you don't know where to start. Maybe you know exactly where you want to go. Wherever you are is where you're supposed to be and I want to help you create a life where you feel your absolute best in every stage. You get to choose the path that feels right for you. Journeys ebb and flow and I want you to feel safe, supported and heard every step of the way.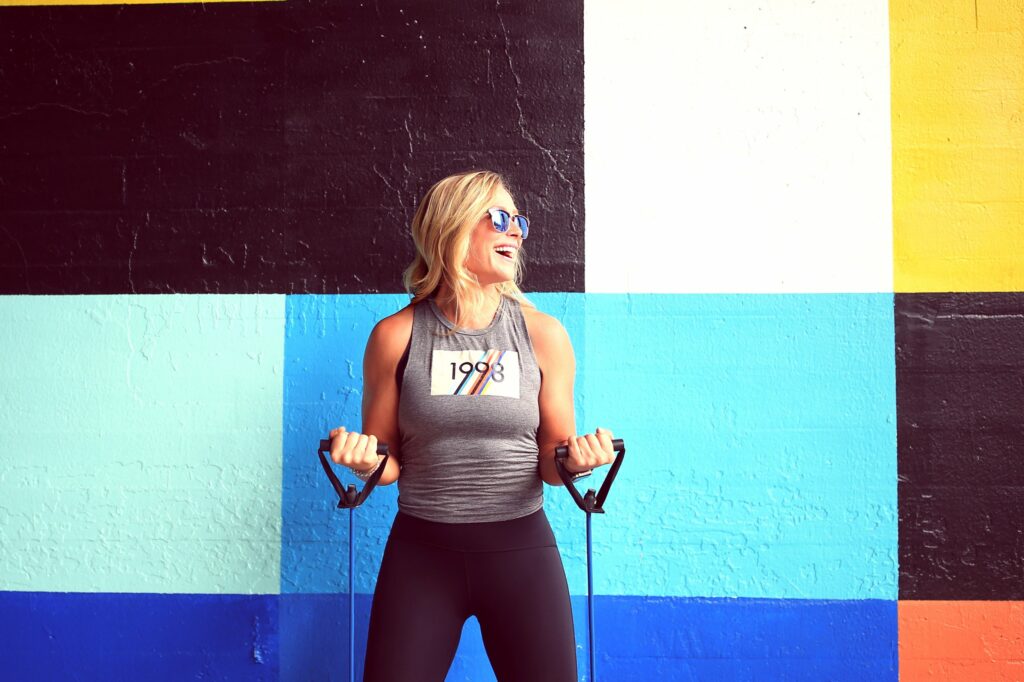 Your sessions are yours to use as you want. If you want to solely focus on personal training, great! Only health coaching? Fantastic! A little of both? Let's do it!
What credentials do you hold and what did you need to do to receive these?
ACE Personal Trainer Certification
Weight Management Speciality Certification
Therapeutic Exercise Specialist Program Certification
Behavior Change Specialist Certification
Corrective Exercise Certification
ACE Health Coach Certification
What is your process with clients who come to you for support?
We book some time to have a conversation together to start to figure out what kind of support they are looking to receive from me. This talk is really about the client's needs and wants and struggles and desires. From this conversation I am able to start putting together a game plan that we will go over together to make sure they feel good about what our time together is going to look like.
I would love to grow To Be You Today into even more than what I can offer right now. Adding in Life Coaching, Virtual Workshops, Group Sessions, etc would be absolutely amazing!
What are your dets?
You can learn more by going to https://www.tobeyoutoday.com/ and schedule a 30 minute chat here. I'm also on Instagram. I can't wait to hear from you!
---
About our Meet of Mom Sponsor
A very heartfelt thank you to CNSMoms' Meet a Mom sponsor, Lake Forest mom of three and owner of Gifford Law, a solo Estate Planning Firm (wills and trusts). Mary, we appreciate your support of local moms in our North Shore communities! Learn more about Mary by visiting her Meet a Mom spotlight here! Contact Mary directly here: [email protected].