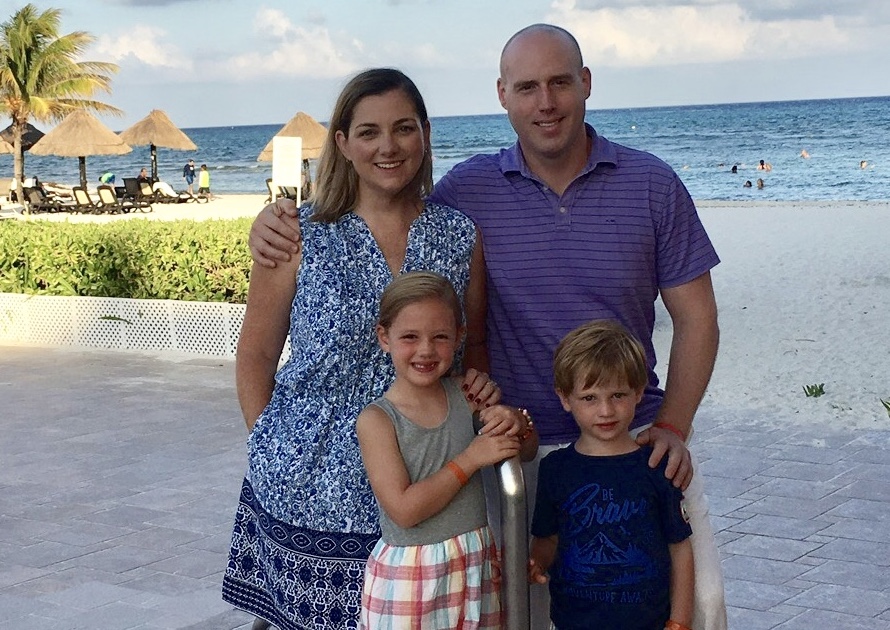 North Shore resident Molly Selsby expertly manages a work/life/family balance. The PwC Partner and Ravinia Associates membership co-chair makes a point to decompress and spend time with her family horseback riding at the barn, enjoying a tradition of Friday night sushi and reading Harry Potter (for the first time) aloud to her children. She's excited to share a few of her favorite mom hacks with you and hopes you'll join her at this year's Music Matters fundraising event which helps to bring music enrichment and education to underserved populations.
Where are you from originally and how long have you lived in town?
I was born in Buffalo, NY but spent most of my childhood years in Chagrin Falls, OH – an eastern suburb of Cleveland. My family and I moved to Chicago in 2005 with job transfers.
Child(ren) and Age(s)?
We have a seven-year-old girl and a five-year-old boy
One thing people would be surprised to know about you …
After being diagnosed with Graves' disease about 18 months ago, I decided it was time to give back to myself. It was the push I needed to resume my hobby – equestrian sport. I'm lucky to work for PwC, which encourages its people to prioritize health and well-being through the firm's "Be well, work well" initiative. After a 10 year break I found a new trainer, new riding sport, and recently purchased a horse. My daughter even started riding too!
It's a balancing act with kids and work, but thanks to the support of my husband, a great trainer, and the flexible work culture at PwC, I've been able to get back to the barn. It's been great for reducing stress, increasing my focus on my own well-being, and meeting a new community.
Favorite mom hack?
I don't know when my husband and I started doing this, but we tell the kids they have to 'qualify' for their sweets through healthy meal eating. I think 'qualify' was my son's third word – they ask daily "do I qualify yet? I ate all my peas!"
Favorite place to take the kids?
Skiing in Colorado! My parents live in Steamboat Springs and we've had great family time and sun-filled days on the mountain.
Guilty pleasure?
Sushi delivery every Friday, from Mizuki Grill in Highland Park. It's a great way to end the week, and the restaurant has also provided us with a children chopstick hack to teach them to use chopsticks with ease (a rubber-band is the secret tool here). Our children are always excited for Friday sushi night!
Go-to cosmetic "tired eraser"?
Over the last few years I have travelled internationally for work a fair bit – and that wear and tear shows! I started traveling with rejuvenating and brightening face masks and use one right when I check in. I have received comments about how refreshed I look – when in reality I am absolutely jet lagged. So the face masks must be working!
Favorite family movie?
My husband and I thought Incredibles 2 really spoke to us.
Favorite book for you?
I have six books on my nightstand and have only read one so far – Sheryl Sandberg's Option B. I recommend it – it emphasizes the concept of teaching resilience, which is really important. I now think differently when communicating with coworkers, staff, and friends who may need support. I stopped using the phrase "let me know what I can do" and instead try and find something specific to do, or I simply check in to let people know I am thinking of them. It's a quick read, but warning if you are reading in public place– I was in tears for parts of the book.
Favorite Children's book?
We just started Harry Potter series as a family. I think I am the last person on the planet to read the series. I also have not seen the movies, so it's a brand new experience for all of us!
A perfect day with the family is….
Any time I hear my children laughing together, what we are doing and where becomes secondary. I like to celebrate these moments.
Anyone special you'd like to thank for helping you through parenthood?
Many. First, my husband who is an awesome dad and supportive partner. I've also been lucky to have many working mother mentors who continue to be great advisors and role models. And our community of friends and neighbors in Highland Park – it's that network that helps make life and parenthood all the sweeter (and easier!).
Are you involved in a business venture, a local organization, a creative endeavor, or in the corporate world? Please share!
I am an Assurance Partner with PwC. It keeps me busy, challenged and I'm always learning. The firm provides an amazing global network of colleagues and clients, which I am so grateful for. We also care deeply about our impact on our community and society – as we always say we are a 'purpose led and values driven' firm.
I'm also so proud of my volunteer work through the Ravinia Associates Board, which I joined in 2015. This year I became the membership co-chair! The Ravinia Associates' mission is to support Ravinia by promoting awareness of the festival and its musical programs, encouraging the development of new audiences for classical music, and contributing to Ravinia's REACH*TEACH*PLAY® education programs.
Reach*Teach*Play has a number of programs to bring music to children and the Chicagoland community, including:
To remedy the loss of music in under-resourced schools – Ravinia offers music education programs to K-3rd grade classrooms
CPS teacher development programs to 170 educators – providing skills and tools to enhance classrooms with music
Ravinia Lawndale Family Music School
Sistema Ravinia – orchestral music education for 3rd-8th graders in underserved schools
Jazz Mentor program – teaching and performing ensembles in CPS
Ravinia classical invitations
Our benefit for Reach*Teach*Play is called Music Matters and will be held on May 11, 2019 at the Marriott Marquis Chicago at 6:30pm. We are targeting over 700 attendees to raise funds for R*T*P this year, and would love for anyone to come to the event to support music education, Ravinia, to honor world renowned flutist Sir James Galway, to participate in live and silent auctions, and of course, to enjoy the live music! Grab a group of friends and come! For more information, to buy tickets or if you'd like to donate to this cause – please visit our page at Music Matters.
What's on the horizon with respect to your endeavors?
We are working hard to have a successful Music Matters event, looking forward to the upcoming Ravinia Associates events at Ravinia this summer, such as Beer, Brats & Beethoven, and meeting with people interested in joining the Ravinia Associates Board. At PwC, I'm excited to continue to bring value to my clients, and expand my digital skills through the firm's up-skilling programs and initiatives. And finally, I hope you find me at the barn making progress with my new horse and children riding alongside!