Hello friendly faces! It's that time of the week! We're back with a new CNSM Meet a Mom spotlight brought to you in part by Mary Gifford of Gifford Law. This week we are pleased to introduce you to Skokie mom of three little ones and founder of Chicago Family Acupuncture in Northbrook, Dr. Zahava Berkowicz!
Zahava opened her doors to Chicago Family Acupuncture in 2018 and she's been helping patients feel better one hairpin size needle at a time. "We see people for allergies, anxiety, fatigue, PMS, depression, autoimmune disease, fertility, menopause, nerve pain and so so much more," she explains. Zahava and her team are kind and gentle and will guide you through your acupuncture journey. Get to know more about this busy mama, where she loves to take her kids for fun and what gets her through the tough days. Welcome, Zahava!
Photo credit: @leahgraber_photography
---
Hi Dr. Zahava Berkowicz Please introduce yourself. Where are you from originally and what brought you to the North Shore?
Hi! I'm Dr. Zahava Berkowicz, founder of Chicago Family Acupuncture in Northbrook. I'm originally from New Jersey and New York, my accent definitely gives it away. My husband and I met in NYC. He is from Buffalo Grove and sold me on moving to Chicago. I live in Skokie now and love the midwest.
Tell us about your three amazing children!
I have 3 wonderful kids. Judah, Pokemon Master, 7 years old. Priya, Princess Extraordinaire, age 4.5. And little baby Abie, our 1 year old, who has an affinity for outlets.
Any fun facts about you?
That I'm 35. People are often shocked by my age, I look like I just had my Bat Mitzvah. Acupuncture definitely keeps me looking young.
Haha, sold on acupuncture already!
What are your favorite North Shore local places to spend with the family?
We love visiting all the local libraries and parks, Exploratorium here in Skokie, Nickel City in Northbrook, The Kohl Children's Museum in Glenview, and are members at the Botanic Gardens. You can find us at the train exhibit.
What gets you through a tough day?
As cliche as this sounds, I love the work I do. Being in my office surrounded by our loving staff and patients always cheers me up. I find moving my body and journaling always gets me out of a rut. I'm also a huge advocate for talk therapy.
Guilty pleasures?
Reality TV and junk food for sure.
Please introduce Chicago Family Acupuncture. When did your doors open and what did you do prior to this?
Chicago Family Acupuncture opened in 2018. I started out subleasing one small treatment room in Evanston from another acupuncturist. I then grew into a two room space in Glenview in a doctors office. We grew so much there it was finally time to get a larger space of our own so we now have a large 5 treatment room clinic in Northbrook. There are three of us acupuncturists now and we are looking to hire a massage therapist.
What is acupuncture? Is the result different from massage therapy?
Acupuncture uses single-use sterile needles at specific acupoints in the body to help regulate the nervous system and allow the brain to release endogenous opioids, our body's own natural pain killers, to help relieve pain in the body. Acupuncture is evidence based medicine, and research shows that acupuncture modulates brain activity at the limbic, paralimbic and neocortical level, improving our vagus response. What this means is- acupuncture makes you feel amazing!
What is the training to become an acupuncture therapist?
Acupuncture is a 4 year Master of Science degree. I did an additional year to receive my doctorate, so I was in graduate school for 5 years to become a doctor of acupuncture.
Why do people turn to acupuncture?
People come to us for all sorts of things. Often, people see us because they have tried everything yet are still in pain. Most people start with acupuncture for back pain since we are famous for treating it, but once they come we educate them that we can treat so much more. We see people for allergies, anxiety, fatigue, PMS, depression, autoimmune disease, fertility, menopause, nerve pain and so so much more.
We also treat a lot of teens for hormonal health and stress management.
The goal of acupuncture is to help regulate your nervous system, so you don't need to live in a chronic state of fight or flight.
What do you say to people who are afraid of needles?
We get this all the time! Acupuncture does not hurt. The needles are the width of one hair strand. You can fit 30 acupuncture needles into one intradermal needle. We let our patients know that they are in control, and we calm their nerves as soon as they walk into the office. We have treated people who were "deathly" afraid of needles, and they are now some of our best patients. We will hold your hand every step of the way.
What can people expect when they come to you?
People can expect an exceptional level of care. We are here to help people feel like themselves again. We offer a beautiful healing space where people can come and feel safe to be their worst selves. We don't judge. We are here to collaborate with you on your healing journey and you should always leave feeling better than when you came in.
Photo credit: @leahgraber_photography
Is this service covered by insurance?
We are proud to be one of the only acupuncture clinics in the North Shore that accepts insurance. We are in network with BCBS Illinois PPO and out of network for Aetna, Cigna, United. Not everyone who has BCBS has acupuncture coverage, so we are happy to check for them.
Do you prescribe Chinese herbs?
Most acupuncturists in the US are also trained Chinese herbalists.  Learning herbal medicine is extremely difficult and takes many years and training to master.  You have to have an understanding of Western pharmacology and know the English, Latin and Chinese name and indication/contraindication for each and every herb in the pharmacopoeia.  I got pregnant in my first year of graduate school, so I chose to have children instead of learning herbs.  It was a really hard choice for me but I knew I wouldn't be able to do both well.
What exactly are Chinese herbs?
Chinese herbs are a combination of plants and animal products that are used as medicine to treat a variety of illnesses for thousands of years.  Trained herbalists (someone with a MSTOM or DAOM at the end of their name) are highly skilled at using natural herbs in the treatment of both simple and complex disease.  A skilled herbalist will create an individualized formula for the patient for their specific needs. To decide what herbs to prescribe the patient, herbalists use a specific set of diagnostic tools unique to Chinese medicine such as tongue and pulse diagnosis, palpation and a long intake.
Examples of popular Chinese herbs are ginger, ginseng, astragalus, licorice, white peony root and dong quai.   I've been on tons of different formulas over the years from postpartum support, to a phlegmy cough that just won't go away.  Herbs are an incredible tool.  Most people don't realize that most conventional medications are synthetic versions of properties they found in herbs/plants.  For example, a Chinese herb called Ma Huang that has been used for centuries in Chinese medicine, has now been synthesized into pseudoephedrine and is used in cold and flu products.  Herbs come in many different forms like teas, raw ingredients, granules (powders), pills and tinctures.
For those of us who have never ventured down the path of acupuncture and Chinese herbs, what are some common myths you'd like to bust? 
There are so many myths about acupuncture and Chinese medicine I love to bust.  Acupuncture is such a unique modality and there is a lot of education that goes into what we do simply because people have not been exposed to it before.  I've given countless presentations for different organizations, therapy groups, and doctors offices to explain what acupuncture is and how it works.  This medicine is not as "woo woo" as people like to think.   We love to collaborate with conventional physicians to give people the best of both worlds.  Acupuncture is evidence based medicine and is moving more and more into the mainstream as the opioid epidemic rages on, doctors are looking for a non-pharmaceutical option for pain management.  The VA has acupuncturists on staff to help veterans with pain and PTSD, fertility clinics are hiring acupuncturists since studies show acupuncture can increase the statistical likelihood of successful pregnancy and more and more doctors are referring us patients when imaging and lab work comes back normal, but the patients are still in pain and dysfunction.  Acupuncture is incredible and I couldn't be happier to mainstream something that can reduce pain and suffering in the world.
Describe something you're most proud of in your field?
The thing we are most proud of at Chicago Family Acupuncture is the amazing relationships we have built with our patients. We treat so many families and that has been our greatest joy, to feel part of other people's families. We love getting everyones holiday cards or invites to family events. We are so proud to be part of the North Shore community.
We use ancient wisdom for your modern wellness. We are passionate about bridging the gap between conventional and alternative medicine and are so honored to be doing this work.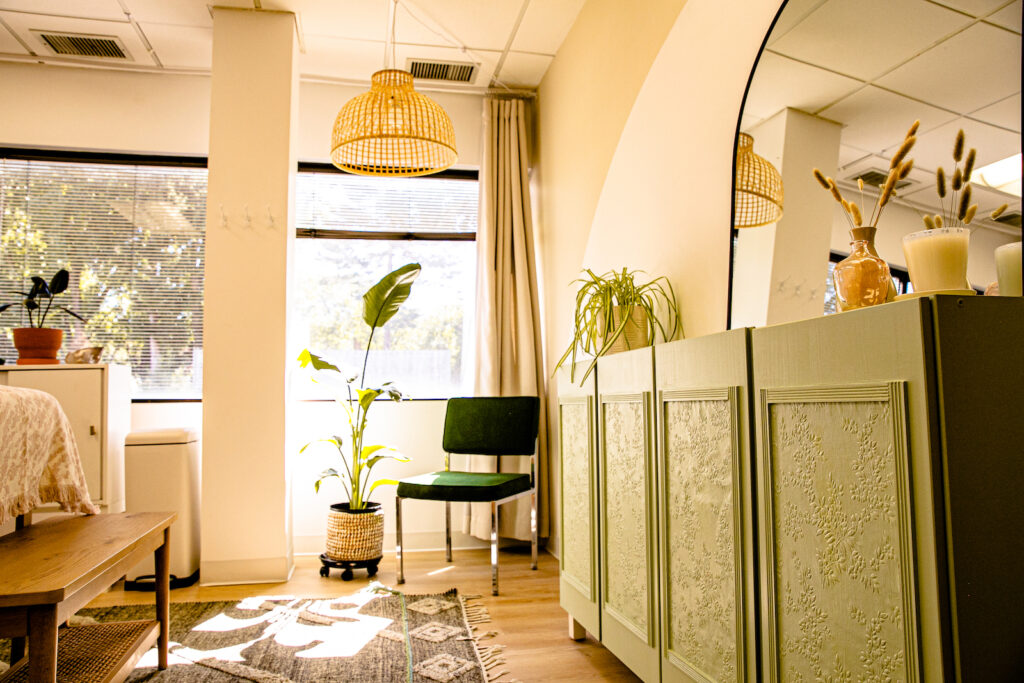 Photo credit: @leahgraber_photography
How do we connect with you?
You can visit Chicagofamilyacu.com and follow us on Instagram- @chicagofamilyacu and Facebook- Chicago Family Acupuncture. As always, please call us with your questions at 224-213-7070. Hope to see you in the office.
---
About our Meet of Mom Sponsor
A very heartfelt thank you to CNSMoms' Meet a Mom sponsor, Lake Forest mom of three and owner of Gifford Law, a solo Estate Planning Firm (wills and trusts). Mary, we appreciate your support of local moms in our North Shore communities! Learn more about Mary by visiting her Meet a Mom spotlight here! Contact Mary directly here: [email protected].