If Spring Break has you feeling like it's less of a break this year, we've got you covered!
---
Little Beans Spring Break Camp
3/29-4/2  9:00 AM – 3:30 PM
Little Beans offers a fun-filled Spring Break camp for kids 3-9 years. Imaginative play, active play, sports, art, a daily class, a healthy snack, and games included every day. Lunch can be brought from home or purchased for $5.
Winter camp is open for a cap of 25 kids. We will be in a camp POD keeping our group together. We will start our day with play and move been classrooms for activities, the gym and the playspace between groups. Little Beans will have reservations required play slots for families but campers will remain separate from the general public when possible.
Masks are required by everyone and every person will take a heath and temperature check each morning.
3-9 years
March 29th-April 2nd 2021
Monday-Friday, 9:00am-3:30pm
---
Mon-Fri Mar 23-27, 9am-2:30pm | Junior Spring Break Tennis Camp | Ages 5-14
Deer Creek Racquet Club
Get out of the house and hit the courts this Spring break!  Drill and play with our pros and also play some games. New activities for smaller kids; and board games. Pack a lunch for your child. Snack is provided.

$75/day or $335/all 5 days           Sign up before March 16 to receive a 5% discount!
Register Here
Mon Mar 23, 10am-Noon | STEM Girls | Ages 10-15
Heller Nature Center
Become a science, tech, engineering, and math girl! Learn confidence, connect with other girls and together solve challenges that matter to you.
$20
Register Here
Mon Mar 23, 12:30-3pm | Crate Stacking Challenge | Ages 10-15
Heller Nature Center
While harnessed in and on a belay system, stack and climb up milk crates as high as 25 feet! The more crates you stack the higher you go. Are you up for the challenge?
$25
Register Here
Tue Mar 24,10am-Noon  | Up & Away to Space | Ages 6-9

Heller Nature Center
Rockets, moon landings and robots, Oh my! Join as we build rockets, learn about the surface of planets and make simple robots.
$20
Register Here
Tue Mar 24, 12:30-2:30pm | Can You Win It!? | Ages 6-9
Heller Nature Center
Beat the clock in several challenge games. Each round gets tougher until the final challenge… Can you win it all?!
$20
Register Here
Wed Mar 25, 11am-5pm | Ziplining | Ages 11-15
Heller Nature Center
Heller staff is leading a trip to Lake Geneva for an afternoon of zip lining through the hillsides overlooking Lake Como.
$95
Register Here  
Highland Park is also offering many hour- 2 hour long fun options as well!
---
Spring Break Camp with Ultimate Ninjas 
 3/29/2021 – 4/2/2021 
From:

9:00 am – 12:00 pm
Ages 5-15AM Session | 9:00 AM – 12:00 PM ($45)
PM Session | 12:30 PM – 3:30 PM ($45)
Full-Day Session | 9:00 AM – 3:30 PM ($75)20% Sibling Discount. *Call for registration to apply discount.*
773.877.3524
Covid Protocols:
-Temperature checks upon arrival
-Masks required
-Limited overall capacity and group sizes. Same-household groupings and no cross-interaction between groups
---
Spring Break Camp
Age 5-13
Spring Break Camp is offered for children currently enrolled in Kindergarten through Grade 8 during the Wilmette Public Schools District 39 Spring Break. Children are offered a variety of activities such as arts and crafts, group games, indoor and outdoor activities. This program meets at the Community Recreation Center.
Coach Abe Spring Mini Soccer Camp
Age 3-4
Come play soccer with Coach Abe during spring break. We will learn soccer moves each day and play many soccer games like Crazy Crabs, Star Wars, Dog catcher, turkey hunters and many more. We will finish each day with a scrimmage.
Spring Break Pee Wee Sportsters Camp
Age 4-6
This outdoor sports game camp introduces kids to football, basketball, soccer, baseball, floor hockey, kickball, running games and much more. The emphasis will be on the development of teamwork and sportsmanship. Our goal is to teach boys and girls to enjoy playing for the sake of the sport itself. Bring a labeled water bottle and face covering.
Spring Break Total Sports Camp
Age 4-10
This camp focuses on a variety of sports including flag football, baseball, kickball, soccer, capture the flag, and other group games. Each day camper's focus on skill development and fundamentals for each respective sport, followed by game play. Coaches will ensure a fun and energetic atmosphere while promoting teamwork and good sportsmanship. Campers should bring water each day.
The Wilmette Park District is also offering many specialized sports camps!  Visit their website for more options!
---
There are so many programs available through the Glenview Park District that we couldn't list them all!   You'll find everything from soccer to swimming for just about every ages group!  Click the link above to explore!
---
Flips Gymnastics North Shore Spring Break Camp! 
Your kids will have their own getaway from home and school! They will have a blast right here at Flips with games, obstacle course, pit play, trampoline and tumble trak.

Each day will include a vacation style craft and snack. Pick one day or try all four different getaway themes!
Tuesday, March 24th – Hawaii
Wednesday, March 25th – Mexico

Thursday, March 26th – Florida

What time? 12:30 – 4:30

How much? $60 per day, $150 for 3 days

Who? Kids ready for fun, ages 5 – 12

---
Chicago Botanic Garden Spring Break Camp
March 29 – April 2, 2021, 9:30 a.m. – 3 p.m., $63/$84 each day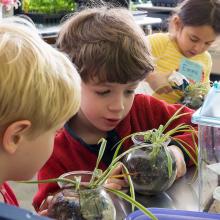 Sign up for one day or all five days. Children in grades K – 4 will investigate science and nature in spring. They will dissect seeds, discover fragrant herbs, watch migrating birds, look for emergent plants on a nature hike, and perform some simple experiments.
Grades K – 4, Classroom 8, Learning Center
March 29, 2021: Signs of Spring
March 30, 2021: A Visit to the Woods
March 31, 2021: Seed Investigations
April 1, 2021: Let's Go Camping
April 2, 2021: Garden Adventure
---
Grades K-6, Monday-Friday, March 29-April 2, 9 AM-3 PM, Watts Center, $270/295, 311420-05
Let's grab our passports and go! Come travel the world with us by planes, trains, and automobiles. Each day, we will enjoy sports, food, arts and crafts, theatre games, and movies from the country we are visiting! Lunch should be brought from home in a single-use container to be thrown out after each meal.
Monday: Party in the USA
Tuesday: Hola, Mexico!
Wednesday: Ciao, Italy!
Thursday: Bonjour, France!
Friday: Welcome back to the USA
---
One River Evanston – Art Camps!
---
---
Asylum Skate Park Spring Break Camp
The Asylum Skate Camp is one of the best in the Midwest.  We provide our campers with a fun, well-rounded program that is perfect for any skateboarder at any level.
---
Hot Shots Sports Spring Break Sports Camp
Grades: 1 – 6
Location: Skokie Playfields, 540 Hibbard Road
This camp focuses on various sports, including flag football, basketball, baseball, kickball, soccer, capture the flag, Nerf, and other group games. Each day, campers focus on skill development, followed by gameplay.
Outdoor Adventures: Spring Break Camp
Ages: 10 – 14
Location: Skokie Lagoons
What better way to spend spring break than outside! Join the Northwest Passage for a spring break outdoor adventure. Your Northwest Passage guides will help your young adventurer explore the wild places right in our neighborhood. This camp is limited to six participants.