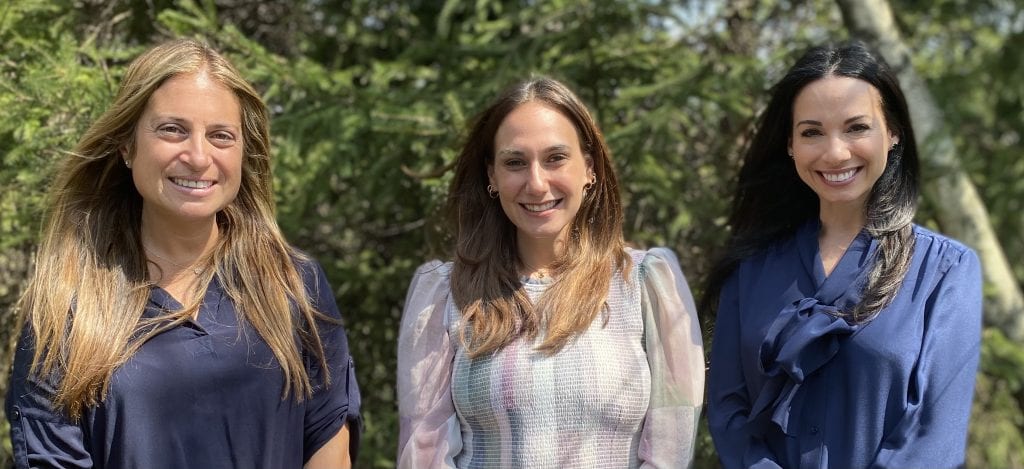 Welcome to Chicago North Shore Moms weekly Meet a Mom series where we feature one local mama, what they're up to both personally and professionally. But first we'd like to extend a very heartfelt thank you to our Meet a Mom sponsor, Lake Forest mom of three and owner of Gifford Law, a solo Estate Planning Law Firm. Mary, we appreciate your support of local moms in our North Shore communities!
This week's Meet a Mom feature is a trifecta of amazing North Shore moms! We are pleased to introduce you to the three lovely women behind Highland Park Psychological Services, whose philosophy combines leading, following and walking beside each client on their path toward a healthy mind, body, and spirit. Get to know Jessica Fox-Levy MA, LCPC, Dr. Alissa Simon Psy.D. and Dr. Arin Davidson-Stevens Psy.D., and why they love what they do. Plus, the three give practical mental health advice for families.
---
---
Hi Jessica! You're from Cincinnati, Ohio – what brought you year to the North Shore?
My name is Jessica Fox Levy, MA, LCPC. I grew up in Cincinnati, Ohio. I moved to Highland Park in 2016. I moved to the North Shore because I always knew I wanted to raise my family in the suburbs, and after having two kids in downtown Chicago, both my husband and I were ready for more space. Highland Park was attractive to us because of its sense of community, the adorable downtown area, and the friends we already knew up here.
You have three kids! What's your favorite thing about being a mom?
Yep! I have three kids—ages 9, 6, and almost 4 years old. My favorite thing about being a mom is watching my kids bond and form their own unique relationships. When they laugh together, and I just get to observe, there is nothing better, in my opinion.
We're still living through strange and unknown times. What has been the hardest part about this pandemic you personally?
The hardest part for me was not being able to see my close friends and my family in Cincinnati. I am really social and am used to seeing my parents every month or so, and that is also an important outlet for me. I really missed them.
I am the Clinical Director and a Licensed Clinical Professional Counselor at Highland Park Psychological Services. I also help run our other two offices in Park Ridge and Naperville. I have worked at this network for almost 13 years. I specialize in anxiety and depression in adolescents. I also consult parents on sleep training and toilet training.
Our Highland Park office is a small, warm and personable clinic. Currently we are seeing patients via zoom, but hope to return to the office this summer. We also pride ourselves on returning calls and emails quickly. Our clinicians respect the need parents have to get their children help as soon as they recognize that they need it.
Life is tough, but obviously tougher the longer the pandemic continues. Can you offer our readers any advice with coping during this time?
My best piece of mental health advice during the pandemic is to acknowledge that you are likely doing the best you can and that is not normal life and, therefore, you are not going to act or feel normal – and that is normal!
You don't need to "seize every moment" to organize the house, bond with your children, or try a new home workout routine. There was a lot of pressure for everyone to show how well they were handling COVID in the beginning, (especially over social media), and I remember feeling like, how do these parents have the will to create homemade science experiments right now!!??? I was just trying to get through the day as a working mom of three kids. Once I decided to give up trying to "make the best" of every moment home, I actually started enjoying my time at home.
Being a mental healthcare provider is obviously a tough job. what is the most rewarding thing about this career for you?
The most rewarding aspect of being a mental health provider is giving kids and their parents hope.  Whether it is the hope that there are effective tools for anxiety or the hope that there is a way out of the depths of depression, it is so rewarding to see that sense of relief.
What are the 2 most common questions that people reach out to ask you? Please also provide those answers.
Q: "Can you fix my kid?"
A: No, I can't "fix" your kid, because you kid isn't broken! What may be broken are your relationships, your boundaries, or your spirit, and THAT I can definitely help you with.
Q: "Have you seen this before?"
A: Chances are, I have seen something like this before, but everyone is different and walks an individual path, so no two cases are exactly alike.  I always understand my client from a holistic perspective in order to treat his or her unique symptoms.
Thank you so much for introducing yourself to the North Shore and for all that you do to help people feel better!
---
Hi Alissa! You're from Columbus, Ohio. Another Ohioan! What brought you to the North Shore?
Hi, I'm Alissa Simon! Yep, I grew up in Columbus, Ohio and moved to Chicago after graduating from the University of Michigan in Ann Arbor. While completing my doctorate in Clinical Psychology at the Adler School of Professional Psychology, I got married and started a family. We moved to Highland Park six years ago and currently live in the same neighborhood my husband grew up in. Living in the north shore has been a perfect spot to raise my three boys and we've enjoyed living in the Ravinia area.
You're a busy mama of three! What's your favorite thing about being a mom?
Yes! I am a mother of three active boys ages 10, 7 and 3. My favorite part about being a mom is watching the close bond my kids have with each other. My heart is full witnessing my boys look out for each other, laugh and play together, and although they are each so different, my boys are the best of friends. There never seems to be a dull moment in my house–at times I'm like a referee watching them wrestle like lion cubs and praying no one gets hurt. And then there are those sweet moments where they want me to dress up and look like a queen – I must remind them that wearing a black tie dress at carpool may not be appropriate.
OMG how adorable! Those sweet faces must make your days that much sweeter, especially during this time of the pandemic. What has been the hardest part of this time for you?
The hardest part has been not being able to physically be with family. We have extended family living in Florida, Ohio, and Maryland and not being able to visit and be together was very difficult. Having the chance to celebrate milestones with friends and family, supporting loved ones during times of loss, and hugging the people I care about are things I will NEVER take for granted.
Let's chat career! You are a Postdoctoral Fellow at Highland Park Psychological Services. Congrats! Tell us more about your role there.
Thank you! Yes, I joined Highland Park Psychological Services as a Postdoctoral Fellow in the beginning of 2021. It felt like the stars aligned with the opportunity to work with Jessica and Arin–two smart and ambitious women who I trained with many years ago, who I respect and relate to as clinicians and as mothers.
With mental health issues skyrocketing during this pandemic, I am able to provide therapy to people in my community while balancing my role as a mom. Having the convenience of an office in my neighborhood and the incredible support of my co-workers has enabled me to truly love what I do without having the 'Mom Guilt.'
Excellent! What is your specialty?
Currently, I am providing teletherapy and plan to offer in-person therapy this summer. My areas of specialty involve working with children and adolescents with over a decade of clinical experience in private practice, community mental health, and school systems. Throughout my career, I have worked with clients from diverse backgrounds from the ages of 5 through 90, specifically providing individual and family therapy to treat depression, anxiety, life transitions, relationship issues, divorce, self-esteem, and women's issues. My approach when working with clients is dynamic, relational, and strength-based.
In addition to your degrees that you mentioned above, what else would you like us to know about you?
I received a Certificate in Group Psychotherapy and have created a curriculum in schools to address bullying, conflict resolution, and empowerment in young women. I served as an Adjunct Faculty member and provided consultation to predoctoral graduate students.
As a psychologist, what advice to you have for our readers about coping with life during the pandemic?
Find your joy and those moments where you can take time for yourself. We all need to recharge and invest in self-care. It doesn't need to be expensive or time-consuming–taking a walk outside, calling a friend, reading, watching a Netflix show, yoga–whatever brings you that sense of calm and boosts your mood.
What is the most rewarding thing about your career?
It is truly an honor and gift to be considered a helper. Healing is a collaborative process and I continue to be in awe of the strength of my clients, especially the times when they are most vulnerable. My clients make me want to be better.
What is a common question relating to mental health that friends, family and clients ask you? 
I get tons of questions from friends and family that relate to, "Is this NORMAL?" Or, "Could this be a mental illness?"
My answer is based on what I learned from a wise professor, which is known as the 4 D's. Is this Deviant from what is typical of same-aged individuals? Is there Dysfunction where there is an impact on work, school, relationships, daily living, etc? Is it causing Distress? And is it causing Danger? This is a general response to how clinicians may assess and classify a potential mental health problem.
Oooo – that is good! I hadn't heard that and as a mom of three young ones myself I'll definitely use that. Thank you, Alissa!
---
Hi Arin! I love that spelling, by the way! You're from Columbus, Ohio, too! What brought you here to the North Shore?
Hi! My name is Dr. Arin Davidson-Stevens. I was born in Columbus, Ohio, lived in Oak Park, Illinois from age 2 until 6th grade and then my family moved to Highland Park when I was 11. I currently live in Highland Park. We moved to Highland Park from California in 2014 to be closer to family.
You also have three children. What is your most favorite thing about your little people?
I have 3 kids, 12 year-old boy/girl twins and a 10 year old girl. I am happiest when my kids are happy. I love watching them grow and learn. My favorite thing is seeing them laugh and have fun.
Isolation has been a dominant theme when talking about the pandemic difficulties. What has been the hardest aspect for you and your family?
The hardest part about this pandemic has been the isolation from friends and family (and finding things other than Ipads and video games to keep the kids occupied!). In the past year, it has been so hard to watch my kids feel like they can't spend time with their family and friends in the same way they could before. My youngest daughter is a huge "hugger" and it was especially hard to watch her struggle to figure out this new normal with her friends.
Arin, you're also a Post Doctoral Fellow Highland Park Psychological Services. We'd love to learn more about your role there.
Yes! I have my doctorate in clinical psychology (PsyD) and I specialize in treating anxiety and depression in children and adolescents. I have been a clinician with Highland Park Psychological Services for over a year and work with clients of all ages though, age 7 through adulthood. I, too, am currently seeing clients over Zoom, but hope to return to the office during the summer.
Awesome! And you're pandemic coping advice?
Try to remember that this pandemic will not last forever. We try to look future forward when we are feeling trapped in the house or things are not quite the same as they were pre-Covid and remind ourselves what we are grateful for and what we have to look forward to once we can move past Covid. I'm also a big fan of getting outside and staying active whenever possible.
Definitely, fresh air, even freezing, is a must! What do you find is the most rewarding aspect of your career?
I find it so rewarding to be able to support someone in such a way that they have not been supported before. I love when clients are able to experience and acknowledge progress and incorporate everything they learn in therapy and apply it.
What is a common concern you see from your child and adolescent clients?
Most child and adolescent clients in the past year have reached out about managing and coping with their anxiety related to school and relationships. We work on positive coping skills, communication, self-esteem building, mindfulness and relaxation techniques.
Wonderful! Thank you so much for sharing with us for helping to make our communities healthy!
---
---
Thanks so much to Jessica, Alissa and Arin for sharing a bit about themselves and the great clinical advice! Highland Park Psychological Services is located at 210 Skokie Valley Rd., Suite 12 in Highland Park, IL. Currently they are seeing patients via zoom. Reach out with any questions: